true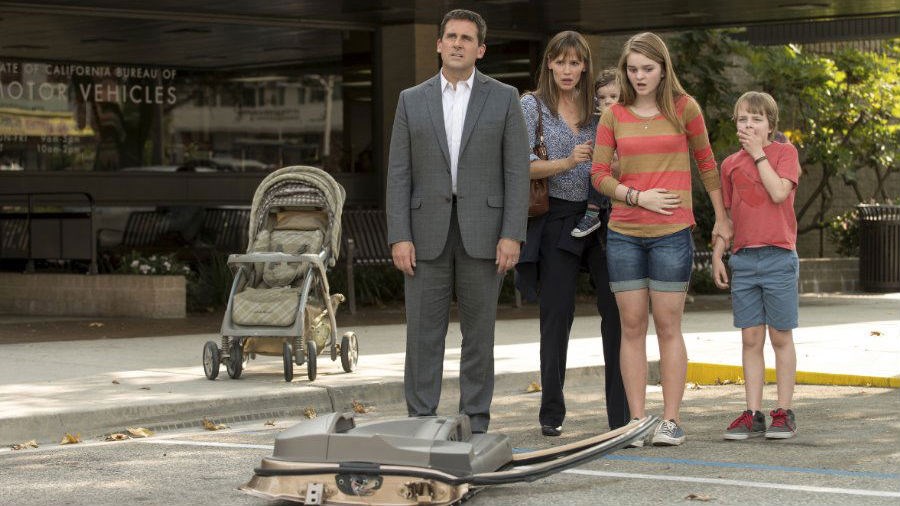 Image: Dale Robinette / Disney Enterprises
Alexander and the Terrible, Horrible, No Good, Very Bad Day (or just Alexander, for short) is a just fine family movie. It's really hard to say almost anything about the movie. It's not potentially offensive, like Free Birds, and not poorly thought out, like Turbo. It's also not mind-cripplingly amazing, like The Lego Movie. It's actually more exactly in the middle—good, inoffensive, clean fun.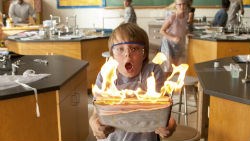 Image: Dale Robinette / Disney Enterprises
And it must be hard to make good, inoffensive, clean fun. I was actually impressed by the end of the movie's jaunty 80 minutes how everything was okay. It's really hard to make something great, but it's also really easy to make weird unfortunate missteps, and Alexander makes almost none.
The movie centers around Alexander (Ed Oxenbould), the third out of four children in his family, who seems to be the only person the family for whom things aren't going great. His mom (Jennifer Garner) has a kid's book publication on the way, and if things go well, could be promoted to vice president of her company; his dad (the ever-charming Steve Carrell), unemployed for seven months, finally has a job interview; and his siblings Anthony and Emily (Dylan Minnette and Kerris Dorsey) have a big prom date and big school play coming up, respectively.
So, on the night of his 12th birthday, Alexander wishes that everyone else in his family would know what it'd be like to have a day as bad as his—and lo and behold, his wish comes true.
The movie's structure, then, is to clip between one calamity and the next, never lingering on one long enough for it to get tiring. The movie becomes a kind of guessing game of What Bad Thing's Gonna Happen Next, but the shortness of both the moments in themselves and the movie overall means that the shallowness of the proceedings never grate on you. That is—the movie doesn't really have a plot; it's more "Step 1: Good stuff, Step 2: Bad stuff (???), Step 3: Fixed."
But the movie receives a massive assist from the cast. Everyone's likable enough and lacking in mean-spiritedness that the comedy stuff stays comedy. Movies like this one, in trying to establish how bad a character's life really is (so that it can be fixed later), can go way overboard, leading to this unrealistic caricature of a bitter, angry family magically changed into a happy, smiling family.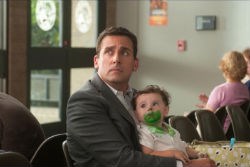 Image: Dale Robinette / Disney Enterprises
In Alexander, this doesn't ever feel like the case. Carrell and Garner are warm and caring parents throughout, and the siblings are siblings—which means that while they're not always kind, they're at least not over-the-top hostile. So, while the family presented here isn't exactly a perfect model of realism (how has the father been unemployed for seven months, and still they have enough money to have a house like they do? With a pool?), it's at least sweet.
That's maybe the most that can be said for the movie—it's breezily, inoffensively sweet, and only occasionally saccharine. This, too, goes back to the strengths of the cast. Carrell turns a character that is, at least in theory (and likely on the page), way unrealistically patient, caring, and giving, into a human character. It's weird to see him using his best acting chops—the way he can flip from happy to something slightly to the left of happiness on a dime—in a movie who's script doesn't deserve his talents. (Although, maybe by having him in it, the movie does deserve him.)
And, equally impressive, Alexander is almost wholly barren of anything offensive, either in the interpersonal relationships or in the humor. It's all very safe, fun, PG-stuff.
This whole review may sound like damning by faint praise, but really—the best kind of for-kids movies actually have very little to say about them. They're like roller coasters: are they fun? Did they go up and down? Did they start somewhere and end somewhere? If you can check all those boxes on the way through, and if the movie doesn't overstay its welcome, then there's no problem.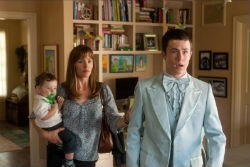 Image: Dale Robinette / Disney Enterprises
Movies that try to do more than that—tell you something strange about belief, or tell a weird story about success—those are the ones you can rag on. Or the ones that do more than that, and tell you a story about your own inventiveness, creativity, and meaningfulness—then those are the ones you can single out for praise. But Alexander is so profoundly white bread that it dodges both categories—making it an acceptable, tolerable, watchable, perfectly fine movie.
Caveat Spectator
One character says "Mother . . . " and trails off, after sustaining an injury. Alexander gets his face plastered on the bodies of bikini models. A naked baby pees on some stuff. A children's book misprint results in "Jump" being replaced by "Dump," which results in some crass-ish lines.
Jackson Cuidon is a writer in New York City. He tweets occasionally @jxscott.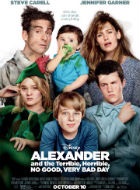 Browse All Movie Reviews By: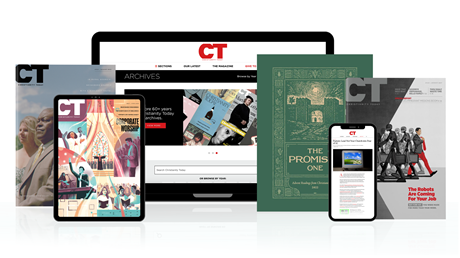 Subscribe to Christianity Today and get access to this article plus 65+ years of archives.
Home delivery of CT magazine
Complete access to articles on ChristianityToday.com
Over 120 years of magazine archives plus full access to all of CT's online archives
Subscribe Now
Alexander and the Terrible, Horrible, No Good, Very Bad Day
Alexander and the Terrible, Horrible, No Good, Very Bad Day