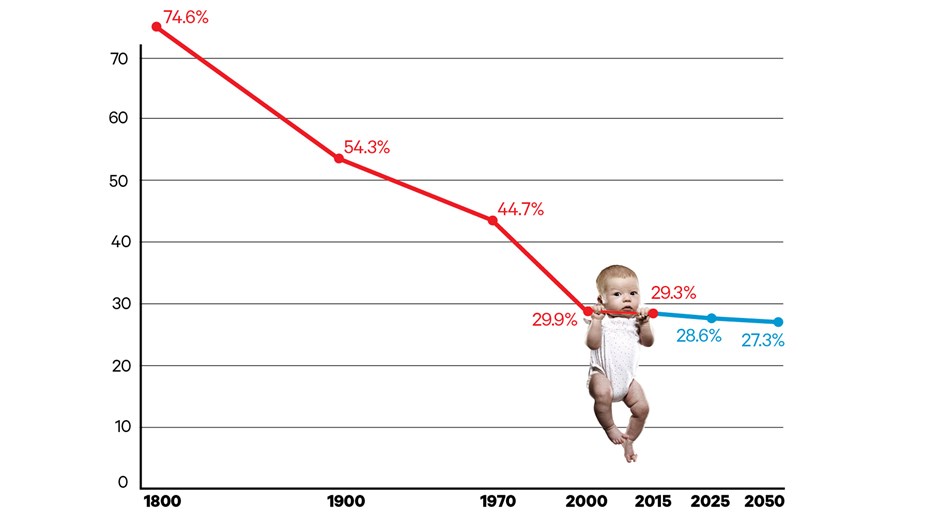 Image: Christianity Today
Over the past century, the Good News has taken off faster than at any other time in history.­­
It took nearly 2,000 years for the gospel to spread from the early church to nearly half the world's population. In 1900, 45.7 percent of people everywhere were aware of the gospel, according to the Center for the Study of Global Christianity (CSGC) at Gordon-Conwell Theological Seminary. More than 100 years later, that number has grown to more than 70 percent.
Given that the number of mission organizations has grown from 2,200 in 1970 to 5,100 in 2015, the whole world should soon hear the Good News, right?
Not so fast, said the CSGC. By 2050, it predicts only another 2 percent of the world's population will be evangelized, totaling 72 percent.
The root of the slowdown: babies, rival religions, and the painstaking work of building disciples.
The evangelism boom of the 20th century came primarily from the work done among African tribal groups that had no ties to the world's major religions. The number of Christians on the continent rose from 7 million in 1900 to 470 million in 2010, according to Pew Research Center. But in the same timespan, the number of Muslims in Africa grew from 11 million to 234 million, while the number of those practicing tribal religions shrank from 76 percent of Africans to 13 percent.
In other words, most people today who have not heard the gospel already belong to a major religion, says CSGC director Todd Johnson. And those faiths are growing.
A recent Pew study found that Muslims have the youngest population—34 percent are under 15, compared with 27 percent of Christians and 20 percent of Buddhists. They also have the highest fertility rates in the world: Muslim women average 3.1 children, while Christian women average 2.7 children.
Those Muslim babies—and a solid 77 percent retention rate—are predicted to help Islam overtake Christianity as the world's biggest religion by 2070, according to Pew's "The Future of World Religions: Population Growth Projections, 2010–2050" report.
The effect of births eclipses conversions by far. Pew states that before 2050, about 9.4 million Muslims will leave Islam, while about 12.6 million will join, adding up to a 3.2 million increase—not much when considering the overall leap Islam will take from 1.6 billion adherents in 2010 to 2.76 billion in 2050.
At the same time, Christianity is set to gain 40 million adherents but lose 106 million to religious switching. Christianity's much smaller overall growth, from 2.17 billion to 2.92 billion adherents, will also come primarily from babies.
While birth rates are falling in India, where most of the world's Hindus live, the population of that nation is expected to grow from today's 1 billion people to almost 1.4 billion people by 2050. At that time, Pew estimates, there will be about 1.3 billion Hindus worldwide.
Naturally, these estimates could change depending on future demographic shifts. Still, future missionaries will most likely need to focus on places like China and India to fulfill the Great Commission.
"If you're not evangelizing in an area that has a high population growth, you're losing ground," Johnson said.
Making Disciples
In recent years, mission groups have focused on strengthening churches in countries that have already been introduced to the gospel, according to the CSGC. From 1974 to 2000, 9 out of 10 new missionaries were sent to plant churches or disciple new believers among reached people groups.
"Denominations and networks are 100 times more effective at planting where there are Christians than where there aren't [Christians]," Johnson said. "They invest heavily in duplication."
That approach allows already established churches to grow, but doesn't always lead to evangelizing groups of unreached people. In other words, he said, "the gospel is sort of locked into people groups and unable to move."
That reality plays out among the clans of China and castes of India, where evangelism doesn't cross cultural lines. In terms of sheer numbers, the majority of the world's remaining 2.6 billion unreached people are in India (700 million) and China (440 million).
Future Plans
Mission agencies, such as the Southern Baptist Convention's International Mission Board (IMB), are well aware of the challenges they face.
IMB president David Platt recently introduced the idea of sending out "limitless missionaries," a pivot from the IMB's traditional approach of sending out mostly full-time missionaries. Along with sending those full-time missionaries, IMB also wants to partner with other Baptists working overseas, such as doctors, business professionals, and students.
Another pathway to reach people is to follow them to urban centers. In 2009, the number of those living in cities worldwide surpassed the number of people living in rural areas.
"The church needs to be positioned in urban centers and to really engage people who are moving into these places," said John Brady, vice president for global engagement at IMB. If those coming to the city can be evangelized, they can bring the gospel back to their people groups.
It's also important for potential missionaries to learn the language skills needed to share the Good News.
"Mandarin isn't a bad language to learn," Brady said. "Arabic isn't a bad language to learn."
It's true that evangelism might slow as missionaries run up against major world religions, said Paul Eshleman. He's the director of Finishing the Task, a network of more than 1,200 denominations, churches, and mission organizations that includes Wycliffe International, Youth With A Mission, and the Jesus Film Project.
But he doesn't believe the spread of the gospel will flatline. "The Great Commission will be absolutely started for all people groups by 2050," Eshleman said. "In fact, we'll have somebody working in every people group by 2017."
Part of the challenge is how to best count the unreached. Finishing the Task listed 639 unengaged, unreached people groups of 100,000 or more in 2005, Eshleman said. Now that list is shorter and smaller: 454 groups of 10,000 or more.
In order to be counted as "reached," a group must have at least one full-time worker for every 50,000 people, and an area must be 2 percent evangelical Christian. And getting started on the Great Commission isn't the same thing as fulfilling it.
That's what CSGC tries to calculate, taking 24 measurements (including Scripture availability, access to Christian media, and the presence of local churches) to decide if a people group has been sufficiently evangelized.
"We're talking more about the end of the task," Johnson said. "Did people actually hear or not? Were these things [Bible translations, churches] available? Did someone actually go?"
It's also tricky to define "nations" or people groups, he said. CSGC's World Christian Database lists 13,600 people groups, defined by language. The Joshua Project, which includes castes and tribes in South Asia, counts more than 16,000.
"Not only that, but the world has changed dramatically since Jesus uttered those words [in Matthew]," said Bill Morrison, data manager of the Joshua Project. "Some current people groups had the gospel long ago, but no longer. Some people groups have disappeared from the earth completely, and others have merged."
Predicting the fulfillment of the Great Commission may be impossible, but maybe that's good, said Morrison. "Didn't Jesus tell the disciples it was not for them to know such things?"
Have something to add about this? See something we missed? Share your feedback here.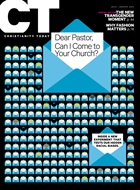 This article is from the Jul/Aug 2015 issue.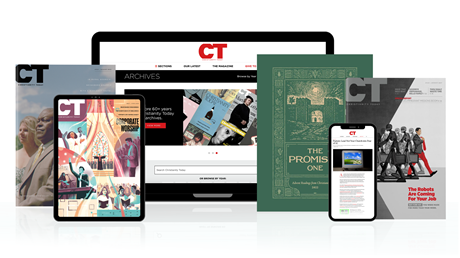 Subscribe to Christianity Today and get access to this article plus 65+ years of archives.
Home delivery of CT magazine
Complete access to articles on ChristianityToday.com
Over 120 years of magazine archives plus full access to all of CT's online archives
Subscribe Now
Babies Halt the Great Commission
Babies Halt the Great Commission