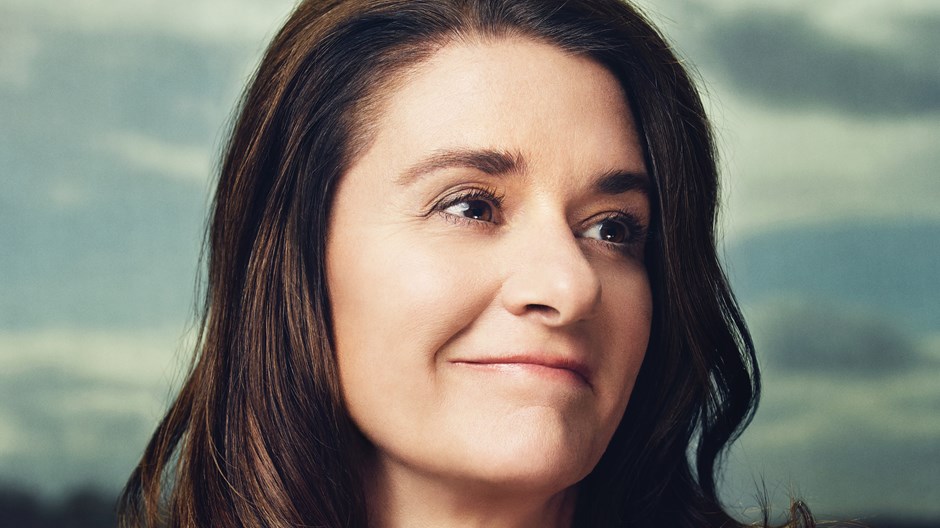 Image: Joe Pugliese / August Images
Melinda Gates describes herself as an "impatient optimist," something that was nurtured in her while attending Ursuline Academy, the leading Catholic all-girls school in Dallas.
Since Melinda and husband Bill created the Gates Foundation in 2000, they have given away $33.5 billion of their massive wealth from Microsoft and from their close friend, billionaire Warren Buffett. The foundation started the same year as the United Nations Millennium Development Goals, the 15-year antipoverty campaign centered on 8 global objectives. The two programs share many priorities, such as fighting diseases, reducing extreme poverty, and improving maternal health. The foundation partners with a wide spectrum of organizations. Faith-based groups— including Catholic organizations, World Vision, Lutheran groups, and the Salvation Army—are key recipients of more than 125 foundation grants.
This January, Melinda and Bill Gates announced they were "doubling down" on their poverty-fighting efforts. "The lives of people in poor countries will improve faster in the next 15 years than at any other time in history," they said. But along with the foundation's big bets and big spending has come big controversy. In 2012, the couple helped launch Family Planning 2020, a global effort to make voluntary, artificial contraception available to 120 million poor women by 2020.
The foundation—which does not fund abortions—plans to spend $1 billion on contraception. This has stirred sharp criticism. In 2012, Melinda Gates made a public break with the Catholic Church's opposition to artificial birth control. She said in an interview that when poor women have little access to family planning, "We're not serving the other piece of the Catholic mission, which is social justice."
Over the years, the foundation has granted millions to Planned Parenthood and Marie Stopes International expressly for family planning and contraception. Human Life International (HLI) says the foundation's claim about not funding abortion is "outright deception," since HLI believes that some of the contraception methods work after conception, thereby ending the life of an unborn child.
But the new Gates-supported Faith-Based Coalition for Healthy Mothers and Children Worldwide has gained strong endorsement within the Christian community, including from singer Amy Grant, former Senate Majority Leader Bill Frist of Hope Through Healing Hands, Jena Lee and James Nardella of Blood:Water Mission and Lwala Alliance in Kenya, respectively, and Elizabeth Styffe of Saddleback Church's HIV/AIDS Orphan Care Initiative. The coalition supports the goal of voluntary "healthy spacing and timing" of pregnancies—without resorting to abortion.
Timothy C. Morgan, CT senior editor of global journalism, recently spoke with Melinda Gates after she had returned from India, where she visited projects that the foundation supports. [Editor's note: The views expressed do not imply endorsement from CT.]
You have said that the Gates Foundation catchphrase, "All lives have equal value," comes from your childhood. Where were you first exposed to this idea?
I went to a Catholic school from K to 12th grade and attended church with my family every Sunday during that time. The New Testament speaks to me. Jesus was always reaching out to the poor, always trying to get people to not see the poor as different from other people. That was ingrained early for me. Ursuline nuns let us question church teachings in class and guided those discussions. The nuns taught us to go out in the community and serve, and that serving one person could make a difference. I served in the local elementary school, the Dallas County courthouse, and the hospital.
How do you see your mission at the foundation in biblical terms?
For me, faith is about faith in action. With this deep-seated belief, Bill and I believe that all lives have equal value. We try to live that out in what we do as a foundation. I cannot explain how it is that I, a young girl from Dallas, fell in love with Bill, and we sit at the cornerstone of the wealth from Microsoft and Berkshire Hathaway. We, and later Warren Buffett, decided this money should go back to society. I do feel called by it.
What resistance did you have to confront in yourself before giving away such enormous wealth?
In terms of giving it away? Zero. When Bill brought this notion up, it was just so what I wanted us to do. For me it was, "When will we do it?"
We were speaking about this while we were dating. We traveled to Africa for three weeks. It was life changing. We were near Zanzibar on a small island, Mnemba, walking on this beach. We had actually been working on a marriage questionnaire through the Catholic Church. On that walk, we discussed our similarities and differences. We were working on that as well at the end of the trip, and this decision [to start a foundation] naturally came up as part of it.
How have you resolved any friction in the relationship between the foundation and faith-based groups that have a mission to spread the gospel?
We look for places of common interest, whether it is around health or clean water or agriculture. You work on those parts of the mission together, and you agree to disagree about the pieces you don't agree on. If people are doing a piece on health and they are doing the faith-based piece, I have no problem with that. We're going to fund the piece on health. We're not going to fund the faith piece. But that's great. They will go out and get other funders to do the faith-based piece. We just always focus on where the commonalities are.
In the developing world, family planning has been coercive and violated personal freedoms. What are you doing to address that?
I know why that controversy exists. It's the history of the family planning community and the way things were started back in the 1970s with a top-down approach, which is completely wrong. There was coercion, absolutely. How can we move forward so that we put family planning in a woman's hands? We let her figure out how to do healthy timing and spacing of her births.
In India, I was talking to a group of teenage girls, all married already. They want their children to grow up healthy. They learned that if you space those births, the chance your child will grow up healthier is much higher. Then they said, "Okay, how do I do that?" If you educate the woman and let her decide voluntarily, you get different outcomes. Through all the projects in family planning, we are doing simple surveys: "Was contraception coerced or forced in any way?" We have to make sure that coercion just does not happen.
How do you reconcile your advocacy for artificial contraception when the Catholic Church has consistently opposed it?
I'm Catholic, so deciding to speak out on family planning took some personal reflection on my part. I actually spoke with my parents and my kids about the fact that I wanted to champion this issue. I realized that this is really about saving the lives of millions of women and children.
Women everywhere should have access to information on healthy timing and spacing of pregnancies and contraceptives if they want them. If a woman's faith or values lead her to not want to use contraceptives, we absolutely respect her decision—that's part of the reason we believe so strongly in voluntary family planning. It's also the reason we support a full range of family-planning methods, including nonhormonal, natural fertility awareness methods that help couples identify the days during the woman's menstrual cycle when pregnancy is likely. I share the view of Pope Francis that the church should be a "home for all" and "not a small chapel." I'm encouraged by Pope Francis's focus on the world's poor and hope he continues to highlight the importance of combating poverty worldwide. In that respect, we have a shared agenda.
What do you see as the toughest of the poverty problems out there?
The one that I want to see us advance on further and faster is agriculture. We are still working deeply on vaccines, but we have a system now. In agriculture, we are still learning how to effect global change, to take the lessons from the green revolution that happened in other places in the world and scale up in places like Africa. We still have a long way to go.
In recent years, critics have said foreign aid creates harmful dependencies. Do you push back against such criticism?
It's incorrect from what we have seen in countries that have lifted themselves out of poverty. South Korea is now a donor nation instead of a recipient. We speak out about what we actually see working, lifting up whole economies and societies. The best way we can push against that criticism is to show what works and why it works, and to show our optimism in the face of reality.
I try to be humble when I go in to do this work. We work through organizations that are on the ground already. So one organization I was just visiting in India does self-help groups around agriculture and livelihood. Every person working in that organization is Indian. They are the ones out giving the messages. That's much more acceptable and culturally appropriate, and that's how we have to do our work, through partners.
There are places where aid has never worked well. Haiti, for example, has received billions of dollars of aid, and it never seems to get any better.
You have to have good governance in a country to make progress. Some places are easier to work in than others. Bill and I try to effect change just within those systems. That's where we feel like we have levers and actually have impact. Anywhere you have conflict and unstable government, it is difficult. We tend not to work in those places—except with vaccines. You actually can deliver vaccines in those places. Even in times of unrest, they will stop a war for Days of Tranquility, and this allows vaccinators to come in.
Across 15 years and $33.5 billion in Gates Foundation programs, where have you failed?
I will give you one example, and we have many. We were part of a group that was trying to end homelessness in the Pacific Northwest—a phenomenal goal. We were building transitional housing particularly for women and children who would drop into homelessness quite often.
Well, we cannot build enough transitional housing units. At the end of the day, if we want to end homelessness, we have to look at the root causes and figure out how to prevent people from dropping into homelessness. If we can work upstream of the problem, we are going to have a lot more success.
What about a notable achievement?
The Gavi Alliance. Since 2000, there are 6 million children alive because of that vaccine fund, hundreds of millions of kids vaccinated, and 5 new vaccines that did not exist before. Two of them are for diarrhea and pneumonia, which are the two biggest childhood killers worldwide. So we feel like that has been a huge success, and it's part of why [global] childhood deaths are down so substantially since 1990.
Many women and children in some Muslim-majority nations face bleak lives and enjoy few rights. Is this a religious problem or something else?
I would not say it's a religious problem. It's a tradition problem. Any time you are trying to empower women, you have to change mindsets about what women are capable of doing.
One country doing this is Niger, a Muslim-majority country with the highest fertility rate in the world. Niger is educating men. They are explaining to men how more of their children will survive if they allow their women, their wives, to space the births of their children. At the end of the day, men want their children to survive. You go at it in a way that's beneficial to the father, then he will allow her to be educated and start to make that decision differently.
One promising point of light is the self-help group. In India today, 3 million women are in self-help groups. The government there has a goal of creating 70 million self-help groups. There is power in people coming together and planning openly as a community.
So there is a positive network effect?
Sociologist Nicholas Christakis talks about behavioral social networks. If you hit the root of the network in various places instead of just all the nodes, you can spread things out, because we know behaviorally we all affect each other in gigantic ways. Women are all part of social groups. In Niger, women said to me, "We talk when the babies are born. We talk when we grind millet every single day." They are already in their own social networks. You just have to figure out how to light up those social networks with new messages.
What is the deepest spiritual change you have seen in yourself?
I'm living out my faith in action. Every day. Even the days I do not come into the foundation, I am reading something about the foundation, or Bill and I go out for a date night, and half the conversation is about the kids and the other half is about the foundation. We are putting the best of our hearts and our minds and our energy to try to get change in the world. That's how the foundation has changed me. It's not that I didn't have faith before. I had faith. I still have a profound faith. I have meditation books on my nightstand. I like Jesus Calling by Sarah Young. You live your life wide open with gratitude.
I hearken back to those women I have met in the developing world, and I carry their stories and their lives in my head. I have a beautiful picture of one of the women I met in Africa a year and a half ago, that's prominently in a place I walk by every day in my house. It reminds me to be incredibly grateful for what I have.
We want an equitable world for everyone. No matter whether they live in the United States, Nairobi, or Bangladesh. We have to pull our oars in this boat together.
There is a passage in Luke, that you do not put a light under a bushel basket. You put it up for everybody to see. We at the foundation are trying to shine light on the world, on the world's problems and inequities, so that other people will feel this calling too.
I show examples of what works and the optimism that comes from what works. Part of this comes from being a mom.
Parents dream of successfully passing their faith on to their children. How do you bring your Christian values to your children?
They certainly went to Sunday school, and one of them went through part of a Catholic school. My kids are getting a bit older now. I have a daughter who is 12, a son who is 15, and a daughter in college. At the dinner table many nights, we discuss what we have seen as a family in the developing world. We have this belief in faith and action. My children know I pray and meditate every day. In fact, sometimes they even like to tease me about how they are not allowed to interrupt that time in the morning. They see me living out my faith and my values, hopefully lived out before them.
Have something to add about this? See something we missed? Share your feedback here.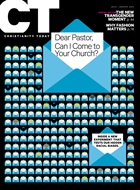 This article is from the Jul/Aug 2015 issue.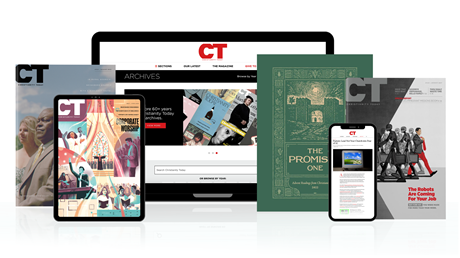 Annual & Monthly subscriptions available.
Print & Digital Issues of CT magazine
Complete access to every article on ChristianityToday.com
Unlimited access to 65+ years of CT's online archives
Member-only special issues
Subscribe
Melinda Gates: 'I'm Living Out My Faith in Action'
Melinda Gates: 'I'm Living Out My Faith in Action'