true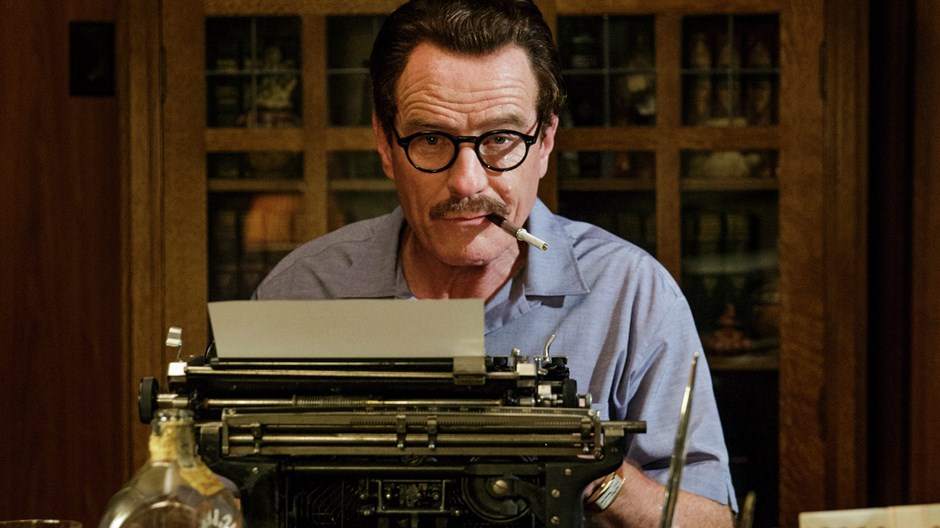 Image: Bleecker Street Media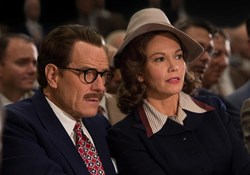 Image: Bleecker Street Media
"You write every scene brilliantly," Otto Preminger (Christian Berkel) half-jokes to Dalton Trumbo (Bryan Cranston) on the porch of his house, where they've been working on the script of the 1960 film Exodus. "And I will direct unevenly."
The quip would function almost too well as a cipher for what happened with Trumbo, except the screenplay isn't brilliant, either. It has its moments. Once in a while, it's fantastic. But Trumbo mostly suffers from the now agreed-upon affliction we might call Important Biopic Syndrome, in which all the material that makes for a good movie gets vacuumed up by the things which the movie must signal to us are Important (lest we miss them) via musical cues and circular pans. Moments of political courage, for instance. Especially regarding the First Amendment. Arguments with the family. Epiphanies. Stupidities. One-ups. Sometimes, unfortunately, even jokes.
The movie tells the story of Dalton Trumbo, which is both interesting and historically important, especially if that name means nothing to you. Trumbo wrote Roman Holiday and The Brave One and won Oscars for both—later, he wrote Spartacus—but he wasn't listed as a writer on either of those films. That's because he was one of the famous "Hollywood Ten," mostly screenwriters, who were accused of being Communists and refused to cooperate when brought before the House Un-American Activities Committee hearings in 1947. Subsequently, they were cited for contempt of Congress and blacklisted. The film tracks with the story as Trumbo and several others are imprisoned, for a time. Even after release, their careers are—well, to put it mildly, they are hampered, and their families suffer from the financial burden.
Trumbo's brilliance as a writer doesn't go unnoticed, even as he writes a pseudonymous assortment of B- (or C-) movies for King Pictures. Eventually, Kirk Douglas tracks him down at home and gets him to work on Spartacus, quickly followed by the director Otto Preminger, who needs help getting the novel Exodus into a form in which Paul Newman can star. The efforts of Douglas and Preminger eventually result in Trumbo receiving the writing credit he deserves on those screenplays, and the blacklist is effectively ended.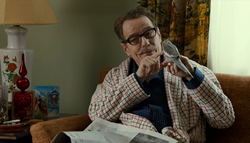 Image: Bleecker Street Media
As a film, Trumbo is set up by director Jay Roach (of the Meet the Parents and Austin Powers films) and writer John McNamara (who mostly works in TV, including the recent Aquarius) as a kind of long-form boxing match. On the one side are those who would track down the Commies—John Wayne (David James Elliott), as head of the Motion Picture Alliance for the Preservation of American Ideals; Hedda Hopper (Helen Mirren), vitriolic blackmailing columnist; Congress generally and J. Parnell Thomas particularly (followed, of course, by Joe McCarthy). On the other are the Hollywood Ten, many of whom were actually card-carrying members of the Communist party, led by a courageous Trumbo and some sympathizers and supported by Trumbo's longsuffering wife (Diane Lane). They get knocked down. They get up again. Et cetera.
I realized recently that I got to adulthood having received a pretty solid education but completely unaware, except in the vaguest sense, that there was a period in our nation's history in which Americans were openly called before Congress to answer for their political views. This is scary to me, not least because those who don't learn from history are doomed to repeat it.
So I can appreciate what Trumbo and other movies that cover that period in history are after, but I wish they'd also go about making a good movie about politics while they're at it. The actual politics in this film are more setup for the boxing match, a sort of human interest round to keep you interested. Anyone attempting to understand how a person could reasonably claim to love America and also be committed to Communist ideals will not be helped here; the movie suggests that being a Communist is basically like being a little to the left of a liberal Democrat. The explanation is as caricatured as the opposition. In fact, the principles of Communism are literally reduced to an illustration Trumbo gives his young daughter, whilst she sits astride a horse, involving sharing a sandwich with a hungry schoolmate.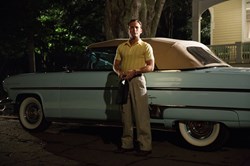 Image: Bleecker Street Media
The film also gives us no reasonable or rational detractors on the other side; they're all kind of the worst, which is more ironic given Trumbo's early pleas to his friends to not demonize people they haven't met. Instead (perhaps savvily) it shifts its attention to matters of free speech: members of the Communist party, it correctly argues, are as entitled to free speech as anyone else. And Trumbo accurately pinpoints the problem with the witch hunt to be precedent: if "they" can shut you down for being a Communist today, what happens when "they" decide some other party is also a threat to national security? But the movie can't get over its own caricatures, and its political sense is severely stunted and romanticized.
Trumbo is at its best when it gets to be the off-the-rails film its trailer seemed to hint it would be. The best scenes all involve John Goodman, playing the dirtbag head of the dirtbag studio Trumbo approaches looking for work. Sometimes we talk about actors eating the scenery; Goodman gnaws and regurgitates everything in sight in a buoyantly projectile manner.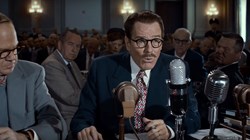 Image: Bleecker Street Media
On the whole, the film works best as an actor showcase. Cranston is going to get all the credit for this film come awards season, but he's not the best in this film: that belongs to Louis C.K., with a naturalist rendering of Trumbo's frenemy/radical Communist/screenwriter Arlen Hird. There's also Christian Berkel as Preminger, who had the audience at my screening in something nearing hysterics by the second time he opened his mouth. And in a truly excellent dramatic role, Michael Stuhlbarg plays Edward G. Robinson, the actor whose naming of names severed his friendships with many.
Trumbo's problem is basically this: if you're going to make a movie about one of the most famous screenwriters of all time, you can't lean on your actors to save a shoddy script. You have to write a good script. This film takes a full hour to get to anything interesting, and it simply doesn't play like the old-timey movie it's maybe meant to ape. As several characters meaningfully asked for Trumbo's help to "find the story" in a bloated script, I could only wish he'd been around for this one, which certainly has a tremendous story that's trying hard to get out.
Caveat Spectator
Plenty of bad language—profanities and sexual references. There's some drug use, though it's not prevalent throughout the film. There's a brief scene of rear male nudity in a prison that's not sexual, but is uncomfortable (and is meant that way).
Alissa Wilkinson is Christianity Today's Chief Film Critic and an assistant professor of English and humanities at The King's College in New York City. She is co-author, with Robert Joustra, of How to Survive the Apocalypse: Zombies, Cylons, Faith, and Politics at the End of the World (Eerdmans, 2016). She tweets @alissamarie.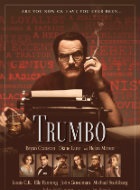 Browse All Movie Reviews By: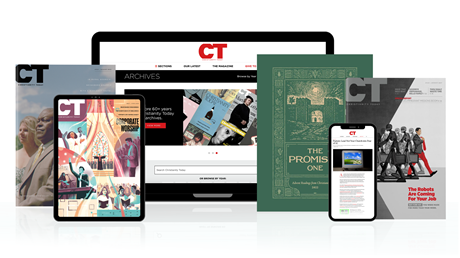 Annual & Monthly subscriptions available.
Print & Digital Issues of CT magazine
Complete access to every article on ChristianityToday.com
Unlimited access to 65+ years of CT's online archives
Member-only special issues
Subscribe
Trumbo
Trumbo