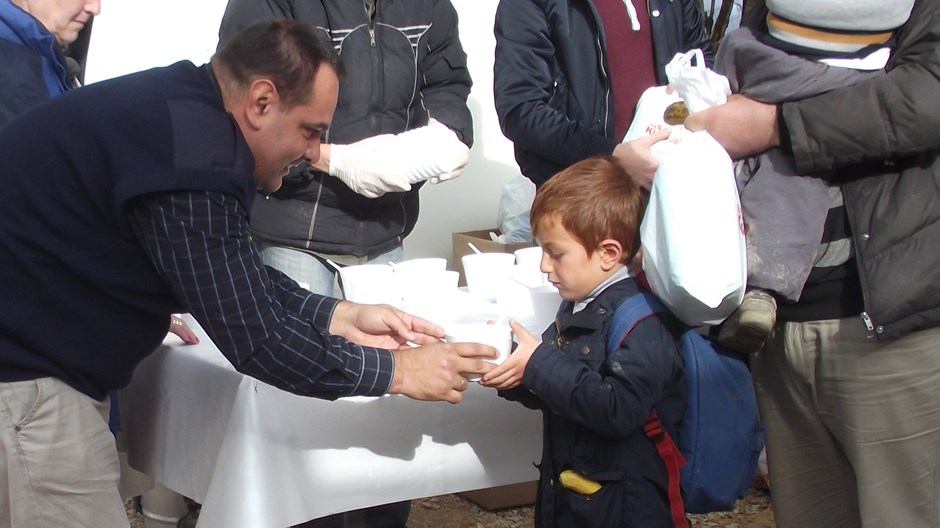 Image: Glisa Nikolic
Months before he encountered the refugees, Aleksandar Subotin had a dream.
The 31-year-old Roma pastor saw a large group of people walking through a train station. He had never seen them before, but he knew he was there to help them. He remembered this dream when he first brought 500 packages of food to a refugee processing camp in Kanjiza, Serbia, last fall.
"Then I started to pray for God to open doors so we could work with them," said Subotin, who leads two Roma churches and 15 home groups in northwest Serbia.
Like many Christian Roma along Eastern Europe's "refugee highway," which stretches from Greece to Croatia, Subotin feels for the families fleeing Syria, Iraq, and other troubled nations.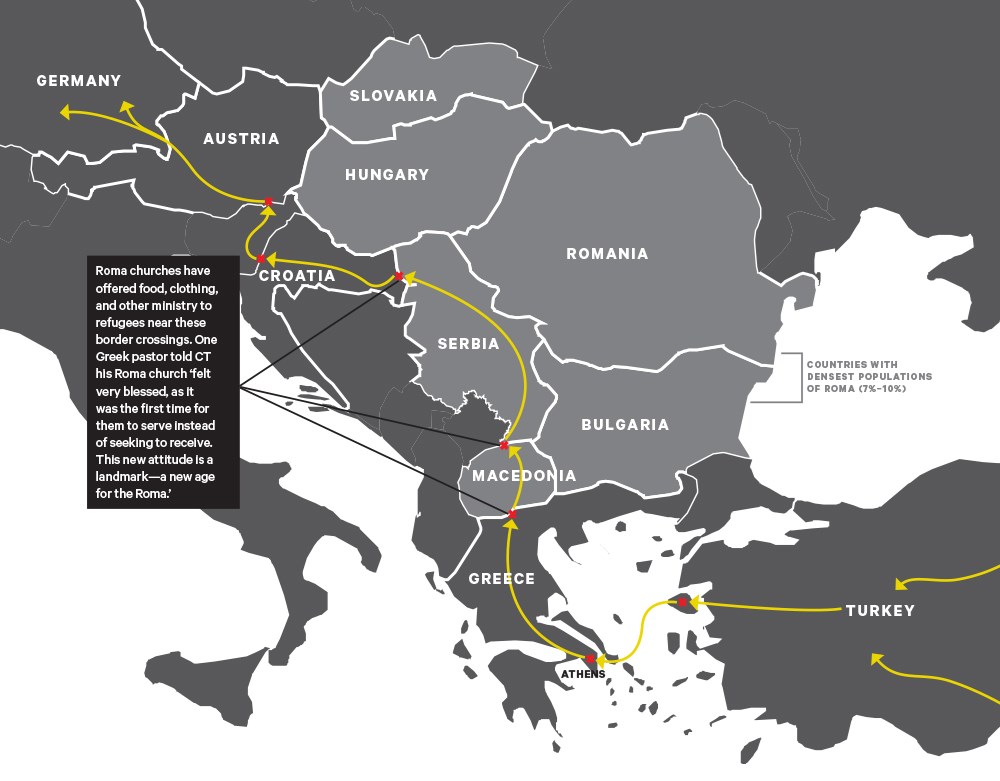 His empathy stems from belonging to a group stigmatized for generations in Europe as "gypsies." Today, Europe has about 11 million Roma, a collection of related ethnic groups that compose one of the world's largest people groups without its own nation state, as well as the seat of a massive Christian revival [see "God Among the Roma," May 2013].
More so than most European Christians, Roma believers—most of whom are Pentecostals—understand displacement and poverty.
Accounts of Roma expulsion and persecution date back to the 16th century. More recently, tens of thousands of Roma were displaced during wars in the former Yugoslavia and Kosovo in the 1990s. Afterward, many Roma were excluded from receiving relief packages and denied state passports; lack of documentation made resettlement particularly complicated. Today, most Roma communities in Eastern Europe have higher rates of unemployment, illiteracy, and poverty than their non-Roma neighbors.
Consequently, Roma Christians also understand the appeal of the West. Like the current refugees, many Roma aspire to travel to the "promised land" of Germany, as well as other destinations in Western Europe. They seek temporary work, social benefits, or political asylum (although Roma pastors discourage their flocks from the latter two).
Because of this history, Roma "look at this situation as something that could happen to them," said Sokrat Apostolovski, a pastor in Macedonia. He has seen 11 families from his Roma congregation emigrate to Germany.
"Over the years, the Roma were refugees many times, which changed their worldview," said Radko Kratsov, a Roma leader for Youth With A Mission (YWAM) in Bulgaria, which cut its illegal refugee flow in half after building a fence on its border with Turkey last year. While Kratsov claims that a victim mentality too frequently shapes the Roma identity, increasingly he and others believe that "God created us to be a blessing to the nations."
And despite the cultural stereotypes that linger in Eastern Europe—that Roma are parasites, dishonest, or helplessly poor—the current refugee crisis has offered an opportunity for the poor to serve the powerless.
"The Roma pray often for the refugees. And those who served the refugees felt very blessed, as it was the first time for them to serve instead of seeking to receive," said John Papadopoulos, pastor of a Roma church outside Thessaloniki, Greece's second-largest city. "We believe this new attitude is a landmark, and a new age for the Roma."
Because of his people's poverty in Serbia, Subotin wasn't sure how his congregation would react to his dream. But their response was unanimous: "Go, bring help there. We are not jealous. They need help more than us, because we have food, water, and shelter."
Subotin partnered with Help Eastern Europe, a Dutch Reformed NGO that focuses on the Roma. The group sent clothing, money, and other volunteers, enabling Subotin and his Roma churches to serve about 10,000 refugees this past fall.
Most of Subotin's congregants who offered to help were widows. "They told me something was stirring in their hearts, and that the Lord takes care of them as widows," he said. "So they want to say, 'Thank you, Lord, that we can do something for you.'"
However, it still can be hard to translate empathy into action.
"The Roma in Macedonia want to help in the various activities for the refugees," said Apostolovski. "But they themselves do not have basic financial resources. And so far, no one [in the West] has expressed the wish to send help through the Roma church in Macedonia."
Thus, in the absence of resources, prayer becomes a major vehicle for Roma missions.
In eastern Croatia, Roma co-pastors Biljana and Đeno Nikolic prayed for the chance to serve the thousands of refugees passing through Serbia and Hungary. Within days of the Hungarian border closing, diverting the refugees to Croatia, they connected with Samaritan's Purse and Doctors Without Borders. Now, they work six days a week in a refugee camp in the Croatian city of Slavonski Brod. On Sundays, they share each week's experiences with their congregation, which marvels over the stories and fervently prays.
Helping refugees is only one strand in the emerging tapestry of Roma mission in Europe. The trend is fueled in part by visionary Roma leadership in places like Serbia, where a church movement plants churches and trains young leaders. Other organizations—such as the Gypsy Smith School in Bucharest, Romania, and the Gypsy and Traveller International Evangelical Fellowship—focus on training and equipping the Roma to serve their own people.
Another catalyst is Great Commission Center International, a Chinese missions organization whose leader Thomas Wang felt a "gospel debt" to the Roma [see "Made in China," p. 20]. In 2014, it hosted a conference in Budapest for more than 100 Roma leaders and 30 Western missionaries.
Out of this emerged Roma Networks. Led by three Roma and three non-Roma, the group seeks to "network, connect, and research for the sake of transformation and reconciliation in Roma communities throughout Europe." A second Europewide conference is planned for 2016.
One of the network's six leaders, Miki Kamberovic, acknowledges there is much work to be done. "There is a lack of unity, and it is difficult to find the key country leaders who can mobilize the churches to work toward the same goal," said the 35-year-old Roma pastor in Jagodina, Serbia. "But I hope God will use this network to reach many Roma in Europe so that we can create an atmosphere for revival—not just for Roma, but also for all the nations in Europe."
Have something to add about this? See something we missed? Share your feedback here.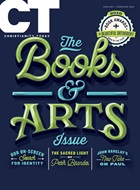 This article is from the Jan/Feb 2016 issue.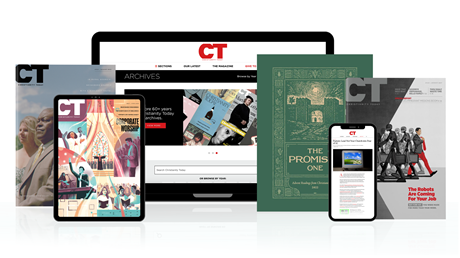 Annual & Monthly subscriptions available.
Print & Digital Issues of CT magazine
Complete access to every article on ChristianityToday.com
Unlimited access to 65+ years of CT's online archives
Member-only special issues
Subscribe
Refugees on the Roma Road
Refugees on the Roma Road