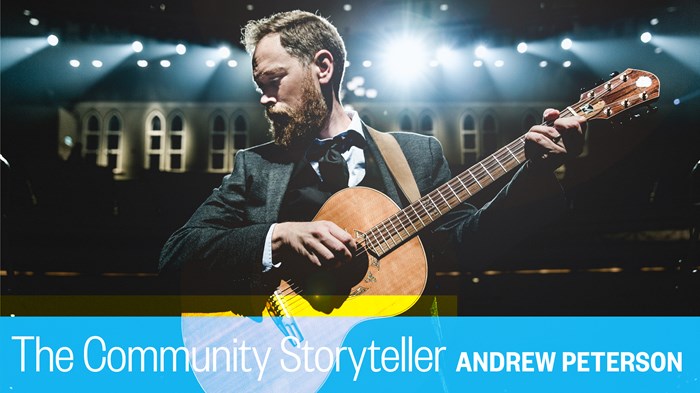 Image: Bob Boyd
Nashville, Tennessee | @andrewpeterson
It's hard to describe Andrew Peterson's work without mentioning his family and friends. If anything defines his 20-year career as a musician and author, it's "the way that community nourishes art and art nourishes community," as he said on an episode of Ed Stetzer's Exchange last year.
With his brother Pete, Peterson founded The Rabbit Room, a blog, store, and publishing press named for the nook in the back of a British pub where the Oxford Inklings swapped stories. This "experiment in creative community" gathers storytellers online and at an annual conference in Nashville.
Reading C. S. Lewis to his kids inspired Peterson to write his own series of fantasy books; a decade later, his teenage son Aedan illustrates some of the fantasy creatures in his award-winning Wingfeather Saga series. The fourth installment is being made into an animated short thanks to a successful $265,000 Kickstarter campaign. And last year, Peterson's son Asher toured with his band as a drummer for his most recent album, The Burning Edge of Dawn. His daughter, Skye, sings along in music videos.
"Creativity is taken for granted in our house, just like the gospel and our love for each other," he said. "Every time my kids sit down to make something, it's like practice for building the kingdom. It means looking at the world as it is, imagining something more beautiful, and then working to incarnate it."
1
You have reached the end of this Article Preview