The Magazine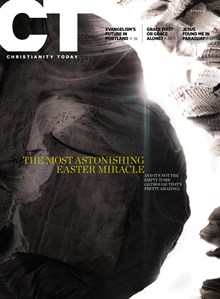 This feature is for subscribers only:
Subscribers get full print and digital access, including:
10 award-winning print issues
Standard and Reader Friendly PDFs of each issue
Full web access to ChristianityToday.com
20+ years of magazine archives
Table of Contents
In Every Issue
Reply All
Responses to our January/February issue via letters, tweets, and Facebook posts.
Our April Issue: Mystically United in Christ
All we are is his. And he is ours. What a glorious mystery.
My earthly father wrecked my life. Now my Heavenly Father is rebuilding it.
Loading