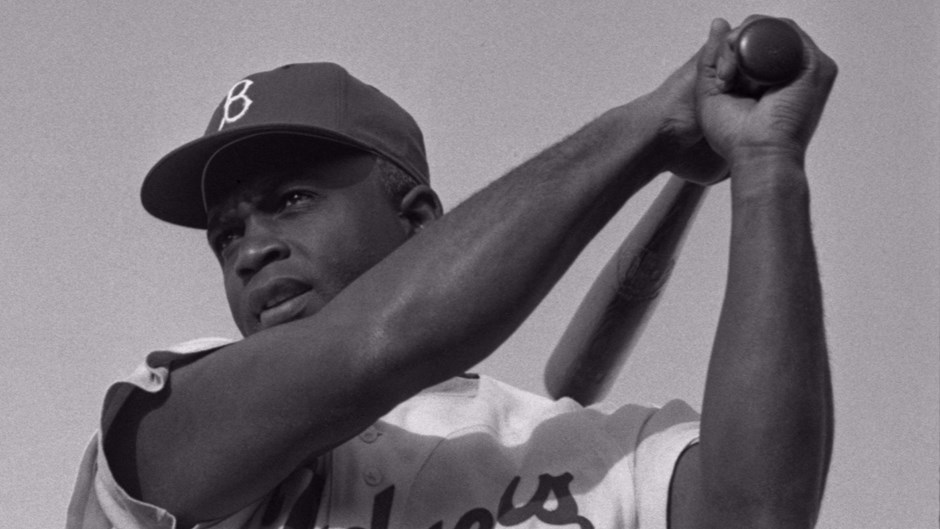 Image: Wikimedia Commons
There is a God-shaped hole in the heart of 42, the 2013 film that depicts the inspiring story of Jackie Robinson. Observers noticed it at the time, pointing out that the film mostly ignored the role that faith played in Robinson's life and in Branch Rickey's decision to sign him to the Brooklyn Dodgers in 1947. And the film is not the only account of Robinson's life that downplays religion. While Rickey's stalwart Methodist convictions have been widely recognized, most biographies of Robinson provide limited attention to his own faith.
Not so in Michael G. Long's and Chris Lamb's Jackie Robinson: A Spiritual Biography(Westminster John Knox Press) and Ed Henry's 42 Faith: The Rest of the Jackie Robinson Story(Thomas Nelson). Published earlier this year, both books claim to offer a thorough look at the religious dimensions of Robinson's life.
Reporter's Instincts
Ed Henry worked at CNN for eight years before joining Fox News Channel in 2011 as chief national correspondent. His desire to write a book about Jackie Robinson's faith grew out of his reporter's instincts. In 2007 freelance journalist Donna Shor told him that her father-in-law, Rev. L. Wendell Fifield, was involved with Branch Rickey's decision to sign Robinson. In 1945, she claimed, Rickey visited Fifield's Plymouth Church of the Pilgrims in Brooklyn, where he prayed for assurance from God that signing Robinson was the right move to make. Hearing Shor's story, Henry writes, "sent me on this journey to find out how much of a role faith played" in bringing Robinson and Rickey together and in empowering Robinson to succeed.
Four years later, Henry heard from Shor again. This time she told him that her daughter, Donnali Fifield, found an essay that Rev. Fifield's wife, June, had written in the mid-1960s about Branch Rickey's encounter with God at Plymouth Church. Henry read a copy of the essay. He and his producer, Jamie Crawford, then published a story on CNN revealing the details.
June Fifield's essay about Branch Rickey is a central piece of 42 Faith—an odd move, given that Rickey has received plenty of attention for his religious convictions. That Rickey visited a church to pray before deciding to sign Robinson is hardly surprising. Nevertheless, Henry portrays the essay as a "remarkable historical twist." It is indeed interesting, but more for what it might reveal about June Fifield than for what it reveals about Rickey. In Fifield's own words, she wrote the essay as "a plea to Jackie Robinson to realize what went into the launching of his career—that someone cared enough to grope for wisdom beyond himself, to call upon God's guidance—and that the man who did this was, in common erroneous parlance, 'white.'" That is a fascinating claim to make, coming as it did in the mid-1960s, at the height of the civil rights movement. Henry, however, offers no insight into why June Fifield wanted Jackie Robinson to remember that a white man helped him.
Joining Fifield's essay as a central feature of 42 Faith is Ed Henry himself. Nearly every chapter begins with details about Henry's investigative work. He describes visiting the Chicago hotel where a Brooklyn Dodgers scout first met with Robinson. He details his visit to Robinson's old neighborhood. He stops by the place where Ebbets Field, the Dodgers' old stomping grounds, used to stand. And then there are the interviews. Henry makes sure to insert himself into the narrative, describing the scene of the interview and, of course, the dogged, hard-working reporter asking all of the right questions. So persistent is Henry in making himself the star of the show that he concludes the book with a vignette about…his book. Robinson's habit of kneeling for nightly prayers provides the set-up for Henry's description of how God provided a publisher for 42 Faith after Henry had almost given up hope.
In many ways, 42 Faith is about 42 Faith more than it is about 42's faith.
To be fair, there is plenty of information about Jackie Robinson in the book. Henry is clearly passionate about Robinson, and his research draws from a wide range of sources: Robinson's papers at the Library of Congress, biographies, autobiographies, and other published sources about Robinson, and interviews with Carl Erskine (Robinson's teammate), Branch Rickey III (Rickey's grandson), Jerry Reinsdorf and Larry King (longtime Robinson fans), Rachel and Sharon Robinson, and others. One of Henry's most important sources is an unpublished manuscript on faith written by Robinson in the 1960s. Henry makes good use of it throughout the book.
When it comes to the content of Robinson's faith, however, the insights are few and far between. Henry does provide numerous quotations in which Robinson credits faith in God with helping him make it through difficult times. Robinson "leaned on the Bible and his personal faith to get him through," Henry explains in a typical line. And Henry also correctly notes three of the most important religious influences on Robinson's life: his mother, Mallie; his pastor, Karl Downs; and Branch Rickey, all of them Methodists. But instead of offering a historical analysis of Robinson's faith, Henry leaves the reader with little more than a general notion that faith in God mattered to Robinson. By the second half of the book Henry tends to neglect even cursory nods toward God-related quotes, turning instead to season-by-season accounts of Robinson's playing career that barely mention faith at all.
Committed and Thoughtful
Unlike 42 Faith's meandering style, Jackie Robinson: A Spiritual Biography remains focused on the story of Robinson's faith. It helps that Michael Long (a professor of religious studies) and Chris Lamb (a professor of journalism) have previously researched and written on Robinson and the civil rights movement. They draw on that expertise while also writing for a general audience. Jackie Robinson is an easy-to-read book that stays far away from academic jargon and esoteric debates.
From Long and Lamb's book, Robinson emerges as a committed and thoughtful mainline Protestant comfortable within black and white Christian communities. Well versed in the Bible and connected to Protestant institutions throughout his life, Robinson saw faith as a source of inspiration, hope, and American identity. He grew up with a personal moral code taught by most white and black Protestants in the early 20th century—no smoking, no drinking, no premarital sex. But he was also shaped by the social witness distinct to the black church, believing that Christians had a responsibility to combat racism in American society, that anti-racism was a mark of true Christianity, and that many white Christians were failing to practice what they preached. As for June Fifield's concern that Robinson recognize the help of Branch Rickey, she need not have worried. "When I came to believe that God was working with and guiding Mr. Rickey," Robinson wrote, "I began to also believe that he was guiding me."
Long and Lamb use similar source material as Henry, including Robinson's unpublished 1960s manuscript on faith and other material from Robinson's papers at the Library of Congress. They also draw from Robinson's autobiography and numerous biographies and secondary sources. Although Long and Lamb do not have as many interviews as Henry, they make far greater use of Robinson's syndicated newspaper columns from the 1950s and 1960s. And they give June Fifield's essay approximately one paragraph, which seems like the right amount of space.
The authors provide analysis that goes beyond vague generalities about Robinson's faith. Take, for example, how both books cover the influence of Mallie Robinson. In 42 Faith, we see that Mallie believed in God, and that she instilled in Jackie the importance of faith. In Jackie Robinson, we learn the same. But we also learn that Mallie taught Jackie to be proud of his God-given blackness. When telling the Genesis creation story to her children, Mallie depicted Adam and Eve as black-skinned, explaining that their skin turned pale after they sinned. Biographers have long noted that Jackie was proud to be black; from Lamb and Long we see that Mallie's faith and the way she narrated biblical stories helped to shape that pride.
Numerous other examples abound in which Jackie Robinsongoes far deeper than 42 Faith. Long and Lamb discuss the theological underpinnings of Robinson's commitment to both a gospel of personal responsibility—"God helps those who help themselves"—and human interconnectedness. They highlight the prevalence of theologically conservative but socially progressive Christians within black churches, and they provide an extensive discussion of Karl Downs's background. In recounting Jackie and Rachel's courtship, they explain the crucial role that religion played in the early stages of the relationship. When discussing Robinson's post-baseball life, they analyze Robinson's religious beliefs in relation to Martin Luther King Jr., Malcolm X, and Muhammad Ali. 42 Faith is almost entirely silent on all of these examples.
That is not to suggest that Jackie Robinson is beyond critique. Historians and history buffs might consider it a bit sparse at times, glossing over background details and historical context that could have enriched the narrative. This is presumably because the authors are writing for a general audience. They prefer to use the work of other historians to explain Robinson; they rarely use Robinson himself to explain broader historical issues debated by historians. Details are sparse, too, when it comes to Robinson's big league career. While 42 Faithseems to go overboard in covering the details of every season, Jackie Robinson offers just one chapter about on-field action.
Despite its limitations, it is clear that Long and Lamb have written the best book thus far on Jackie Robinson's faith. Readers interested in following along with Ed Henry's investigations might enjoy 42 Faith. Readers hoping to fill the God gap in the Jackie Robinson story should turn to Jackie Robinson: A Spiritual Biography.
Paul Putz is a PhD candidate in history at Baylor University. He is writing a dissertation on the history of the Christian athlete. You can read more about his work here.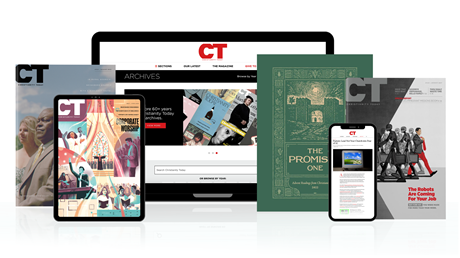 Annual & Monthly subscriptions available.
Print & Digital Issues of CT magazine
Complete access to every article on ChristianityToday.com
Unlimited access to 65+ years of CT's online archives
Member-only special issues
Subscribe
Finally, Jackie Robinson's Faith Is Getting the Attention It Deserves
Finally, Jackie Robinson's Faith Is Getting the ...