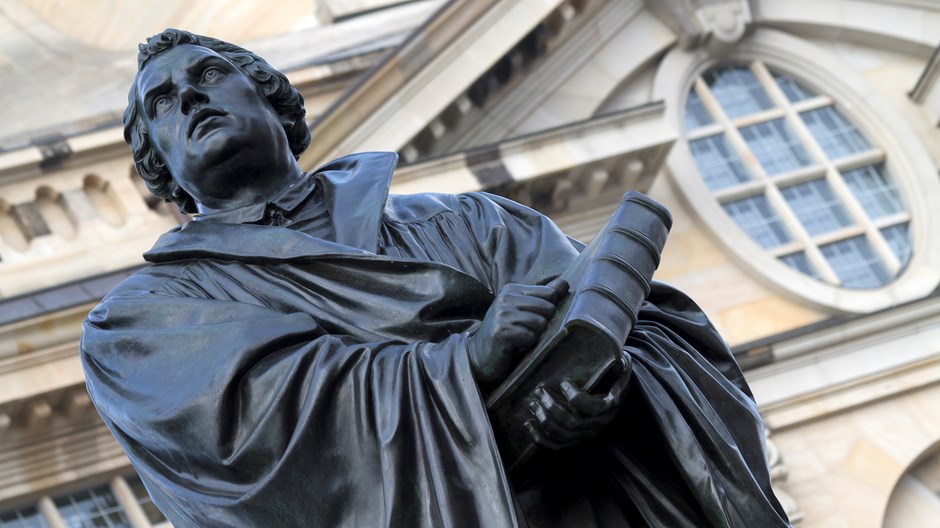 Image: robertmandel / Getty Images
Five hundred years ago, Martin Luther, an Augustinian monk, famously broke with the Roman Catholic Church, primarily over the doctrine of justification. Luther insisted salvation came through sola fide (faith alone), but Catholic leadership disagreed and excommunicated Luther for his views. So, it certainly would have surprised Luther to hear that his name would be mentioned with approval at St. Peter's Basilica in the Vatican on Good Friday in 2016. On this day, sacred to all Christians, Fr. Raniero Cantalamessa, preacher to the papal household, gave the Good Friday sermon to an audience that included the pope, cardinals, bishops, and thousands of the Catholic faithful. He said,
There is a danger that people can hear about the righteousness of God but not understand its meaning, so instead of being encouraged, they are frightened. Saint Augustine had already clearly explained its meaning centuries ago: "The 'righteousness of God' is that by which we are made righteous, just as 'the salvation of God' [see Ps 3:8] means the salvation by which he saves us."… Luther deserves the credit for bringing this truth back when its meaning had been lost over the centuries, at least in Christian preaching, and it is this above all for which Christianity is indebted to the Reformation, whose fifth centenary occurs next year. [Emphasis mine] The reformer later wrote that when he discovered this, "I felt that I was altogether born again and had entered paradise itself through open gates."
Fr. Cantalamessa went on to quote immediately from Paul: "When the goodness and loving kindness of God our Savior appeared, he saved us, not because of deeds done by us in righteousness, but in virtue of his own mercy" (Titus 3:4–5). Next, he referenced Paul's letter to the Ephesians: "God, who is rich in mercy, out of the great love with which he loved us, even when we were dead through our own trespasses, made us alive together with Christ—by grace you have been saved." (Eph 2:4–5). Clearly, Fr. Cantalamessa was linking what had once been seen as an essentially Lutheran (and generally "Protestant") understanding of justification with a biblical one, applying this view of justification to all Christians, including Roman Catholics, and most significantly the pope.
Recent Consensus
Though Luther surely would have been surprised to hear these words spoken in this context before such an audience, recently there is a history of ecumenical advances between the Catholics and Protestants pre-dating the papacy of Francis. Though there remain some significant differences regarding the understanding of the Eucharist/Communion, as well as church hierarchy, in 1999 Catholics and Lutherans signed the Common Declaration on the Doctrine of Justification. This document was additionally signed by the World Methodist Council in 2006 and is also being considered now by the World Communion of Reformed Churches.
Additionally, anyone who has kept up with recent actions of Pope Francis or read his writings would not be surprised by Cantalamessa's remarks. For example, the pope has made several gestures of reconciliation and fellowship to Lutherans and other Christian believers, as in his 2015 visit to the Lutheran church in Rome; his visit to Lund, Sweden, in October 2016 in honor of the Reformation; and his video appearance at Together 2016, a gathering of young evangelical Christians in the United States capital. Recently, Pope Francis spoke about the link between conversion and ecumenism to the annual ecumenical delegation from Finland: "True ecumenism is based on a shared conversion to Jesus Christ as our Lord and Redeemer. If we draw close to him, we draw close also to one another."
In Francis's writings, we see a theological emphasis on the mercy mentioned in Paul's writings and a key to a true comprehension of the doctrine of justification. In his book Evangelii Gaudium, Pope Francis clearly says, "The salvation which God offers us is the work of his mercy. No human efforts, however good they may be, can enable us to merit so great a gift. God, by his sheer grace, draws us to himself and makes us one with him."
Similarly, in The Name of God Is Mercy, the pope states, "Jesus forgave even those who crucified and scorned him. We must go back to the gospel. … No human sin, however serious, can prevail over or limit mercy." It is evident that Pope Francis wants to teach the church, once again, to recover a sense of the lavishness of God's grace and mercy, not to be earned by legalistic works done out of fear.
Recovery Not Discovery
The pope's teaching on this subject is not an innovation, still less a rejection of traditional Catholicism. It is essentially a recovery of a balance between grace and mercy on the one hand and obedience to God's law on the other, going back to the early days of the church. This distinction is also important in understanding how Luther's emphasis on justification by faith was not a discovery, but a recovery.
On the one hand, going back to the Gospels, as Pope Francis suggests, we see that Jesus clearly illustrated in his actions and expressed in his words a consistent teaching that God's love is available to sinners, something freely and lavishly given. The three parables in Luke 15 (the lost sheep, the lost coin, and the Prodigal Son or lost son) all testify to God's seeking of the lost, who are welcomed back without "earning" anything. Jesus publicly forgave sinners who repented, such as the woman who knelt at his feet and washed them with her tears (Luke 7:36–50) and Matthew/Levi, the tax collector (Matt. 9:9 and Luke 5:27–32). Both examples caused Jesus to be criticized for associating with a known sinner.
The ultimate example of Jesus' love and mercy is shown on the cross, where Jesus forgave his enemies and executioners, as well as another publicly known sinner, one of the two thieves crucified with him (Luke 23:39–43). Though there is no explicit teaching about "justification by faith" in the Gospels, Jesus' great mercy toward sinners, coupled with his denunciation of the self-righteousness of the Pharisees, implicitly and powerfully shows that legalistic striving is not the way to salvation.
However, it would be wrong to see in Jesus' denunciation of the Pharisees a renunciation of the Jewish law or advocacy of immoral behavior. Jesus never says the Jewish law is bad or to be rejected. In fact, he says just the opposite in Matthew 5:19 and 23:1–12. The Pharisees were sinning, not by their devotion to the law, but through an emphasis on law over love, through trusting in their own righteousness. This tendency is critiqued in Jesus' parable about the Pharisee and the tax collector praying in the temple, where it is the tax collector, not the Pharisee, who Jesus says would leave the temple justified before God (Luke 18:9–14). Experiencing this kind of forgiving love through faith leads to the love that fulfills the law. Self-righteously and proudly trying to earn God's favor through legalism does not lead to love.
It was this tendency toward legalism within the church of his day, which Luther was countering in the Reformation. As Cardinal Walter Kasper says, "The insight that God's justice is not a punitive justice, but rather a justice that justifies the sinner, counts as the great Reformation discovery of Martin Luther, a discovery that also liberated him personally from anxiety about sin and from a troubled conscience."
However, Cardinal Kasper says "Luther's discovery is fundamentally a rediscovery. It has older roots in the common tradition of the early church. We find these roots in Augustine, for whom Luther had high esteem, and in Bernard of Clairvaux" and, as we have seen, in the writings of Paul and the Gospels. Luther did not invent this doctrine of justification by faith; he simply redirected the church's focus toward it. The saving death of Christ out of his great love is the root and source of our justification. Both Protestant and Catholic historians know that Luther himself saw his ideas as a rediscovery, but many lay people in both traditions might not realize the common roots of the doctrine of justification, going back to the earliest days of the church, and the more formal links among Catholic and Lutheran church leaders today.
However, we do not want to act as if there are no differences between Catholics and Protestants at all. Though I would argue that a clear understanding of Catholicism puts it very close, if not identical, to the Protestant view of justification by faith, Catholics do emphasize sacraments (seven in the Roman Catholic Church) as a means of participating in the grace available through Christ's death and resurrection.
Most Catholics do not think of these sacraments as "works," any more than most Protestant Christians consider baptism (one of the two sacraments kept by Luther) as a work either. Protestants see baptism as an outward sign of an inner spiritual reality. Similarly, according to the catechism, Catholics view each sacrament as "an outward sign instituted by God to give grace." Though we emphasize them more than Protestants do, Catholics see sacraments not as actions that earn God's favor, but as physical ways we can experience his grace in a particular and profound way. In both traditions, sacraments should not be understood as "works righteousness."
The Heart of Christianity
But, does this liberating experience of justification through faith in the death and resurrection of Jesus lead to such a relaxed conscience that we can slide into presumption, to the idea that "it doesn't matter what I do because I'm saved"? This idea is strongly countered by Paul in the letter to Romans, where he asks one of many rhetorical questions: "Shall we go on sinning so that grace may increase? By no means!" (6:1–2). Rather, through the free gift of justification, we are saved for a life of good works, done in the Spirit, as Paul explains: "Now if we died with Christ, we believe that we will also live with him. … For sin shall no longer be your master, because you are not under the law, but under grace" (Rom. 6:8, 14). This life of grace flows out of the justified soul, because it is Christ living in the soul, loving through him or her.
This truth makes up the essence of Augustine's conversion. Just before his complete conversion, Augustine had a vision of Continence, personified as a loving and gracious woman, who reassures him: "Why are you relying on yourself, only to find yourself unreliable? Cast yourself upon him, do not be afraid." It was this vision that prepared Augustine for the experience shortly following, in the Milan garden, where he "takes and reads," from Paul's letter to the Romans: "Put on the Lord Jesus Christ and make no provision for the flesh in its lusts" (13:13–14).
Putting on Christ is made possible only through justification by faith in God's great and saving love, not through striving in one's own power, as Paul says, "Christ in you, the hope of glory" (Col. 1:27). Only Christ can perfectly fulfill the law of God, so we can only be fully justified when he lives it through us. Cardinal Kasper points out that God reconciles himself with us, "But he does that so that we, as a result, become a new creation in Christ," referring to 2 Corinthians 5:17–19. We are transformed by the grace of God working in our hearts.
Despite the recent affirmations of Catholic leaders, particularly Pope Francis, affirming the grace-filled teaching at the heart of the Christian faith, church teaching on this subject at the time of the Reformation was not always clear, and to some believers, the life of faith may have seemed like a series of rules. This was not the true teaching of the church, but for some—like the young monk Luther—the teaching of mercy was getting lost. However, this problem can develop in believers at any time, if we are not careful.
Rules and customs develop, supposedly based on the Bible, even the Bible alone (sola scriptura), but any human institution and any human being can easily turn from grace to law. It is an easy temptation to fall into, the temptation of the elder brother in the parable of the Prodigal Son in Luke 15. We work so hard that we miss the fact that the Father loves us and that all he has is ours. He longs to shower love on us, but we are so busy trying to earn it that we miss its many manifestations and the still small voice speaking to our hearts. When Catholic leaders today like Pope Francis and Fr. Cantalamessa speak positively of Luther, it shows a recovery of an emphasis on trusting in God's grace and justification by faith that is at the heart of Christianity, whether Catholic or Protestant.
Nancy Enright is an associate professor of English and Catholic studies at Seton Hall University, where she serves as director of the core.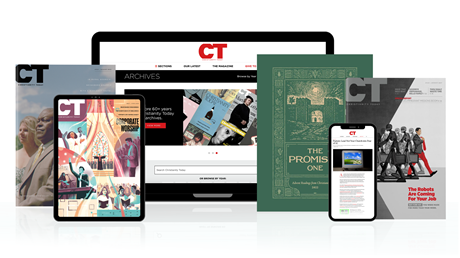 Subscribe to Christianity Today and get access to this article plus 65+ years of archives.
Home delivery of CT magazine
Complete access to articles on ChristianityToday.com
Over 120 years of magazine archives plus full access to all of CT's online archives
Subscribe Now
A Roman Catholic Appreciation of Justification by Faith
A Roman Catholic Appreciation of Justification by Faith