On the day I was born, the doctor who delivered me inscribed my birth records with a firm hand: 7 pounds, 11 ounces, 21 inches. It was the first legally attested evidence that I was not God.
God is infinite, unbound by limits. He defies measurement of any kind. His limitlessness underlies all of his attributes; his power, knowledge, love, and mercy are not merely great, but they are infinitely so, measurelessly so. No one can place any aspect of who God is on a scale or against a yardstick.
One of my favorite hymns speaks to the measurelessness of just one of God's attributes: his love. The hymn writer reflects on the futility of trying to capture it:
Could we with ink the ocean fill,
And were the skies of parchment made;
Were every stalk on earth a quill,
And every man a scribe by trade;
To write the love of God above
Would drain the ocean dry;
Nor could the scroll contain the whole,
Though stretched from sky to sky.
Paradoxically, he who is immeasurable is himself the measure of all things. Note this beautiful contrast in Isaiah 40: "Who has measured the waters in the hollow of his hand and marked off the heavens with a span, enclosed the dust of the earth in a measure and weighed the mountains in scales and the hills in a balance? Who has measured the Spirit of the Lord, or what man shows him his counsel?" (Isa. 40:12–13, ESV).
Put succinctly, who has measured everything? God has. Who has measured God? No one.
Jen Wilkin is a speaker, writer, teacher of women's Bible studies, and book author, including None Like Him: 10 Ways God Is Different from Us (and Why That's a Good Thing). Content taken from None Like Him by Jen Wilkin, ©2016. Used by permission of Crossway, a publishing ministry of Good News Publishers, Wheaton, IL 60187, www.crossway.org. Scripture quotations within the text of each devotion marked "ESV" come from The Holy Bible, English Standard Version®, copyright © 2001 by Crossway, a publishing ministry of Good News Publishers. Used by permission. All rights reserved.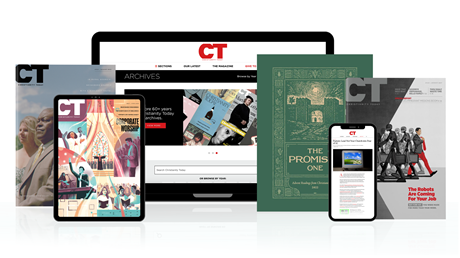 Subscribe to Christianity Today and get access to this article plus 65+ years of archives.
Home delivery of CT magazine
Complete access to articles on ChristianityToday.com
Over 120 years of magazine archives plus full access to all of CT's online archives
Subscribe Now
Our Immeasurable, Measuring God
Our Immeasurable, Measuring God