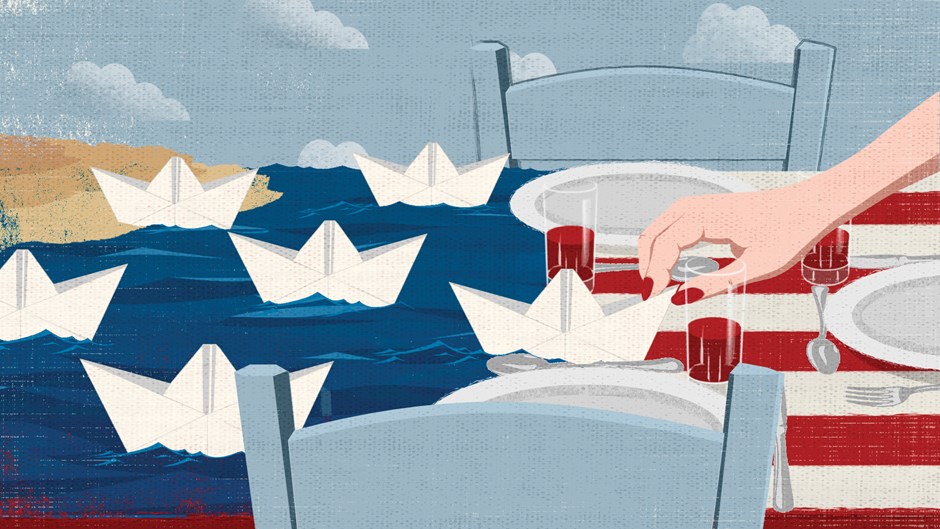 Image: Oli Winward / Salzmanart
Osama is blind. According to an NPR report, he lost his eyesight in 2012 when a mortar shell exploded nearby, killing everyone around, except him. He, his wife, and four children were Syrian refugees in Jordan for three years before learning the US State Department had approved them for asylum. To obtain the relevant visas, however, Osama and his family required a sponsor: a family to welcome them and assist in their transition.
The sponsor for this Muslim family? A Christian congregation—Nassau Presbyterian Church in Princeton, New Jersey. The family had almost no information about the congregation. They were told only that someone would greet them. But soon enough, they received free housing and a kitchen stocked with food. A team of congregants undertook various gestures of hospitality, even inspecting the house to ensure it would be safe for a blind resident.
The family was overwhelmed by the generosity of the Nassau congregation, and the church was enriched in turn. As one congregant remarked, "the family's presence has been a blessing to us all." An immigrant family had need, and the church met it, in keeping with God's Old Testament command: "The foreigner residing among you must be treated as your native-born" (Lev. 19:34).
In 2016, the United States admitted approximately 38,000 Muslim refugees, according to the Pew Research Center. This figure is up considerably from the year prior, and more than double that of 2011. One reason for the increase is the staggering number of refugees spilling out from Syria and surrounding areas, where civil war and ISIS brutality have caused a mass exodus. Refugees from Syria alone have ballooned in number over the past five years, from around a million in 2011 to nearly 14 million in 2016.
But of course, not all Muslim refugees receive the warm welcome that Osama's family enjoyed. Ever since the terror attacks of September 11, 2001, American attitudes toward Islam have trended toward suspicion and hostility. Many citizens are ignorant of Islam's basic tenets and have little to no personal interaction with Muslims. Evidence of American fear toward Muslims abounds. According to a recent Pew Center study, 51 percent of white evangelicals believe there is a "great amount" of extremism among American Muslims, and 72 percent allege a natural conflict between Islam and democracy. Yet, in the same study, a full 92 percent of American Muslims claim they are "proud" to be American.
Mecca and Amsterdam
In Christian Hospitality and Muslim Immigration in an Age of Fear, Matthew Kaemingk, assistant professor of Christian ethics at Fuller Theological Seminary, makes a political and theological case for Christians to welcome Muslims with joy and generosity. As a people united under Christ's rule, he argues, the church is tasked with bearing witness to the truth of that rule in every sphere and unto every nation. As such, Christians are called to love and befriend their Muslim neighbors, extending hospitality both individually and institutionally, remembering that we, too, were once foreigners and strangers (Ex. 22:21; Deut. 10:19).
The book begins in the Netherlands, highlighting one nation's response to the questions and challenges of Muslim immigration. The Dutch response has been mixed historically. As Kaemingk demonstrates in these sketches, some Dutch have been welcoming while others have been hostile—and a variety of ideological factors have contributed to this breakdown. But while public tolerance has been uneven, the cultural presumption has always been that Muslims should become more liberal and more Dutch. They are expected to assimilate. This history tells us something about the depth of Western aversion to Muslim immigrants, but it also shows the church's incredible opportunity to practice hospitality.
The virtue of Kaemingk's storytelling is the subtlety with which he signals continuities and discontinuities between Dutch and American experiences. And though the situations are hardly identical, the Netherlands remains a relevant comparison point because each nation shares an abiding commitment to some form of political pluralism.
When you hear "pluralism," it's best not to think of a misty-eyed "COEXIST" bumper sticker or some other equally glib dismissal of Christian truth claims. This isn't a "many ways up the mountain" kind of pluralism. Rather, Kaemingk commends a Christian pluralism fully infused with an exclusive gospel, a gospel compelling the church to live among others as though it really is good news. The gospel implies that there is nothing to fear in another's cultural difference, and it calls us to offer everyone the peace and love of Christ. The gospel, in other words, helps make possible a Christian pluralism, readying us to accommodate cultural and even religious difference.
Next, Kaemingk applies the wisdom of Abraham Kuyper, the Dutch theologian and statesman, to debates over Muslim immigration. As Kaemingk demonstrates, Kuyper's political theology sets itself against aspirations for cultural or social uniformity, and thus forms the basis of a viable doctrine of pluralism.
Liberalism, the prevailing political commitment of the West, fancies itself religiously neutral, when in fact it is thoroughly and inescapably religious. In other words, it has its own creed (namely, that people should enjoy maximum freedom to pursue their own vision of the good life), and it casts a wary eye at communities seeking to live by some other creed (for instance, that Jesus Christ is Lord). And so, rather than encouraging the peaceful coexistence of communities with very different moral and religious convictions, liberalism aspires to a kind of cultural uniformity. In its homogenizing tendencies, it is not unlike certain visions of Christian theocracy. In fact, they are opposite sides of the same coin.
Kuyper's brand of pluralism, however, is refreshingly Christocentric. Jesus Christ alone is the true and ultimate sovereign. His jurisdiction is all-encompassing. As Kuyper affirms, "Sin alone has necessitated the institution of government." As such, governance is a delicate affair and should in principle remain limited, especially where religious communities are involved. (There are two exceptions: first, when one community intrudes upon another, and second, when a "weak one" within a community is vulnerable to exploitation.) In a truly pluralistic culture, government exists not to define and enforce a particular vision of ultimate truth but to protect and nurture vital social institutions that pursue their own, doubtless very different, moral and religious commitments. If they are rightly structured, according to Kaemingk, "institutions can equip Christians to go out into public life to embody a different way of living between Mecca and Amsterdam." Or, as he puts it later, "to pursue moments of commonness, connection, and cooperation." Kuyper's theological vision offers a Christian politics of solidarity that prevails over a politics of suspicion.
The third and fourth parts of Kaemingk's book are perhaps the strongest and most illuminating. If, as he argues, Christians embrace the Kuyperian vision of pluralism, then they should feel a corresponding obligation to show hospitality toward Muslim immigrants, perhaps even becoming vocal advocates and activists on their behalf. Kaemingk also emphasizes the importance of treating hospitality as "a way of life." Hospitality involves ordinary people willing to do ordinary things faithfully. It describes how we live with others in the world as it is given.
Kaemingk gives several splendid examples of ordinary hospitality that, as they develop into consistent practice, make an extraordinary impact: Christian and Muslim women gathering weekly to sew together, universities welcoming instructors and students of diverse religious backgrounds, civil institutions fostering (rather than forcing) inter-religious dialogue, eating ethnic foods in minority neighborhoods, and extending free or subsidized medical care to underprivileged migrant communities. Hospitality involves more than speaking up for the oppressed or disenfranchised—it also requires humble, hopeful, persevering action for another's flourishing. Through hospitality, Christians demonstrate that Muslims have a place to belong.
The Deep Challenges of Difference
How might Christians, as Kaemingk puts it, "take action and apply the insights of Christian pluralism?" The book offers ten recommendations for living peacefully with neighbors of diverse religious traditions. Among Kaemingk's suggestions: avoiding the rhetoric of Right versus Left, defending Muslim spaces, embracing cultural marginalization, building institutions, and disavowing Christian nationalism. As Kaemingk remarks: "As soon as evangelicals lay down their dreams of American culture domination, they can pick up the more humble—and, frankly, more interesting—dream of American pluralism, justice, and respectful contestation."
Our immigration debates often revolve around pairs of unworkable extremes: Shall we build our walls high, or swing our doors wide open? Letting go of this dichotomy allows Christians to consider a more modest and practical political theology. As Kaemingk reminds us, "Neither walls nor doors make a house feel like a home." It's one thing for a nation to open its doors; it's quite another for individual Christian households to open their doors "to the deep challenges of difference." Such a gesture requires embodying a different, almost radical kind of politics. It is a politics on full, sublime display in the person of Jesus Christ, who welcomes the stranger to his table and shares the riches of his kingdom. After all, says Kaemingk, "the ultimate end of politics is not a wall of security but a table of fellowship."
Christian Hospitality and Muslim Immigration in an Age of Fear is a timely, instructive book. The kind of hospitality it commends us won't be easy or convenient—but then again, sincere witness-bearing rarely is. A welcomed people must welcome. Whom shall we fear?
Matthew Arbo teaches biblical and theological studies and directs the Center for Faith and Public Life at Oklahoma Baptist University.
Have something to say about this topic? Let us know here.
Have something to add about this? See something we missed? Share your feedback here.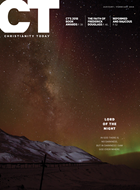 This article is from the Jan/Feb 2018 issue.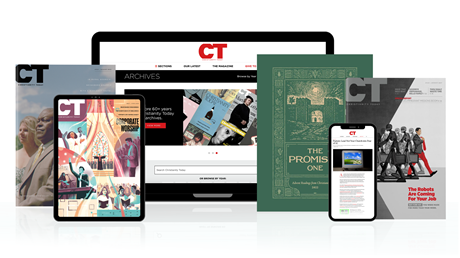 Annual & Monthly subscriptions available.
Print & Digital Issues of CT magazine
Complete access to every article on ChristianityToday.com
Unlimited access to 65+ years of CT's online archives
Member-only special issues
Subscribe
A Wall of Security or a Table of Fellowship?
A Wall of Security or a Table of Fellowship?