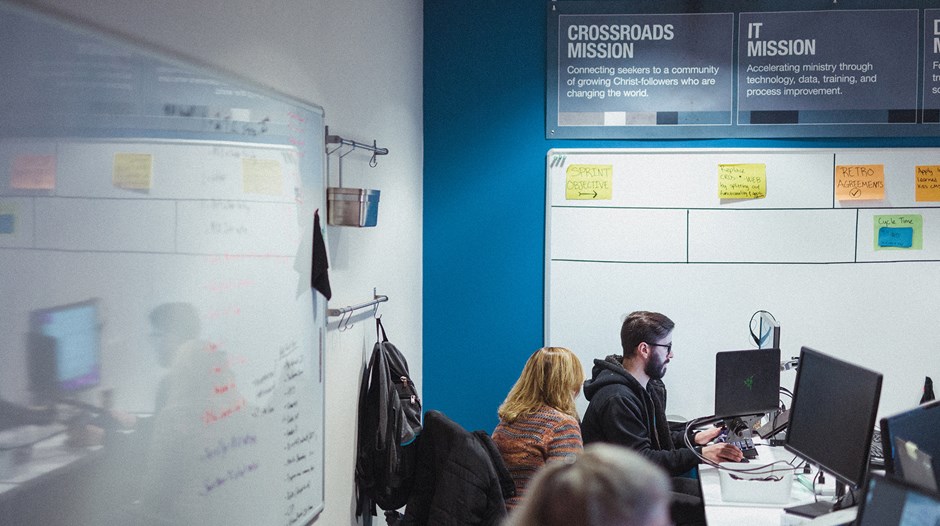 Image: Jonathan Willis
The fastest-growing congregation in America is one you may never have heard of with a name you hear everywhere: Crossroads Church.
Crossroads are about as common as First Baptists among today's non-denominational, contemporary churches. But this particular Crossroads, based in Cincinnati, could have a location near you in coming years if all goes according to plan. It has set out to take on nationwide influence, leveraging data from its app and streaming services to choose where to launch new campuses.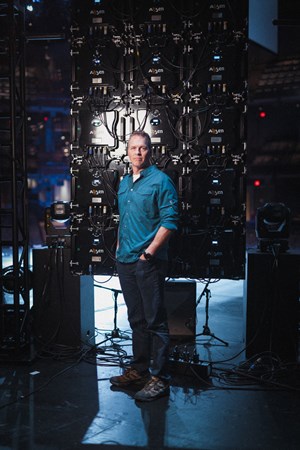 Image: Jonathan Willis
Just over two decades old, the booming church still functions like a startup—for good reason. Described by Cincinnati Business Courier as both "an entrepreneurial church and a church for entrepreneurs," its business mentality has been key to its growth so far and shapes how it will expand—essentially, franchise—in the future.
In 2017, Outreach Magazine and LifeWay Research named Crossroads the fastest-growing church for the second time (the first was in 2015). With 14 campuses and 38,000 in attendance, Crossroads added around 6,000 members in 2016—growing at a rate of 25 percent.
Taking ministry out of the box
While keeping focused on Scripture and the Spirit, leaders at Crossroads pride themselves on rethinking the standard tone of church life. They favor catchy language and marketing, powerful messages, and exciting programs. They credit the church's growth to an entrepreneurial willingness to break the mold—even their own.
"We don't set out to intentionally disrupt anything," said Brian Tome, senior pastor of Crossroads, who mingles business metaphors and spiritual allusions.
"But Jesus said he works in new wineskins. He's not against old wineskins. But he said he has come to do a new thing. The Holy Spirit is active in our church, causing us to do things other churches aren't willing to do."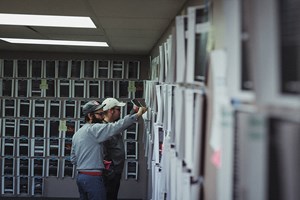 Image: Jonathan Willis
Tome cites the Holy Spirit's leadership in everything at Crossroads—from their vision to expand beyond the Midwest to how they organize their programs to why they placed beer kegs outside a prayer tent at a recent men's event, drawing thirsty participants in for prayer.
While he has a seminary degree and a ministry background, Tome has surrounded himself with business leaders, out-of-the-box creatives, and entrepreneurs. Most of Crossroads' founders (who invited Tome to the city to be their pastor 22 years ago) were executives at Procter & Gamble, the Cincinnati-based marketing behemoth behind brands like Tide, Febreze, Crest, Gillette, Charmin, and Pampers.
"We're taking risks we wouldn't take if we were preoccupied with sustaining ourselves," Tome said. "I think that's the call of discipleship … We have to be willing to take the risk and be hurt if we're going to take new ground and be formed into being the disciples Jesus asked us to be."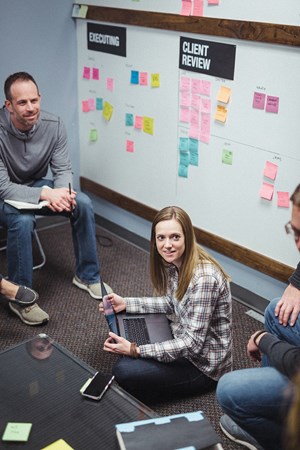 Image: Jonathan Willis
Founded in 1996, Crossroads has always built on its business background. Only a small fraction of staff members have seminary training, because the church seeks diverse staff to fill roles that go beyond preaching, music, youth, and children's ministry.
While in-house graphic design and branding are nothing new for megachurches, Crossroads has a team that functions like an ad agency—stocked with designers, copywriters, project managers, public relations managers, and social media strategists.
It's these initiatives and strategies that set the church apart, rather than Tome himself as some kind of celebrity pastor. (When he showed up recently at a pastors' conference in Silicon Valley, he said no one recognized him.)
The church embraces conversational and edgy lingo, what it deems "culturally current communication." In its manifesto, Crossroads celebrates authenticity because "hiding sucks." The church takes a strong stance on biblical truth but points out that it doesn't care if members wear socks with sandals or how they pronounce "GIF." They adopted a "beer test" for leaders on stage each weekend: Anyone speaking should be approachable enough that you'd want to tip one back with them.
Tome predicts American churches will soon look radically different from what Christians have expected and experienced for the past few decades, though he doesn't know exactly how.
To stay ahead of whatever changes might come, the church employs two full-time market researchers, as well as a sort of research and development division. The "skunkworks" team borrows its name from the corporate-world moniker for a group that operates autonomously and often secretly to pioneer new ideas. Crossroads' leadership entrusts the skunkworks team, full of young Christian entrepreneurs, with building ideas for the future.
They aren't supposed to play it safe. These days, for example, the high-tech team is looking into ways Crossroads could use artificial intelligence in ministry and worship. "Their task—figure out a way to put Crossroads out of business," Tome said. "Anything short of sin is up for grabs."
This sort of drive plays well with many in the young-professional demographic that Crossroads attracts. The church's branding and marketing target adults aged 25–35, especially male seekers. They assume if a guy in that range gets hooked, then as he moves along in life —getting married, having a family—the others in his household will join him at church.
A recent in-church clicker survey across all Crossroads sites indicated that the highest represented age group was 30–39—nearly a quarter of the congregation. That's in line with research showing the average age at an American megachurch is around 40, compared to 53 at smaller congregations.
Crossroads has also embraced the entrepreneurial demographic more practically, with the inception of an entrepreneurship conference called Unpolished.
Several years ago, Tome was approached by a business contact who expressed concern that young entrepreneurs were struggling spiritually. Tome realized that, outside of worship services, Crossroads focused on poverty initiatives—"downstream problems in the kingdom of God, which are important," he noted, "but they occur because of upstream problems." Tome wanted to shift tactics to also encourage the people making money.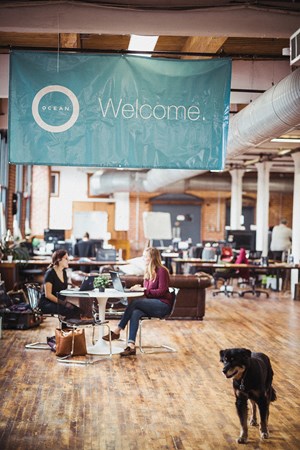 Image: Jonathan Willis
Unpolished was recently handed off to Ocean Accelerator, the only independent, faith-based business accelerator in the country. It was created by Crossroads members in 2015, formerly headquartered in a church-owned building and supported by Crossroads funding. Bloombergprofiled the Crossroads initiatives last spring.
"For Crossroads, embracing the gospel of Silicon Valley isn't solely about money; it's also about bringing the next generation into the church," Mya Frazier reported for Bloomberg. "Ocean Accelerator offers a way to reckon with two converging trends: growing anxiety about jobs and a decline in church attendance among young people."
Ocean is a five-month residential program for tech companies focused on developing entrepreneurs financially and spiritually. Organizations receive guided mentorship and pro-bono legal, accounting, human resources, and marketing services—plus seed financing of $50,000. Up to 12 companies are chosen each year, and so far 26 have graduated the program.
Taking church anywhere
From the Cincinnati area, Crossroads' 14 locations extend north to Dayton, Columbus, and Cleveland, Ohio, as well as south to Lexington, Kentucky. While most Protestant megachurches are now multisite—62 percent according to Leadership Network and the Hartford Institute for Religion Research—few are doing it at Crossroads' scale. To compare, the average number of locations is just 3.5.
Crossroads stocks each location with live music and campus pastors, the same sermon shown onscreen at every site. It maintains continuity even in the details: Each building Crossroads owns is remodeled with a similar interior and stage setup, using matching lighting cues.
The consistency across sites allows Crossroads to "reimagine" preaching itself and take nontraditional approaches. Last fall it kicked off a video series where Tome sits down with a guest, such as a local DJ and a startup founder, to talk "real life" over a beer. It throws an annual Super Bowl of Preaching that adds "tailgating, smack-talk, commercials, and music" to head-to-head sermons from two lead pastors.
This year, for 20 of the 52 weekends in 2018, Crossroads will show pre-recorded sermons filmed entirely on location outside the church—transporting worshipers to where Bible stories happened (one series was filmed in the Holy Land and another in Rome), presenting different voices with biblical application.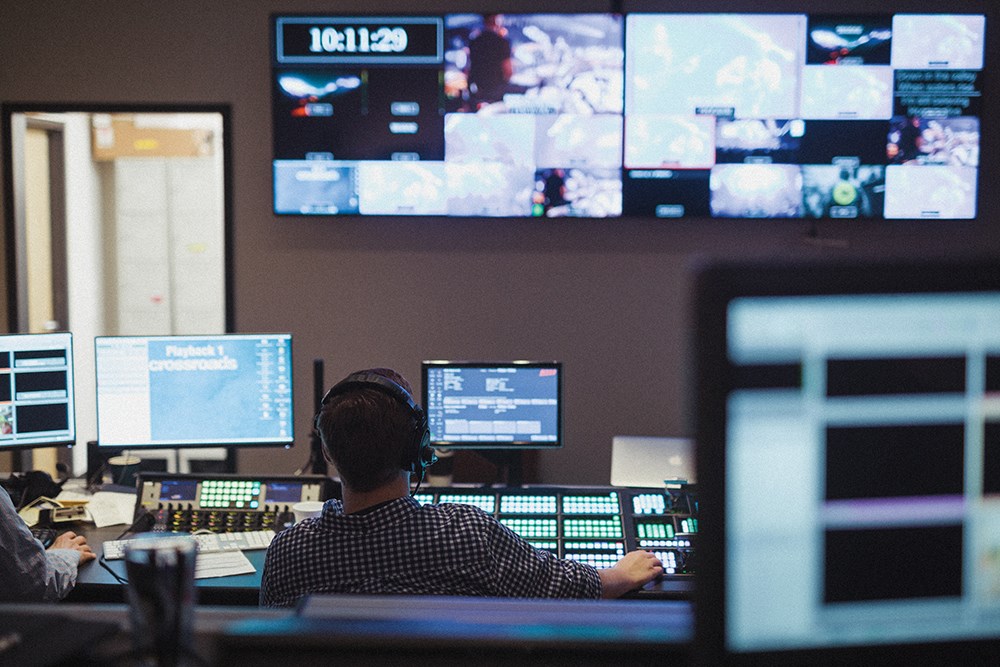 Image: Jonathan Willis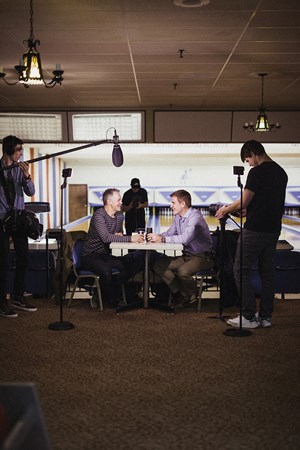 Image: Jonathan Willis
Crossroads has a similarly centralized operating model, with locations looking to HQ for direction and resources but using a portion of their budgets for local needs. One campus has a program focused on racial reconciliation, while another has a ministry to people recovering from heroin addiction. To keep everyone connected, all Crossroads staff members meet together weekly—whether in person or teleconferenced—for updates and devotions.
Franchising the church
Like about a third of US megachurches, Crossroads relies on technology and resources to support church growth beyond physical buildings. Leaders see Crossroads Anywhere—groups that gather in homes to view the weekend service together—as a crucial part of the church's future.
At least 38 groups meet together for Crossroads Anywhere in far-flung cities like Seattle, Los Angeles, and Houston. The church spends over $100,000 a month to keep the app's digital infrastructure running.
The Crossroads Anywhere app also acts as a data-driven feasibility study for possible new campuses. If more than 100 people are convening in a certain location, Crossroads evaluates if it should begin providing on-location resources in that region.
In January, the newest Crossroads campus opened in one of the outlying Cincinnati regions where the staff had seen growing interest—and 8,000 people showed up the first weekend.
To expand beyond the Midwest, Crossroads will rely upon technology to liberate where brick and mortar have limited. Consistent with a business startup mentality, Tome stated, "No matter how big one building is, it is still too small for the growth that God wants for his church."
Jenn Sperry, whose team oversees media at Crossroads, said the staff had always sensed that the church was growing beyond regional borders. But starting last summer, Crossroads team members were asked to use new language when speaking of the church to communicate a more unlimited scope. Sperry's department, for instance, has been recast as a "national team."
Early on in the job, Sperry watched the speed of change going on, caught her breath, and asked her supervisor, "Is it always going to be this way?" At a church like Crossroads, the answer is almost always yes. The fast-paced environment shattered her expectations that working at a church could be boring.
"It's invigorating and also frustrating to be in an environment of change all the time," Tome acknowledged.
The rate of growth and change can also create trepidation and questions for church members. One longtime member who worships and serves at the original Crossroads campus in Oakley, a neighborhood of young professionals near the city center, heard whispers of concern after the national announcement was made.
"People hear this declaration of Crossroads becoming a national church, and they wonder, 'What does that mean for us? Do we lose our identity?' " said Marie, who asked to only be identified by her first name. She had her own questions, too. "If God has placed this on the hearts of our leaders, then we must trust what God is doing."
The church has learned from experience that franchising in new regions doesn't always go smoothly. For instance, when Crossroads opened in Lexington, Kentucky, it merged with an existing congregation named Crossroads Christian Church. Tome said leaders thought with the same name and a good relationship between the senior pastors that it would be an easy transition. But about 40 percent of the original congregation left in the first six months, some citing theological differences.
Another learning curve for Crossroads has been understanding the culture in new regions where it expands. For instance, in Lexington, most of the city stays home when the University of Kentucky is playing basketball, so having Saturday night services at those campuses during basketball season simply won't work.
The Crossroads staff is still discerning how to accommodate regional differences as the church expands—down to the wording of sermons, which are broadcast to each site. "We can't reference things that are specific to Cincinnati," Sperry said. "We still mess that up. We're not doing it perfectly."
Letting go to grow bigger
Church growth experts agree that the risks and reinvention associated with the corporate world are important for churches as well.
"The churches I see growing the most are not doing so because they are using techniques from the business world," said Sean Morgan, founder of the church leadership division of CDF Capital and curator of TheAscentLeader.org.
But "they are open to what might yield success."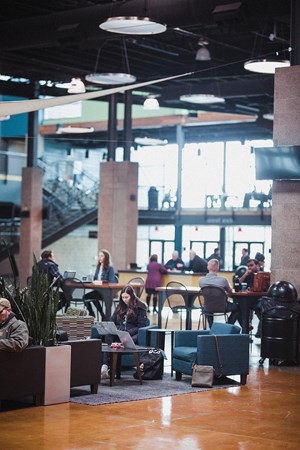 Image: Jonathan Willis
"The right approach lies somewhere in the middle," Morgan said. "We can't over-spiritualize everything and pretend that we aren't human. We also can't over-plan and strategize and not leave room for God's Spirit."
As Morgan advises megachurch leaders, he asks: What will you let go of to help you on your mission moving forward?
"Clinging to things of the past oftentimes distract us from the real mission of the church. Churches can become tethered to a thing that people like. But the church is not designed to keep its people happy," Morgan said. "Becoming comfortable, becoming complacent—it leads to irrelevancy. The opposite of that is entrepreneurial."
Crossroads, too, is willing to let go of even successful and innovative initiatives that hamper its vision of being "one church in many locations."
For a decade, the church put countless staff and volunteer hours and over $1.5 million a year into its Christmas production, which in 2017 drew 121,000 people. But the performances were only conducted at two Cincinnati campuses, so the church is discontinuing the show and shifting those resources toward something that will be available to all Crossroads participants.
The church still wants to put on "immersive experiences." In 2017, Crossroads purchased 400 acres of land to host camps for men, women, couples, and teens. "We believe in great weekend services," Tome said. "But a bigger impact, pound for pound—nothing matches getting people outside their normal rhythms" in the camp context.
Taking market share
Naturally, being the fastest-growing church in America makes Crossroads a polarizing entity.
"We're regularly judged for our methods because it doesn't line up with 'what a church does,' " Tome said. "I'm happy to be judged by Jesus; he can judge me all day long. Trying to measure who we are by what a church expectation is—that's a recipe for disaster."
When Crossroads opens a campus, nearby churches can feel threatened by the burgeoning neighbor next door. At one predominantly black, Baptist church a mile and half from the Crossroads Uptown campus, a leader noted that it hurts other churches in the city to have such a dominant force right up the road.
Asking to remain anonymous, she spoke of the heartbreak that occurs when people choose to leave her congregation to attend Crossroads. She feels that when people grow tired of small-church accountability, they find shelter in the anonymity that a large church can provide.
Others see Crossroads as just one piece in the larger religious landscape.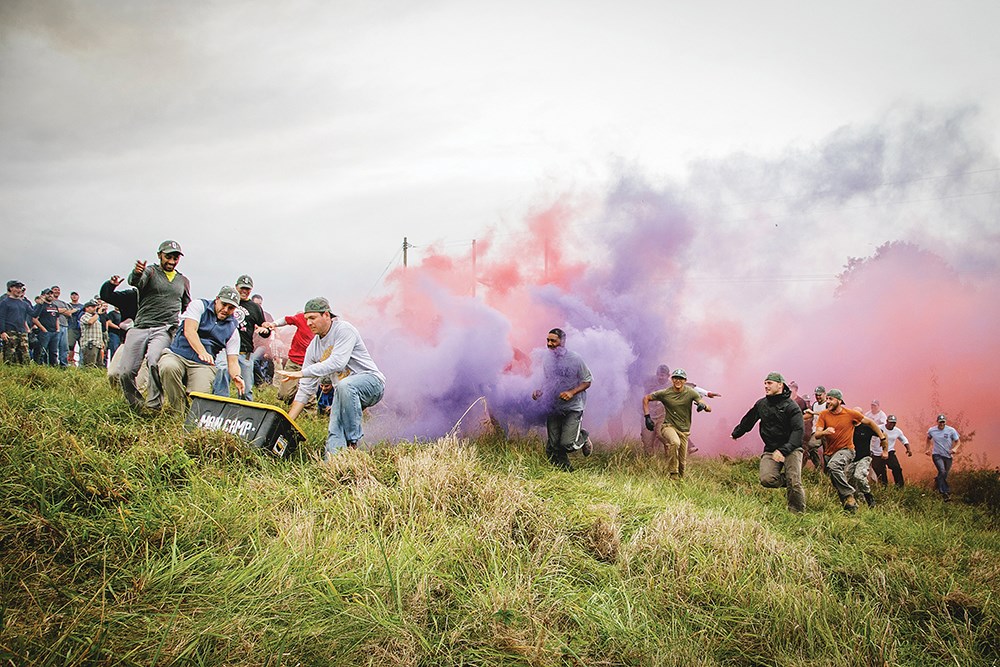 Image: David Slaughter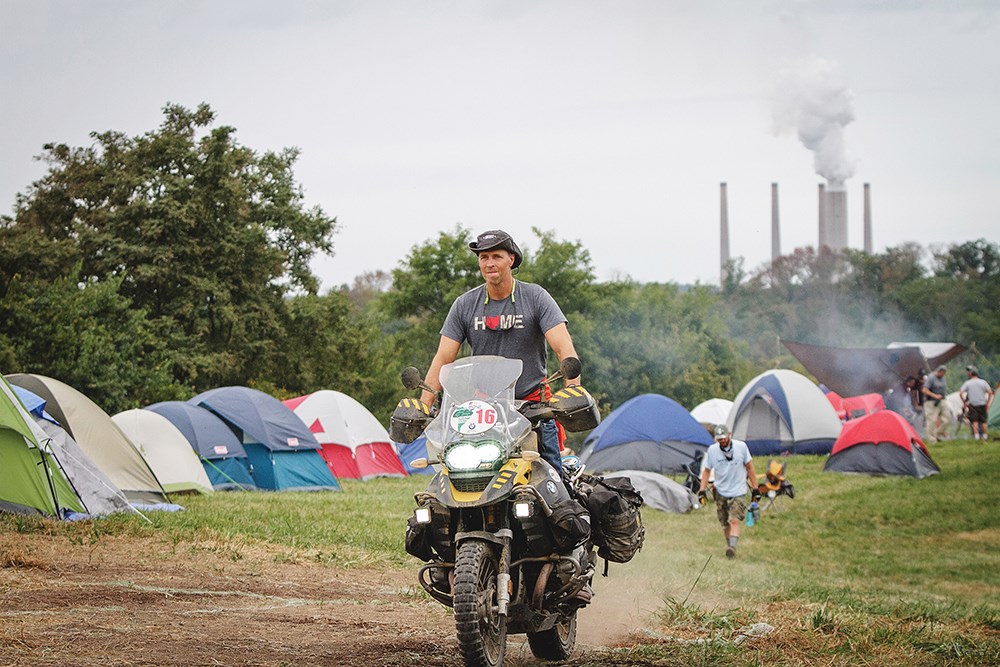 Image: David Slaughter
"People are involved in multiple churches, especially in the city," observed Russell Smith, senior pastor of Covenant First Presbyterian in downtown Cincinnati. "I almost think of it more as a Christian ecosystem than people being members of one church. The hard and fast lines don't exist as much. People will go to Bible study over here and worship over there. Some people are dabbling at Crossroads and they're also dabbling elsewhere."
Smith's congregants are mostly older and there is no youth group at his church, so one of his daughters, a junior in high school, attends youth group at Crossroads. Smith and his wife say they are grateful for the volunteers and small group leaders from Crossroads who are investing in their daughter.
"On my worst days, I could get really grouchy about Crossroads, and I could give you a laundry list of critiques," Smith said. "But on my better days, they push me and challenge me to winsomely articulate what I understand the Christian faith and healthy discipleship to be all about."
When Smith hears grumbling about Crossroads from his own church members, "I will say from the pulpit to my very traditional, buttoned-down, hymn-singing, organ-playing church: 'Folks, you need to thank God for Crossroads. They're reaching people who wouldn't walk through our doors. And Crossroads needs to thank God for our little church. We reach people who would never walk through their doors.'
"What else can we say but, 'To God be the glory'? The kingdom wins."
Kelly Carr, former senior editor of The Lookout, is a writing and editing consultant at EditorOfLife.com. She lives in Cincinnati, Ohio, where she and her husband planted Echo Church.
Have something to say about this topic? Let us know here.
Have something to add about this? See something we missed? Share your feedback here.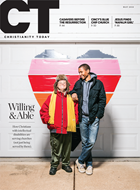 This article is from the May 2018 issue.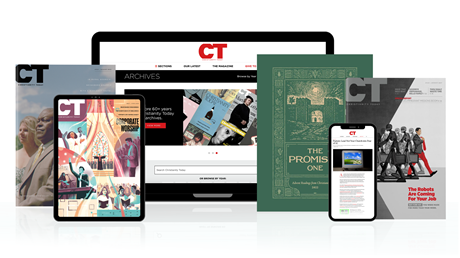 Annual & Monthly subscriptions available.
Print & Digital Issues of CT magazine
Complete access to every article on ChristianityToday.com
Unlimited access to 65+ years of CT's online archives
Member-only special issues
Subscribe
How to Become America's Fastest-Growing Church? Think Like a Startup.
How to Become America's Fastest-Growing Church? ...