true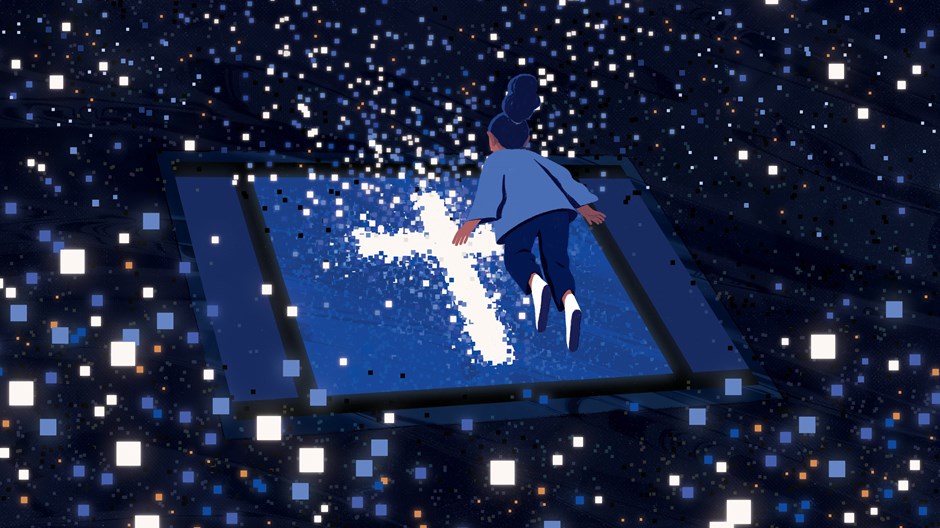 Image: Ran Zheng
Growing up on an Idaho farm, Neal Harmon recalls how film sparked imagination in him and his three brothers. "I remember watching Swiss Family Robinson, then building treehouses in the trees behind our house," he said. "After watching Star Wars, we'd jump in the canals during a big snowstorm and pretend the Empire was coming to attack. Entertainment shaped the way we saw the world."
Now, Harmon and his brothers are the cofounders of Provo, Utah-based VidAngel, one of the many faith-based streaming video-on-demand companies that have multiplied in the entertainment industry.
In 2018, US audiences spent more money on digital in-home entertainment than at movie theaters for the first time, and dollars have only shifted more since most movie theaters closed this spring during the COVID-19 crisis. Netflix, Amazon Prime, Disney+, and other billion-dollar heavyweights are duking it out, while two more major platforms from HBO and NBCUniversal launched in early 2020.
Christian parents say the competing content requires tech-savvy wisdom to navigate. "You have to be more diligent today as a parent," said Julie Foust, a part-time teacher and mother of four in Albany, Illinois. "We have to be aware that the world we live in has so much evil in it, even as we want to have fun watching shows with our kids."
Currently, more than 140 separate services offer movie and TV streaming—including a few players that have made a name reaching Christian families during the past decade: Pure Flix, VidAngel, Christian Cinema, and Minno, among others.
"The mainstream streamers all offer perfectly good family content, but mixed in with things that are decidedly for adults only," said Kate O'Hare, who serves on staff at Family Theater Productions in Los Angeles. "The faith-based services offer an assurance that the content will not be overtly sexual, gratuitously violent, nor containing messages that run counter to Christian moral beliefs. It's a safe bet."
The main faith-based streaming services may look similar—especially given the prominence VeggieTales plays in their catalogs—but their strategies vary in degree. Erick Goss, a former e-book and print-on-demand executive at Amazon, runs Nashville-based Minno. He encapsulates the proposition each streaming group hopes to fulfill: "We want to provide a compromise-free, worry-free environment for Christian families." Christian parents may use Amazon Prime and Disney+, he added, but they're still frustrated with these services from a faith-and-values standpoint.
Last November, The Walt Disney Company rallied all its resources—fan conventions, the ABC network, theme parks, and more—for its launch into streaming. The subscriber base for Disney+, numbering tens of millions and growing, quickly eclipsed not only niche faith-and-family services but also bigger secular companies like HBO, an exclusive partner on Sesame Street. Considering Disney's dominance in home entertainment since the 1980s and its growing stable of beloved brands from Mickey Mouse to Toy Story, it's no mystery why families signed up. Disney+ offers the entire library of Pixar films, live-action flicks like Mary Poppins, recent Marvel and Star Wars movies, and endless animated TV episodes. Original content has been sparse, with the big-budget series The Mandalorian (which spawned the "Baby Yoda" memes) a notable exception.
"I tend to be hesitant about what we allow into our home," Foust said. "If I could get away with it, we wouldn't have TV! But [my husband] Michael and I were excited about Disney+ [because] there had not been a great way to show our kids all the classic quality movies we used to watch."
Even as early Disney+ subscribers, the Fousts say the service is not a free-for-all in their home. Michael Foust, who reviews entertainment for Crosswalk.com, noted "dramatic differences" between modern Disney shows and his family's values. "There are general attitudes, where kids might hear 'doofus' and 'shut up' in a Disney show," he said. "But there are also social agendas." Romantic same-sex relationships, for example, appear in the storylines of Disney Channel show Austin & Ally and a recent High School Musical reboot series on Disney+, both targeted to preteens.
While their four-year-old loves PBS "edutainment" fare like Daniel Tiger's Neighborhood, the Fousts also watch Minno (formerly known as JellyTelly). Touting over 2,300 episodes, it includes a couple dozen animated shows that retell Bible stories alongside The Torchlighters, sanitized episodes about Christian martyrs and heroes; the inventive '90s series McGee and Me!; and other character-building entries. "For our eight-year-old twins, Minno really hits the sweet spot," Foust said.
Goss, a father of three daughters, said they watch Disney films, too. "It's hard to be involved in media and not consume Disney content, because they tell a lot of the stories driving culture," Goss said. "[Yet] the narrative we often find there—that it's only about you and what you can accomplish—is at odds with the biblical narrative. Life is really about what God is doing in the world and his offer to participate with him in that."
VeggieTales remains the top Christian kids brand, a fact demonstrated when three different Christian streamers late last year all claimed the largest library of VeggieTales episodes. TBN's recently launched service Yippee appears to be the winner, since it's co-producing new episodes as well. Series co-creator Phil Vischer, who recently returned as writer and executive producer, laments that his show still seems to be the most popular. "If something better came along, that would mean there was a vibrant industry," he said. "Today, a lot of parents will be happy with the nonviolent messages their kids are getting . . . to the point that they don't even notice that God is completely absent from all of those imagined worlds."
Faith-driven programming is moving beyond squeaky-clean, one-size-fits-all-ages storytelling.
Well, not completely absent. Some major streaming services give at least a nod to their religious audiences. Disney+ offers Christian classics like The Sound of Music and the Chronicles of Narnia trilogy, co-produced by Walden Media. Netflix carries a rotating slate of faith-based titles, plus documentaries like The Pharmacist and Undefeated that include underlying faith themes. Amazon Prime's library includes a few Christian kids' series along with hard-to-find gems such as the 1975 film The Hiding Place, about Corrie ten Boom.
Christian Cinema, a 20-year-old online entertainment service based near San Antonio, found major studios, including Universal, Lionsgate, and Warner Bros., open to collaboration. With a library nearly equal to Disney+ in size, Christian Cinema offers individual titles to rent or buy, as the subscription model proved too costly.
"It's taken us since 2010, when we started conversations with the studios," said Bobby Downes, CEO and founder of Christian Cinema. "They said: 'We don't know where the dust is going to settle with streaming.' I said: 'Look, we are going to be a major player, just count on it.' By the end of 2018, major Hollywood studios began allowing us, to some degree, to curate titles."
Still, onscreen storytelling is trending away from faith themes. The Wall Street Journal reported that Apple TV+ banned an image of a crucifix from one of its shows, along with any overtly religious themes from its original productions.
"Everybody shies away from faith, which is why we want to push into it," Pure Flix cofounder David A. R. White said. "We have a ton of family titles and Hallmark movies on our service, but we're more interested in investing on the faith side with our originals because no one else is doing that."
Based in Scottsdale, Arizona, Pure Flix claims more than 250,000 subscribers and emphasizes its own films, documentaries, and series like The Encounter, a Hallmark Channel–type series that features Bruce Marchiano as Christ showing up in current-day situations. Despite the pitfalls of Disney's pick-yourself-up-by-your-bootstraps vision of the good life, Christian critics have also panned themes common to Pure Flix releases. White starred in Pure Flix's hit God's Not Dead trilogy, which former Christianity Today film critic Alissa Wilkinson excoriated for reinforcing a persecution complex among evangelicals. "Despite their titles, the movies haven't really been about arguments for the existence of God," Wilkinson wrote. "[The series] is about threats Christian characters face from people who are hostile toward Christians talking about God in the public square."
But not every Christian streaming company's mission is to make films with "Christians talking about God." Starting in 2015, Harmon's company VidAngel has been about making mainstream films more friendly to religious viewers. His company focused on filtering explicit scenes from mainstream films, then streaming (or, like Netflix in its earlier days, mailing) the filtered version to subscribers.
"VidAngel allows families to view content on their own terms," Harmon said. "Disney has a famous saying: 'Be our guest.' We like to say: 'We are your guest.' Disney creates incredible experiences, as long as you are willing to experience them on their terms. When it comes to the private home setting, we believe the family has the final say."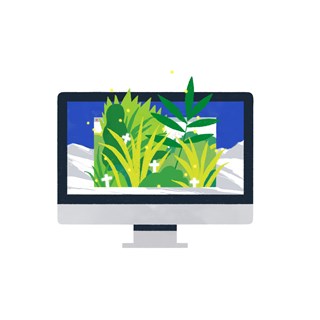 Image: Ran Zheng
Despite his love of Disney films, Harmon experienced a dark side of the Magic Kingdom. In 2016, Disney and two other Hollywood studios sued VidAngel for copyright infringement over its filtering technology.
"The Disney corporation has taken on a life of its own since Walt Disney has passed," Harmon said. "It's clear today that the problem Disney has with VidAngel's technology is it challenges their monopoly on family content."
Last June, a California jury ruled that VidAngel violated copyright laws and ordered the company to pay major studios $62 million in damages. On March 5, VidAngel announced a tentative plan to gradually pay off that sum and emerge from bankruptcy. While court battles cloud the future for its filtering model, VidAngel has turned to producing original shows.
The Chosen, produced by Dallas Jenkins, son of Left Behind author Jerry B. Jenkins, is an adaptation of the narrative of Christ's earthly ministry in a gritty, multiseason show. The series broke a crowdfunding record in 2019, raising over $10 million from small investors. Season 1, which premiered last November, has racked up four million views worldwide, most through a free VidAngel-developed app. A second season is in preproduction.
Curiously, some episodes of The Chosen have been rated TV-14 due to mature subject matter, reflecting how faith-driven programming is moving beyond squeaky-clean, one-size-fits-all-ages storytelling. "Our first episode isn't for kids—there is demonic possession and physical violence," Jenkins told CT last year.
"On the surface, little about the Gospels is bright, happy, clean, fun, and family friendly," he added. "The setting in which Jesus came was a very depressed and oppressive time period. What makes the redemption of the gospel so powerful is the depth of what they're being redeemed from, which this show will portray."
"When I look at the landscape, we can't avoid trouble and darkness, but we can shine a brighter light."
VidAngel, meanwhile, has drawn scrutiny from some evangelical viewers for its ties to Mormonism. The Chosen is produced by evangelical Protestants, but most of its other original productions draw heavily from the Utah-based Mormon film industry (which has its own small world of streaming services). "Personally, I am a member of the Church of Jesus Christ of Latter-day Saints," Harmon said. "Our company staff are evangelical, atheist, Catholic, and a variety of beliefs. Rather than affiliated with a specific faith, we see VidAngel as a platform that serves underserved audiences and serves the family."
Pure Flix says it also reaches across faith boundaries. "We have a large array of different religious segments," White said. "Evangelical Christians are the largest, but we have a strong Catholic group and some Muslim, Buddhist, and Hindu users who are watching."
Even in the tight-knit world of faith-based filmmakers, leaders still differ in how they view the intermingling of values and entertainment.
Christian Cinema, for example, recently distributed a few films with cursing, such as the military drama Bennett's War. Downes says his audience has welcomed it as a commitment to reflecting realism.
"It's quite a shift from the past, when people complained about even one cuss word," Downes said. "Traditional cultural values are not in cement as much as we'd like to think. It used to be wrong for [male] Christians to have long hair; now many male worship leaders have long hair. Though Christian culture may change, it doesn't mean that doctrine does."
Upcoming releases will likely keep mainstream services in play for many Christian families. Amazon has begun production on a prequel series to The Lord of the Rings, while Netflix has a reimagined take on the Chronicles of Narnia in the works. "Families want content that's safe, but also that's compelling and well produced," said O'Hare of Family Theater Productions. "If parents want edgier or higher-quality options for themselves, it starts squeezing the budget to keep both."
Within the faith-based market, Pure Flix may not remain the dominant player. In 2018, the small studio looked to be on the upswing with five theatrical releases. Then, in December of that year, Pure Flix laid off 25 staff members. In 2019, the controversial pro-life biopicUnplanned ended up being its only theatrical release, and none is slated for this year.
"It was just a shift," said White of the layoffs right before Christmas. "As we were doing less theatricals and home entertainment has decreased, we needed fewer people. But we also were pouring more into the streaming platform and hired more people for that."
Goss, of Minno, circles back to the purpose of alternative streaming options. "Stories fuel imagination," he said. "God shows up in these stories, and our hope is that kids will imagine what it means to commune with him throughout the rest of their lives. As someone who worked at Amazon, I can tell you: That is not going to be a priority on these other platforms."
The Fousts believe building an appetite for good storytelling early on sets kids up for success as they grow. For years they've had a family movie night on Fridays—a time to laugh, cry, and discuss what they viewed—watching things like last year's faith film Breakthrough, marathons of The Andy Griffith Show, and Spider-Man: Into the Spider-Verse.
"You don't let Hollywood raise your children," Julie Foust said. "We try to teach them to be discerning, that ultimately we want to please Jesus with the things we watch. When they do turn something off, there is rejoicing that 'Okay, this is getting through to them.' "
By producing and curating entertainment where faith is explored rather than shunned, Christian creatives hope to spread their message. Downes recalls how, when his family lived near Six Flags Fiesta Texas, fireworks used to explode every night at 9 p.m. "It would've been more convenient if the fireworks went off when our kids were not trying to get to bed, like at noon," he said. "But then no one would see them."
He takes it as a metaphor for the work of culture making. "Fireworks are best seen against a dark backdrop—and so is our faith and the God we worship," he said. "When I look at the landscape, we can't avoid trouble and darkness, but we can shine a brighter light."
Josh M. Shepherd is a freelance journalist who writes on culture, faith, and public policy. He and his wife live in the Washington, DC, area with their son.
Have something to add about this? See something we missed? Share your feedback here.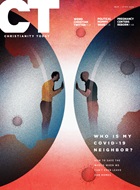 This article is from the May/Jun 2020 issue.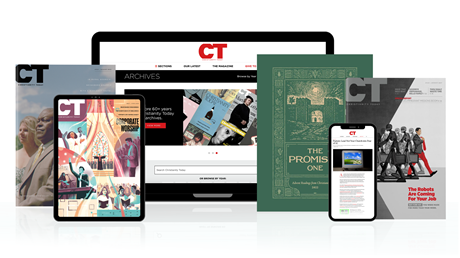 Annual & Monthly subscriptions available.
Print & Digital Issues of CT magazine
Complete access to every article on ChristianityToday.com
Unlimited access to 65+ years of CT's online archives
Member-only special issues
Subscribe
Can Christian Streaming Services Last Alongside Netflix and Disney+?
Can Christian Streaming Services Last Alongside ...