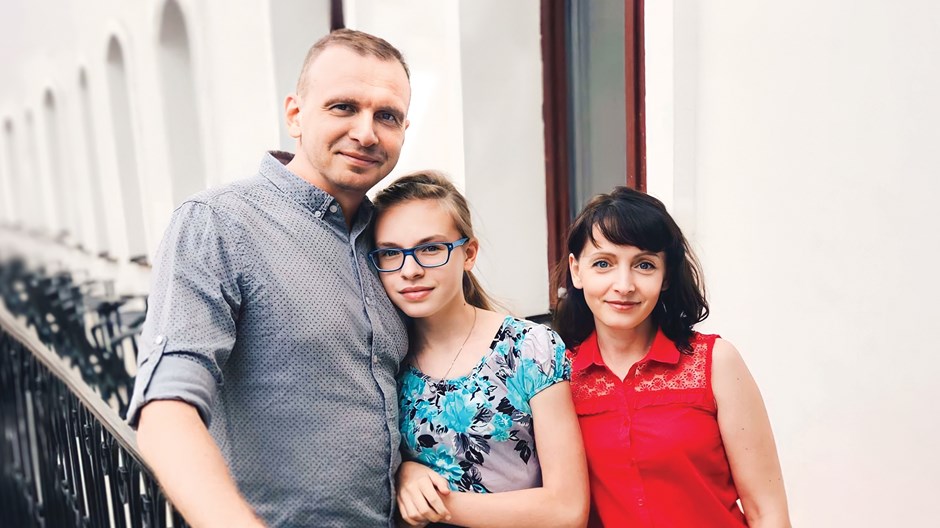 Image: Courtesy of Vitaly Chichmarev
Pastor Vitaly Chichmarev doesn't hesitate to use the word persecution.
"Yes," he told CT, "the Belarusian church is persecuted."
Chichmarev, who leads Light of Hope, a Baptist congregation in Minsk, recently spent seven months in prison. He was arrested in front of his teenage daughter in early 2022 for his participation in the massive 2020 protests against the controversial reelection of Belarus's authoritarian president, Alexander Lukashenko.
He is back serving his congregation in the nation's capital now. He's happy to return to church work, be at home with his family, and release an EP of some new music with his rock band AntiVirus. But he hasn't forgotten the big picture in his country, Belarus. He believes the situation for Christians there is dire.
"We are not able to rent rooms for meetings," he said. "New churches are not allowed to register. Catholics have had buildings taken away from them. Among the Protestant pastors, some, like me, have been in jail."
The Norway-based human rights organization Forum 18 agrees. The group has documented a tightening web of restrictions on the free exercise of religion in Belarus. Secret police surveil evangelicals and other religious groups, raid their churches, contrive evictions, and detain religious leaders. Authorities require extensive bureaucratic paperwork to approve church buildings, to allow any meetings outside of church buildings, or to permit foreign visitors, who are frequently denied entry into the country.
These restrictions have grown more serious as Lukashenko has cracked down on every part of civil society that might challenge his control. He has been in power since 1994 and is frequently called a dictator by international observers.
The US government is also "concerned about the constraints on religious freedom in Belarus, as part of the whole-of-society human rights repressions committed by the Lukashenko regime," according to a spokesperson at the Department of State. US officials, including embassy representative Ruben Harutunian, have met with Belarusian authorities to advocate for more freedom. In particular, the US urged the regime to ease state pressure on clergy for participating in political life in Belarus.
The challenges have deepened because of the international situation. Belarus is sandwiched between Russia, Ukraine, and European Union member states Latvia, Lithuania, and Poland. It has become a close ally of Russia and supports its eastern neighbor in the war with Ukraine. Because of the conflict, Belarusian churches have found themselves cut off from global partners.
This has taken a toll on churches like Chichmarev's. Light of Hope had around 100 members in 2020. About 45 remain, with more than half of the congregation fleeing to Poland, Georgia, and other countries to avoid military mobilization and escape the ongoing repression.
Article 31 of the Belarusian constitution provides accommodations for church gatherings and the public profession of faith. According to the government, there are 3,563 registered religious institutions in Belarus, representing 174 religious organizations.
Evangelicals, however, account for less than 2 percent of the population. And they are treated as second-class citizens under the law, according to Leonid Mikhovich, president of the Baptist Union in Belarus and rector at Minsk Theological Seminary. Even so, Mikhovich is ambivalent about using the word persecution.
"On the whole, our situation is not the best, but when you compare it to Soviet times or other countries, we don't have specific persecution," he said. "We can publish the Bible, hold Bible camps, have theological education, have Christian worship. We have a lot of opportunities."
Mikhovich is less bothered by the limitations in Belarus than by how isolated Christians there have become. Few opportunities exist to connect with brothers and sisters around the world—or just across the border.
"We used to have a strong relationship with churches in Ukraine. That's no longer possible," he said. "We have many connections with ministries in the West, but those are difficult to maintain in light of global politics. We can work with Russians, but the overall situation for cooperation is not good."
One of the Baptist Union's partners is the Slavic Gospel Association (SGA), headquartered in Chicago. Founded in 1934 by Belarusian Peter Deyneka, SGA trains pastors and church planters, sponsors missionaries, and provides equipment and resources to local churches, predominantely in the former Soviet Union.
SGA president Michael Johnson said the group currently sponsors 55 pastors and church planters in Belarus on an ongoing basis, in partnership with the Baptist Union there. The conflict between Russia and Ukraine has cost SGA some support from organizations in the US and Europe, but the work continues. Despite international isolation, he said, the Baptist Union seminary is still functioning and turns out new church planters and pastors every year. The SGA has also partnered with orphanages, camp ministries, and evangelistic efforts in the past two years.
"The abhorrent circumstances they find themselves in are difficult, but they've been able to adjust," Johnson said. "For me, I think it's a privilege just to carry their bags. To support the work they are doing."
Rauli Lehtonen, secretary for the Pentecostal Commission on Religious Liberty who focuses on Eurasia, cautioned that the longer the isolation lasts, the worse the situation for evangelicals and other Christians in the country will become. It's getting harder to even know what the situation on the ground is for churches in Belarus.
"The isolation is casting a dark shadow over the flow of information," he said. "People are afraid of expressing their thoughts about the current situation in the country. … This allows for the authorities to be bolder in their discrimination, because they can suppose that the knowledge of the persecutions will not be known."
Karina, a 27-year-old Belarusian Christian living in Los Angeles, can feel that shadow in her own life. Karina, who asked CT not to publish her last name for fear of reprisals against family and friends back home, left Belarus to pursue a career in California following the protests in 2020. She's still in touch with people at her church in Minsk, but there are a lot of things she's afraid to talk to them about.
"We talk about the weather, what I am doing here in LA, food, or even sports, but never about the war, never about the state of the church," she said.
Though Karina is glad she can enjoy many freedoms she wouldn't have in Belarus, she can't help but feel cut off.
"I have been going to church here in the city, but my spiritual home is in Belarus. Sadly, I have no meaningful contact with it anymore," she said.
That is in part why Chichmarev has been posting more music online since he returned from prison. He hopes people like Karina hear his lyrics and feel connected to their families, communities, and churches back in Belarus. He hopes, too, that Christians around the world will know what is happening in Belarus and pray for his country.
"Our dream is a free country where people live, love, and sympathize with each other," he said. "We ask Christians around the world to pray that the situation will change, to pray for the pastors, for their protection, for all believers in our country, and those who left, that they can return home."
Ken Chitwood is a scholar of global religion who lives and works in Germany.
Have something to add about this? See something we missed? Share your feedback here.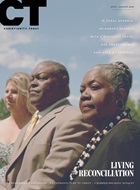 This article is from the Jul/Aug 2023 issue.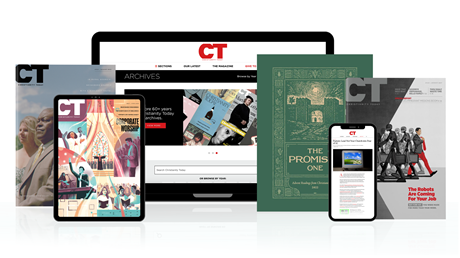 Annual & Monthly subscriptions available.
Print & Digital Issues of CT magazine
Complete access to every article on ChristianityToday.com
Unlimited access to 65+ years of CT's online archives
Member-only special issues
Subscribe
Belarusian Evangelicals Fear Growing Isolation
Belarusian Evangelicals Fear Growing Isolation