Divorce
Since marriage is a representation of Christ's union with the church, divorce can be a difficult subject for Christians. It isn't a new concern—the Pharisees questioned Jesus about divorce—but if half of all current marriages end in divorce (as is commonly suggested), it's a urgent crisis with many facets. Do Christian couples get divorced just as often as non-Christians, and what does that say about Christian marriage? What impact does divorce have on a family? What methods—political, sociological, or ecclesial—can we use to keep families intact?
Featured Articles
CT Institute: Divorce and Remarriage
An introduction to our 1992 series on what divorce means for families, churches, and our country.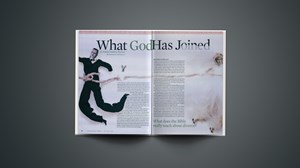 What God Has Joined
What does the Bible really teach about divorce?
loading more