"How Great Thou Art" & the 100-Year-Old Bass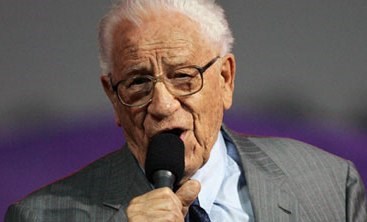 This slideshow is only available for subscribers.
Please log in or subscribe to view the slideshow.
The story of George Beverly Shea's signature tune.
George Beverly Shea turns 100 on Sunday, February 1. Ever since 1944, when 26-year-old Wheaton College student Billy Graham recruited him to sing on the radio program "Songs in the Night," Bev Shea has been the face and the voice most associated in the public mind with the famous evangelist.
The song most associated with Billy Graham is "Just As I Am," but Bev Shea's signature tune is clearly "How Great Thou Art." Even though nearly every gospel artist - from Elvis Presley to the Mormon Tabernacle Choir - has recorded it, it is Bev Shea's tune. Here's the story of that song.
George Beverly Shea's first contact with "How Great Thou Art" dates to 1954. But the song itself dates to 1885, when Swedish pastor Carl Gustav Boberg was caught in a thunderstorm.
It was a thunderstorm that, according to legend, struck fear into the heart of Martin Luther and extracted from him a vow to become a monk. Pastor Boberg, on the other hand, was filled with awe at the grandeur of the storm, the rainbow, and the brilliant light and bird songs that followed the storm.
Boberg sensed the power of God in that storm much the way the writer of Psalm 29 did: "The God of glory thunders, the LORD thunders over the mighty waters. ... The voice of the LORD strikes with flashes of lightning." The storm's majesty inspired Boberg (who later became editor of the Christian newspaper, Witness of the Truth, and a member of the Swedish parliament) to write a nine-stanza poem along the same lines. "I see the stars, I hear the mighty thunder, / Thy power throughout the universe displayed."
Boberg published the poem in 1886, then sold the rights to the Mission Covenant Church in Sweden. Two years later he visited a church in Varmland and was surprised to hear the congregation singing his words to an old Swedish folk tune. In 1891, Boberg published the poem again, this time with ...
You have reached the end of this Article Preview