Evangelicalism's Hidden Liturgical and Confessional Past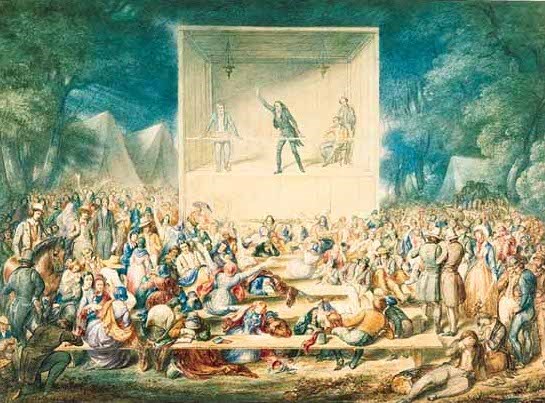 This slideshow is only available for subscribers.
Please log in or subscribe to view the slideshow.
Evangelicalism's Hidden Liturgical and Confessional Past
The emotional energy of Cane Ridge and other early frontier revivals arose from a strong emphasis on the Eucharist.
Many evangelicals - especially younger ones - are today re-engaging tradition. Other evangelicals worry about this re-engagement. They feel that to move toward a more liturgical form of worship or a more fixed, detailed style of theological "confession" is to give up the freer, more emotional worship style or more grass-roots, straightforward doctrinal and theological style won for us by such evangelical forefathers as the 18th century's John Wesley or the 19th century's Charles Finney.
I want to suggest that one way forward to healthier engagement with tradition for modern-day evangelicals is through a look at our own recent past. For American revivalism itself grew on unexpected foundations of liturgy and doctrinal confession.
As for liturgical and indeed sacramental worship: few evangelicals know that the drawing power and emotional energy of such early frontier revivals as the one at Cane Ridge, Kentucky in 1800 - which set the stage for a century of explosive evangelical growth - arose from a strong emphasis on the Eucharist. It's true! Those deeply emotional and highly demonstrative camp-meeting revivals were in fact multi-day "Eucharistic seasons," in the tradition of old-world Scotch-Irish Presbyterianism (See Leigh Eric Schmidt, Holy Fairs: Scotland and the Making of American Revivalism, 2nd ed. [Grand Rapids: Eerdmans, 1989]). A similar Eucharistic focus characterized the revivalistic "melting times" of exuberant worship and deep christocentric mysticism in the early American Methodist quarterly camp meetings (Lester Ruth, A Little Heaven Below [Nashville, Tenn.: Kingswood Books, 2000]).
This seriousness ...
You have reached the end of this Article Preview