Men Behaving Badly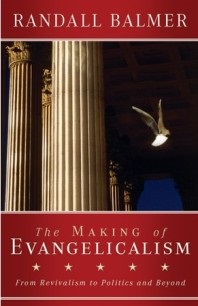 This slideshow is only available for subscribers.
Please log in or subscribe to view the slideshow.
Randall Balmer's academic credentials find few equals among scholars of evangelical history. The Columbia University professor earned his PhD at Princeton and wrote the Encyclopedia of Evangelicalism, now published in paperback by Baylor University Press. The Texas publisher has enlisted Balmer once more, this time to write a slimmer volume, The Making of Evangelicalism: From Revivalism to Politics and Beyond. What the book lacks in comprehensiveness it makes up for with contemporary punch. And Balmer lands several punches against evangelicals both living and dead.
Balmer enlivens his narrative by focusing on four turning points in evangelical history: "the transition from Calvinist to Arminian theology in the embrace of revivalism, the shift from postmillennialism to premillennialism in the late 19th century, the retreat into a subculture, and the rise of the Religious Right." The primary aim of his book is evidently political, as he teases out the public policy implications of all but the first turning point. In one persistent theme, Balmer credits disestablishment for America's comparative religious vitality while denouncing the Religious Right for trying to "eviscerate the First Amendment." Then he closes his introduction by describing how President Barack Obama's electoral victory in 2008 "dealt a mortal blow to the Religious Right." Younger evangelicals, Balmer writes in the conclusion, have fled from the Religious Right, because they care for the environment and care little for traditional views on sexual identity. But Balmer has treated political issues more extensively in his book Thy Kingdom Come: How the Religious Right Distorts the Faith and Threatens America. So with limited space for this review, I will focus ...
You have reached the end of this Article Preview