Religious Life on the High Seas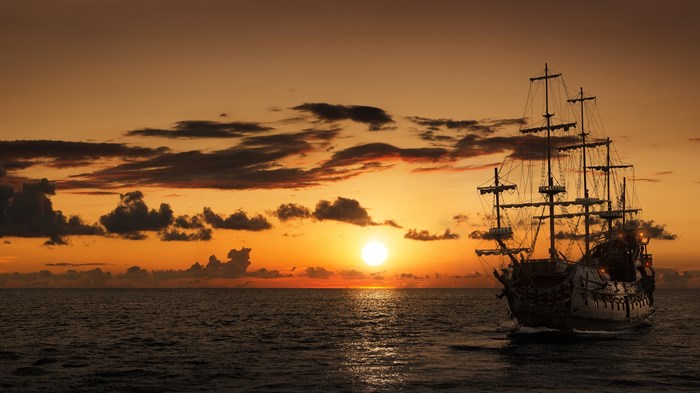 One of our strangest holidays is today, international "Talk Like a Pirate Day." While the history of this strange excuse to bandy about terms like "yardarm," "mainsail," and "shiver me timbers" is fairly arbitrary, it makes a great excuse to talk about some other history, namely maritime history.
For millennia, cultures around the world have used the oceans for transport, trade, and freebooting theft. And wherever people went on the high seas, they took their religions and beliefs.
We were curious about the religious lives of seafarers and about the maritime history of Christianity more generally. Stephen Berry wrote a book on the topic, published in 2015, A Path in the Mighty Waters. Lynneth Miller, PhD candidate in history at Baylor University, recently spoke with Berry about religion, seafaring, and, of course, pirates.
First, since it's international "Talk Like a Pirate" Day, were there pious pirates? Does the academy at large neglect the religion of pirates? Has anybody studied them yet that you know of?
I wouldn't say there has been purposeful neglect of pirates' religion. There's just not much primary source material which would allow an investigation into the religion of pirates. There's been a tremendous amount of scholarly interest in pirates in the last 20 years or so and a lot of great scholarly work. But the difficulty when it comes to studying pirates—whether it's their religion or their sexuality or whatever parts of pirate culture you're interested in—you're always coming at the pirates not through their own words but through words about them.
There are pirate memoirs, written later when they ...
You have reached the end of this Article Preview