The Christian History of Korean-American Adoption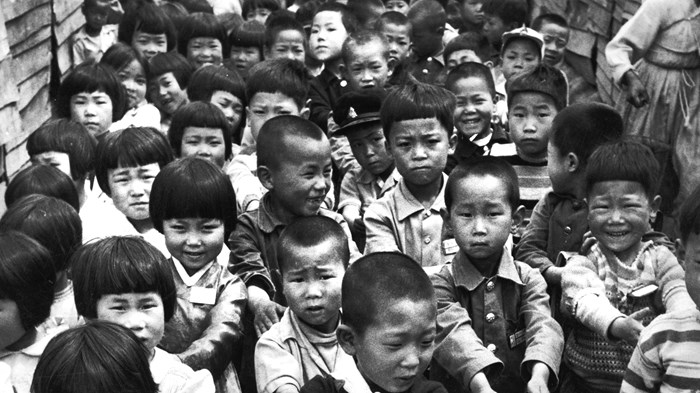 For decades, Americans largely regarded East Asians as unassimilable aliens unfit for American citizenship. The Chinese Exclusion Act of 1882 was the first American bill banning immigration of a racial or ethnic group. Thirty years later, a Japanese and Korean Exclusion League was instilled, followed by a treaty between America and Japan agreeing to deny passports to Japanese seeking employment in the US. Hatred toward Japanese during World War II resulted in the internment of roughly 120,000 Japanese Americans.
In 1955, however, a special act of Congress allowed a white couple, Bertha and Harry Holt, to adopt eight Korean War orphans. Evangelical Christian farmers based in Oregon, the Holts ultimately inspired thousands of American families to adopt children from East Asia. Oregon Senator Richard Neuberger even hailed them as incarnations of the "Biblical Good Samaritan." Within several decades, white Americans went from perceiving Asians as "pig-tailed coolies" to endearing children in need of American help. Christians played a pivotal role in promoting this wave of pro-adoption sentiment.
World Vision and Everett Swanson Evangelistic Association
In 1910, Japan annexed Korea. Korea was under Japanese occupation until Japan surrendered to the Allied forces in 1945. Soon after Korean gained its independence, two opposing governments split the country in two, the south supported by the United States, and the north by the Soviet Union. In 1951, North Korea invaded South Korea and war broke out. By the end of 1950, American and Chinese troops had escalated the civil war into a global conflict.
The war devastated Korea. Casualties exceeded 2.5 million people—many of them civilians, and more than 10 million people were displaced which created countless widows and orphans. By the time the war halted with an armistice in 1953, Korea was one of the most destitute nations in the world.
Disturbed by the horror of the Korean War, Robert Pierce and Everett Swanson founded World Vision and the Everett Swanson Evangelistic Association (ESEA, now Compassion International) in 1950 and 1952 respectively. Before their overseas missionary work, Pierce and Swanson had been local pastors and itinerant evangelists. Their two pioneering ministries introduced the remote "adoption" of impoverished orphans by allowing Americans to financially support children on monthly basis and played crucial roles in transforming the image of Korean orphans from waifs and strays to beloved sons and daughters.
Many of World Vision and ESEA's pamphlets included notes handwritten by children, such as "thank you" in broken Korean accompanied by "this is your child in the Orient" in large font. Sponsors were given an opportunity to "adopt" either a boy or a girl orphan and would receive a picture of their child, a brief biographical note, and the child's footprint. World Vision produced numerous posters and pamphlets with the slogan "World Vision has a Korean orphan for You!" A pamphlet promoting the sponsorship program read, "You too can become the 'dear my sponsor' to whom they can write their touching little letters of gratitude and whose name they will remember as they say their goodnight prayers." Pierce proclaimed that despite the physical differences between races, all children needed love.
Moreover, Pierce and Swanson helped conservative Christians integrate evangelism with social action by grafting evangelism with humanitarianism. Both World Vision and Compassion International emphasized that the foremost objective of their efforts was to bring young people to Christ. Their partnerships with orphanages were guided by evangelism, and prayers permeated their educational activities. The children themselves attended regular worship services and received ongoing discipleship.
Pierce established the "Little Shepherd Movement" which prioritized spiritual growth through Bible study and Scripture memorization. The orphanages collaborated with local Korean churches to bring spiritual guidance to more than 9,000 orphans. Pierce stated that the pictures of the children represented not just the need of individuals, but the need of humanity for hope in Christ. "By the end of the 1950s, World Vision was committing 79 percent of its annual budget to orphans, spending more than $425,000 to care for about 13,000 children," stated a CT book review of God's Internationalists: World Vision and the Age of Evangelical Humanitarianism. "Child sponsorships became a major part of World Vision's fundraising and a core part of the organization's identity."
Harry and Bertha Holt
During his recruitment tours for World Vision's child sponsorship program, Pierce screened documentaries telling the stories of Korean war widows and orphans. Among those in the audience were Harry and Bertha Holt. In her book The Seed from the East, Bertha Holt described the film's account of the mixed-race babies as something that "forever changed our lives." At that time, GI babies born between Korean women and American servicemen faced a triple stigma: they were deemed fatherless and racially "impure" children of prostitutes. Many Korean mothers tried to hide the mixed-race children as long as possible, but some abandoned their children.
The Holts aspired to do more than sponsor these children. "More and more I found myself wishing we could bring some of the Korean orphans into our home where we could love and care for them," wrote Bertha. "I kept reminding myself that to continue this sort of planning was like living in a fantastic dream, but the dream continued to grow."
She went on to write that her dream was confirmed as divinely inspired when Harry also expressed the same urge. He said that he could not erase the pictures of the orphans from his mind, and his burden would not go away. Harry declared that he would have no peace until he went to Korea to adopt mixed-race orphans. Bertha concluded, as she heard Harry repeat almost the identical things she had been meditating on all throughout the week, that God was "working in their hearts," and that "only God could bring about such a miracle."
The Holts viewed their work as a sacred duty. Harry recalled that whenever there was any doubt about his mission and calling, he reminded himself that God was with him. "The enemy was giving me a good working over. He seemed to say, 'what are you doing out here away from home? You are nothing but a farmer and not a very good one at that,'" he wrote. But Harry's doubt gave way when he shook his Bible open:
Out of all the wonderful Word of God, I had my thumb pointing to these words, in Isaiah 43:5,6 and 7: 'Fear not for I am with thee…I will bring thy seed from the east…bring my sons from far, and my daughters from the ends of the earth; Even every one that is called by my name: for I have created him for my glory, I have formed him; yea, I have made him.'
Isaiah 43 became the foundation for Harry and Bertha Holt's theology of adoption, and Bertha used the phrase "seed from the east" as the title of her book. In another book, Bring My Sons from Afar, Bertha wrote that while previously they had considered "I will bring thy seed from the east" and "bring my sons from afar" the same command, they both discovered that the two sentences were not the same—according to her, "I will bring" was a promise from God; "bring my sons from afar," in contrast, was a command, not a promise.
These convictions led the Holts to petition for a special bill to permit the adoption of eight foreign children. The Refugee Relief Act of 1953 only allowed 4,000 orphans to enter the US for adoption until 1956 and restricted the adoption of foreign orphans to two per family. After Harry Holt wrote a letter to Senator Neuberger, he and his fellow Oregon senator Wayne Morse introduced the bill in the Senate. Oregon representative Edith Green introduced the bill in the House, and after both chambers approved, President Eisenhower signed the "Holt Bill" in 1955.
On his personal expense, Harry Holt flew to Korea for the first time in 1955 and visited numerous orphanages with World Vision. He traveled by bus into remote rural areas to find children who would meet the health standards of the US immigration service. In October of the same year, Harry and Bertha Holt brought 12 children to America —eight for their family and four for three other families. The following year, they founded the Holt Adoption Program. Now Holt International Children's Services, the organization has placed around 50,000 Korean children in American families since 1956.
A Global Response
South Korea's President Syngman Rhee championed the transnational adoption movement and praised Harry as an "apostle of international understanding and good will." Rhee's motivation for such support was multifaceted. Ideologically, he campaigned for ilmin juui (one people ideology), an ultranationalism that celebrated the imagined racial homogeneity of Koreans. He also advocated for the reunification of North and South Korea. His emphasis on racial purity, which ostracized mixed-race children, was widespread among Koreans. The children were given the debasing moniker twigi, which meant half-blood.
Moreover, since many mixed-race children were born in the US-occupied camp towns rife with prostitution, many Koreans shamed and shunned them and their mothers. Although prostitution was illegal in South Korea, the US military government permitted it around military bases. The Korean government also condoned prostitution, as it saw an opportunity to pick up foreign currency. In this situation, mixed-race children were collateral damage. American fathers abandoned their mixed-race children, and without a father, the Amerasian children were ostracized as fathers had the responsibility of registering the children's births and providing for them. In the first decade after the Holt's began their work, more than half of Korean adoptees were mixed-race.
In the midst of this, the Holts received widespread public acknowledgment. In 1958, Rhee awarded Harry with South Korea's highest civic award for his work. President Lyndon B. Johnson bestowed Bertha Holt with the "Mother of America" award in 1966. In 1995, the Korean Ministry of Health awarded her the Mugunghwa (Rose of Sharon) award for her continued commitment to adoption ministry.
Korean newspapers also portrayed the Holts in a hagiographic light, some referring to Harry as the "father of Korean adoption." Bertha was also affectionately called "Grandma Holt" by Koreans later in her life and earned the epithet of the "Apostle of Korean orphans." Korean Americans also commended the Holts. One Korean American newspaper even compared Harry Holt to the Good Samaritan and rhapsodized that while the Good Samaritan only helped one man, the Holts were helping countless children in dire needs.
In the 1950s, the South Korean public largely viewed the transnational adoption movement as a benevolent humanitarian project spearheaded by American Christians. The Holts's focus on selecting Christian parents meant at times that they were laxer when assessing the couple's financial stability, mental health, and family history. Harry, in particular, developed a caustic relationship with secular social workers, particularly the International Social Service American (ISS-USA), over his agency's policy of accepting only Christian adoptive parents and practice of adoptive parents sending a proxy to adopt children. In contrast, the ISS-USA argued that because proxy adoption minimized the contact between the children and potential parents, adoptive parents had a harder time bonding with their new children.
Meanwhile, North Korea began censuring America for adopting Korean children in the 1950s. Pyongyang blamed South Koreans for selling their kin to "American slave traders." One Pyongyang radio station broadcasted that South Korea promoted emigration to alleviate unemployment, and that immigration was a vicious attempt of American imperialists and the Rhee regime to sell Koreans by force. Despite the North Korean propaganda, the accusations of American imperialism and paternalism did not sway popular sentiment in South Korea.
Conclusion
American rhetoric concerning Korean children was at times tinged with paternalism. World Vision's newsletter referenced generous Americans saving fortunate Korean children and providing them with warm food and clothing. It predicted that the older children would soon "forget their life in Korea" and would have only "memories of kind parents whose hearts were big enough to take them in." Adoptive parents generally assumed that life in America would be automatically better for the children even if that meant uprooting them from their own country and cultural heritage.
Nevertheless, one of the missionaries' most significant contributions to the adoption movement and the global mission was the promulgation of antiracist rhetoric and worldview in a deeply segregated society. The missionaries' strategic appeal to the public was effective since the images of innocent children allowed them to circumvent the divisive theological and social stigma of the racial other. While Pierce, Swanson, and the Holts were not traditional missionaries sent by mission boards, they acquired the title of missionaries from South Korean citizens and they also self-identified as missionaries doing God's work.
Family was the most cherished institution in the 1950's America, and the compelling family-centered rhetoric helped white Americans warm up to Korean War orphans. The adoptive parents hoped that racial inclusion within their families would help combat racism at the national level. White conservative Christians embraced the discourse of deeply religious and politically conservative missionaries and began to view race differently.
From the 1960s, transnational adoption entered a new phase as Korea slowly recovered from the ashes of war. The adoption of mostly mixed-race war orphans was replaced with the adoption of "full-blooded" Asian children born out of wedlock. Although Washington continued to support relief endeavors such as Operation Babylift during the Vietnam War, by the 1970s, what missionaries initiated as an emergency intervention slowly matured into a multi-billion dollar industry.
Recently, adult adoptees who were adopted around the time of the Korean War have started to produce adoption narratives in creative forms such as films, documentaries, poems, and novels. These adoptees, who were usually the subject of discussion, began to write their own narratives. Their stories are often layered with experiences of abandonment, identity crisis, and longing for their cultural roots. One adoptee, during her interview, expressed that she never related to her adoptive mother because she was "always wondering what my biological mother was like, and what she looked like, and how I was like her." When she was seeking therapy in college, she realized how deep her wounds were for from being abandoned by her biological mother.
Between 1953 and 2018, approximately 170,000 Korean children were adopted by families in more than 29 countries. Americans adopted more than two-thirds of them— 114,117 children. Adoption increased steadily after the Korean War erupted in 1950 and peaked during the turbulent decade of the 1970s. In recent years, due to the Korean government's effort to place children through domestic adoption first, the rate of international adoption has decreased significantly. In 2008, 1,064 Korean children were adopted in the US. In 2018, only 206.
Soojin Chung is Assistant Professor and Director of Intercultural Studies at California Baptist University. Her research interests include East Asian mission history, Christian internationalism, and women's role in global Christianity.