The Flowering of Pietism in the Garden of America
Finding expression in America in a bewildering number of forms and denominational expressions, Pietism clearly provided the foundations for much of American religious structure. Its emphasis on the Christian walk, on evident piety, and active and mutual support fit well with the American environment.
Pietism Permeates America
For many Americans, Puritanism is the classic form of American religion. Early educational influences ensure that stories of the Pilgrims and Plymouth Rock appear at Thanksgiving time. The poetry of Longfellow and Bryant, the essays of Emerson, the literature of Thoreau and Melville—all reinforce this orientation. This is not surprising, for it was New England which provided the basic American stories for understanding itself; the New England schoolmaster taught the nation. Such teachers were not limited to the American Northeast; the McGuffey readers, for example, though written in Ohio perfectly inculcated New England ideals. To this day the Georgian meetinghouse of colonial New England provides the stereotype image for what church architecture should be.
For all of the Puritan emphasis, the case can be made that Pietism with its various branches has played just as important a role in American religious development. On a quantitative basis, those faiths influenced and permeated by Pietism loom as large in the historical record as does Puritanism. In terms of cultural achievement, particularly in hymnody, Pietism has arguably created more advanced works. The Pietist ethic of active and practical Christianity has been more characteristic of American religious orientation than has the demanding Calvinistic theology of Puritanism.
A generation ago scholars led by Samuel Eliot Morison and Perry Miller won ...
You have reached the end of this Article Preview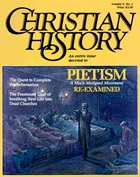 04/01/1986