A Tinker's Dissent, A Pilgrim's Conscience
The great trilogy of early modern English writers—Shakespeare, Milton, and Bunyan—would be unthinkable without the educational and religious reforms of the sixteenth and seventeenth centuries. The late fifteenth-century printing revolution and the rise of Protestantism, with its shift of emphasis from the liturgy to the spoken and written word, made this the age of the book in England. Literacy rates jumped dramatically and opportunities for schooling mushroomed. The extent of the educational revolution is mirrored in the lives of the three authors: Milton, son of a prosperous London scribe, was educated at Cambridge University, whereas Shakespeare, son of a Stratford-on-Avon glover, almost certainly attended a grammar school, roughly the equivalent of a modern college-preparatory school. Bunyan, however, came from a much humbler social background and probably never attended a grammar school, for he expressly denied studying Plato or Aristotle. Far from letting his modest formal education hinder his career, Bunyan capitalized on his lack of academic credentials, thereby winning a following among commoners that Milton never enjoyed.
In truth, Bunyan was largely a self-educated man who was far more learned than he would admit. When he first espoused millenarian views in 1663, he disarmingly informed his readers that he was "empty of the language of the learned," whose books he had not read. The Bible, he insisted, was the source of his knowledge—a rather extreme extension of the Protestant tenet that Scripture alone is authoritative in religious matters. At the end of his career he was still insisting that his Bible and his concordance were the "only library in my writings." In the strictest literal sense he was perhaps telling the truth, though he was in fact an avid learner, both from books and undoubtedly from conversations with such prominent Nonconformist ministers as John Owen, George Cokayne, and William Dell. Such men were, after all, highly educated: Owen had been Vice-Chancellor of Oxford in the 1650s, Dell was Master of Gonville and Caius College, Cambridge, when he allowed the young Bunyan to share a pulpit at Yelden, and Cokayne was a Cambridge graduate. Bunyan may never have set foot in a college classroom, but he obviously learned from men who had. Moreover, he was intimately acquainted with John Foxe's Acts and Monuments—"The Book of Martyrs"—a work which, in a sense, was the early modern Protestant's introduction to the history of western civilization. Bunyan's long years in prison also brought him some education in the law, knowledge he used to great effect in depicting Christ as an attorney: The Work of Jesus Christ as an Advocate.
Within a short time after Bunyan joined John Gifford's church in Bedford, which was then part of the Cromwellian state church, he began reading—and attacking—Quaker pamphlets. His first two books set out to refute the Quaker views of Edward Burrough, who subsequently died in prison for his beliefs. Later in his career Bunyan repudiated works by the Latitudinarian Edward Fowler and the Quaker William Penn. If Bunyan was reading Anglican and Quaker works, he certainly read books by fellow Nonconformists. Why, then, profess an intellectual naiveté of which he was surely innocent? Nonconformist leaders such as Richard Baxter and John Owen made no efforts to conceal their learning. On the contrary, Baxter gloried in education as "God's ordinary way for the conveyance of his grace." Bunyan, however, was a product of that sectarian tradition which juxtaposed the spiritual and the rational. As the sectaries insisted, the dictates of carnal reason did not govern spiritual considerations. For Bunyan the inner workings of the Holy Spirit were fully sufficient to plumb the deepest mysteries of God, secrets which were hidden from even the greatest intellects unless their minds were enlightened by the Spirit. Bunyan, then, was in no sense an "uneducated tinker," but one who deliberately underplayed his learning so that his audience would credit his insights to the Holy Spirit rather than human wit.
Viewed in this context, Bunyan's clashes with the Quakers were virtually inevitable. Both were exponents of the internal workings of the Spirit, both were staunch opponents of the parish church, and both repudiated traditional Protestant sacramental theory. Both, in other words, shared far more than they would admit, and for that reason their differences were correspondingly magnified. When Burrough pointed out some of their shared convictions, Bunyan tried to put as much distance as possible between himself and the Friends by associating them with the Ranters, a sect notorious for its toleration of sexual promiscuity and blasphemy. Bunyan could not accept the Quaker belief that in some sense the Spirit resides in all persons rather than in believers alone.
For Bunyan the proper understanding of the Spirit was of crucial importance. It was on the basis of the Spirit's work within him and the church's recognition of his calling that he claimed the right to preach, despite the fact that he had neither theological training nor formal ordination. The collapse of episcopal authority in the 1640's led to a substantial increase in lay preachers, so that Bunyan was hardly unique when he preached his first sermon at the invitation of the Bedford church about 1655. Ratification of his right to preach came from his audience as they judged his sermons edifying.
Like other lay preachers, Bunyan drew upon his personal experience for the substance of those early sermons: "I preached what I felt, what I smartingly did feel." If, as has been argued, Bunyan had recently gone through a manic-depressive period, these sermons, rooted in his trials and ultimately his spiritual triumph, must have been powerful orations. There is, in fact, strong evidence to suggest that Bunyan's understanding of the Christian life as a perpetual, sometimes terrifying struggle dominated his outlook until he was finally released from prison in 1672. The sense of powerful inner struggle dominates both his spiritual autobiography, Grace Abounding To the Chief of Sinners, and the first part of The Pilgrim's Progress. It was only when he could fully participate in the life of the Bedford congregation after 1672 that his view of the Christian life began to focus on the comforting nature of shared fellowship. The more serene pilgrimage of Christiana in part two of The Pilgrim's Progress reflects the inner calm that Bunyan finally found as minister of the Bedford church.
In Bedfordshire, Bunyan was a marked man at the Restoration in 1660—a testimony to his early success as a lay preacher, but perhaps also an indication that the authorities were aware of his contact with the Fifth Monarchists, a group of radical millenarians generally willing to embrace military force as a means of instituting the Kingdom of God. One of Bunyan's earliest associates in the Bedford church, the silk-weaver John Child, was a Fifth Monarchist, and near the end of his life Bunyan acknowledged that he himself had at one time been sympathetic to those who emphasized Jesus as King— presumably the Fifth Monarchists. Whatever inclinations toward this group Bunyan may have had in the late 1650's, after he was imprisoned in 1660 he seems to have had no serious interest in radical political ideology. When a group of Fifth Monarchists led by Thomas Venner rebelled in London in January 1661, Bunyan proclaimed his willingness to behave peacefully. Bedford in any event was not a hotbed of radical political activity in the 1660's. Elsewhere, however, radical dissidents, many of whom were Nonconformists, repeatedly plotted to overthrow the government in this period. Although their network extended throughout much of England and into Scotland, Ireland, the Netherlands, and Switzerland, Bedfordshire was never a center of their activity. Bunyan's repudiation of violent political activity after the restoration was thus in keeping with the views of Nonconformists in his county.
Although many Dissenters suffered during the period between the restoration and the Toleration Act in 1689, the severity of Bunyan's imprisonment—twelve years in the county jail—was unusual. Owen, who had the protection of powerful friends, and Dell were not imprisoned, while Cokayne, despite retaining his Fifth Monarchist tenets, was jailed only briefly. Even the Baptist preacher Paul Hobson, who was implicated in the 1663 rebellion in northern England, spent less than two years in prison. The unusual treatment accorded to Bunyan must have stemmed from his adamant refusal to relinquish preaching, his success in the pulpit, and suspicion on the part of the Bedford authorities of his links to Fifth Monarchists such as Child and Cokayne. Bunyan's exposition of millenarian themes in The Holy City (1663) probably did nothing to quiet such concerns, though in this book he did not call for the saints to take up arms and topple the monarchy. On the contrary, he held out hope that eventually all sovereigns would embrace the gospel. Instead of attributing his suffering to the goverment of Charles II, he laid it directly at the feet of the Antichrist, the "mistress of iniquity." Persecuting rulers were no more than agents of divine providence, and the suffering of the saints a divinely-sanctioned preparation for their entry into God's presence.
Politically, then, Bunyan was not a proponent of radical ideas, although by 1682 he had become severly disillusioned with Charles II. Attempts to exclude the Catholic heir, James, Duke of York, from the line of succession had failed in the Parliaments of 1679–81, and the Whigs were clearly alarmed. Against this background Bunyan wrote a new allegory, The Holy War, in which Diabolus, after seizing the town of Mansoul and making himself king, made havoc of its laws, dealt contemptuously with the godly clergy, and fostered an atmosphere of licentiousness. In such fashion did Bunyan castigate the government of Charles II, but neither in this allegory nor in his subsequent works did he urge the godly to act on their own. Antichrist would by overthrown—of that he was certain—but in the interim it was the saints' responsibility to suffer patiently. Despite his antipathy to absolute monarchy, Catholicism, and the persecution of Protestant Nonconformists, Bunyan refused to embrace violent political action. To the end, his was a philosophy of passive resistance, even to the point of calling on his readers to fear God and "honor the king."
Bunyan's radicalism was religious, not political. His embracing of the gathered church—the congregation of visible saints alone—was of course shared by all Baptists and Congregationalists, though the very concept was anathema to supporters of the Restoration Church of England. Unlike most Baptists and Congregationalists, however, Bunyan was daringly tolerant on the subject of baptism, refusing to exclude any Christian from either church membership or the Lord's supper because of differences in judgment about baptism. For Bunyan what really mattered was the baptism of the Spirit, not baptism by water. The doors of his church were open to all professing Christians regardless of how or when they were baptized. For this stand he was heartily condemned by the Baptists in the 1670's during yet another pamphlet war. Bunyan's last contribution to this debate—Peaceable Principles and True— reflects his irenic motives, but his ecumenical stance won few adherents.
Despite—or perhaps because of—his deprecatory remarks about his lack of erudition, Bunyan became an increasingly popular preacher in the 1670's and 1680's, especially on his visits to London. Echoes of his early, traumatic spiritual experience continued to enliven his works to the very end. By then, of course, he was a celebrity, well-known for his Pilgrim's Progress, which reached its "eleventh" (actually the thirteenth) edition before he died. His religious experience clearly struck a responsive chord. So too did his evangelical message, so aptly expressed in his greatest sermon, Come, and Welcome, to Jesus Christ, which was already in its sixth edition when he died in August 1688.
Richard L. Greaves, Ph.D., is Professor of History at Florida State University, Tallahassee, Florida, and a Fellow of the Royal Historical Society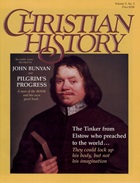 07/01/1986