A Tinker's Dissent, A Pilgrim's Conscience
The great trilogy of early modern English writers—Shakespeare, Milton, and Bunyan—would be unthinkable without the educational and religious reforms of the sixteenth and seventeenth centuries. The late fifteenth-century printing revolution and the rise of Protestantism, with its shift of emphasis from the liturgy to the spoken and written word, made this the age of the book in England. Literacy rates jumped dramatically and opportunities for schooling mushroomed. The extent of the educational revolution is mirrored in the lives of the three authors: Milton, son of a prosperous London scribe, was educated at Cambridge University, whereas Shakespeare, son of a Stratford-on-Avon glover, almost certainly attended a grammar school, roughly the equivalent of a modern college-preparatory school. Bunyan, however, came from a much humbler social background and probably never attended a grammar school, for he expressly denied studying Plato or Aristotle. Far from letting his modest formal education hinder his career, Bunyan capitalized on his lack of academic credentials, thereby winning a following among commoners that Milton never enjoyed.
In truth, Bunyan was largely a self-educated man who was far more learned than he would admit. When he first espoused millenarian views in 1663, he disarmingly informed his readers that he was "empty of the language of the learned," whose books he had not read. The Bible, he insisted, was the source of his knowledge—a rather extreme extension of the Protestant tenet that Scripture alone is authoritative in religious matters. At the end of his career he was still insisting that his Bible and his concordance were the "only library in my writings." In the strictest literal sense he was perhaps telling ...
You have reached the end of this Article Preview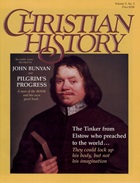 07/01/1986