Knowledge: The Road to Peace
Comenius remains for our day a prophet of internationalism and ecumenism. His message has a special relevance for the 1980's, as displaced groups in Asia, Latin America, and Africa desperately seek refuge, as did the Brethren more than three centuries ago. Cornenius's ecumenical world view, with its emphasis on the sacredness of human life, cries out to be heard in a world plagued by mindless terrorism.
The Need for Order
Comenius lived in a disorderly era. Not only was the Thirty Years War tearing apart the political, religious, and social fabric of Europe, but the theoretical foundations—the theological, philosophical, and political ideas of that age—were also in disarray. Recognizing these needs, Comenius sought to create an orderly but non-authoritarian world view.
Comenius's pansophist philosophy prescribed a system of truth and value which promised that people could acquire the knowledge that led to understanding and peace. Pansophism sought to embrace all knowledge within an integrative system, multi-dimensional in its scope but holistic in its purposes. Comenius asserted that: (1) God's plan of creation was orderly and that human knowledge of the world should also be orderly in its organization; (2) it is possible and desirable for human beings to possess this knowledge of an ordered creation in a systematic fashion and to use this knowledge to create orderliness in their personal lives and social behavior; (3) ordered knowledge would stimulate a love of wisdom that, transcending national boundaries and sectarian divisions, would help humankind to create an orderly and peaceful social order. In such a world order, persons would be free to worship their Creator according to their own liturgical forms but would also engage ...
You have reached the end of this Article Preview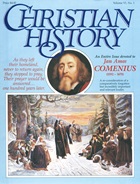 01/01/1987