Seeking a Better Way
Born March 28, 1592, orphaned early, educated at the universities of Herborn and Heidelberg, Comenius began working as a pastor and parochial school principal in 1618, the year the Thirty Years war began. After the defeat of the Protestant armies in the Battle of White Mountain— one of the most disastrous events in Czech history—he barely escaped with his life while his house was burned down by enemy soldiers. Later, his young wife and two small children died of the plague. For seven years he lived the life of a fugitive in his own land, hiding in deserted huts, in caves, even in hollow trees. Early in 1628 he joined one of the small groups of Protestants who fled their native Moravia to await better times in neighboring Poland. He never saw his homeland again.

For 42 years of his long and sorrowful life he roamed the countries of Europe as a homeless refugee. He was always poor. His second wife died, too, leaving him with four children to care for. The political allies of the Czech nation either died or were killed in the war. The beloved fatherland lay in total desolation. The scattered, impoverished church whose bishop he had become was in danger of disintegrating after years of exile. The Polish city of Leszno, his home for a number of years, was burned to the ground by the enemy. His treasured library and numerous manuscripts— some of them results of decades of work— were totally destroyed in the fire, leaving Comenius, an old man of 64, with virtually nothing but the clothes on his back. Homeless and penniless, he made it to Amsterdam, Holland, where friends took him in and cared for him until his death in 1670.
Such was the life of this great man. And yet, under these adverse circumstances, he never failed to serve ...
You have reached the end of this Article Preview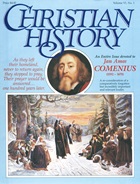 01/01/1987