From Mountain Ghetto to Missionary Diaspora
At the beginning of the 18th century the situation of the Waldensian Church was something of a paradox. Their centuries-old struggle for survival had succeeded, and no serious menace to the life of the Waldensian people would ever happen again. Yet, despite the gain, all the Waldensian-reformed congregations of the Valleys were still suppressed.
Between 1698 and 1730 thousands of people had been forced to emigrate to Germany. The churches they established are now Lutheran, but still bear the name of Deutsche Waldenser (German Waldensians).
Thus the Waldensian Church could survive only in a small corner of Italy: 15 villages, 6,000 poor farmers, seven ministers, a few teachers. The Duke of Savoy (now the King of Sardinia) was tough against this remnant of the Italian Reformation. Hard laws were enforced to make difficult the life of these heretics—if possible to suffocate them.
Enlightenment and Revolution
Yet the Waldensians proved to be able to breathe, even better than the rest of Italian society at that time. During the whole 18th century they established a network of relations with the new Europe of the Enlightenment; these relations were made only too well.
Instead of maintaining their strong Calvinistic heritage, they accepted wholeheartedly the ideas of the Enlightenment (which were contrary to supernatural religion). Their more active young people started to work and trade in Switzerland, Holland, England, even in India, and prospered. In a few words: a Waldensian bourgeoisie was born.
By the end of the century a new hope dawned for the Waldensians: the French Revolution. The day on which the French battalions crossed the Alps, the time of Waldensian persecution was over. The Waldensians became citizens with equal rights. ...
You have reached the end of this Article Preview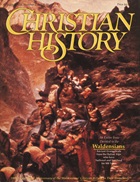 04/01/1989