A Dawning in the New World
Solomon Stoddard in New England
Solomon Stoddard, the popular Puritan minister of Northampton, Massachusetts, like most other colonial New England ministers, served in one church for his lifetime. He pastored the First Church of Northampton for 60 years, from 1669 until his death in 1729. Northampton, situated on the Connecticut River, was on what was then the western frontier—the very outpost of colonial civilization. It was here, through Stoddard's ministry, that American religious awakenings began.
A Voice in the Wilderness
The idea of spiritual awakenings in colonial New England began almost entirely with this capable and devoted minister. Stoddard was an evangelical, a "soul winner," and had an intense desire to reach the unconverted.
Stoddard, and the other Puritan leaders were concerned because the spiritual life of New England had greatly eroded since the time of the founding fathers. In 1679 a "Reforming Synod" was held to address the situation, which they considered desperate. In 1683, the Rev. Samuel Torrey of Weymouth lamented:
…there hath been a vital Decay, a Decay upon the very Vitals of Religion, by a deep Declension in the Life, & Power of it; that there is already a great Death upon Religion, little more left than a name to live; that the things which remain are ready to die; and that we are in great Danger of dying together with it…
This presents something of a puzzle to us today: Since awakenings among God's people were nothing new, why didn't the devout Puritans of New England remember this and seek revival? Awakenings were mighty actions of the Lord that had occurred over the centuries, great movings of the Holy Spirit, breathing new life into the Church. Had the New England faithful forgotten? No doubt ...
You have reached the end of this Article Preview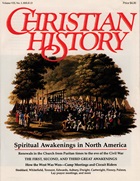 07/01/1989