The Spirituality of St. Bernard of Clairvaux
The legacy of Saint Bernard of Clairvaux to 20th-century Christians, as multifaceted as it is, lies most significantly in his profound human psychology of self-esteem and self-awareness grounded in the mercy and love of God.
Bernard would be amused to find us talking about the characteristics of his spirituality, for his whole effort was directed at faithfulness to the traditional spirituality he had learned in school and at the monastery. This traditional medieval theology taught that men and women were created in the image and likeness of God, but that this image has been corrupted, tarnished, and distorted—but not destroyed—by sin. Because God shared our human nature in Jesus Christ, we can begin the journey from the "land of unlikeness" toward the "land of likeness," toward the complete integration and reformation of the divine image from which we have fallen.
The journey will be complete only in heaven, but those who devote themselves to it with special intensity can, by the sheer grace and mercy of God, experience a fleeting foretaste of its heavenly destination on earth.
Monks and nuns give themselves to this reformation under the guidance of the monastic rule and the leadership of experienced spiritual directors. Precisely because they recognize their own limits and weaknesses, monks and nuns place the direction of their lives in the hands of others, who draw on the wealth of collective experience—tradition—to act as guides on the journey from the land of unlikeness.
Bernard belongs to this tradition. He was nourished and shaped by the language of the Bible. Monks understood their lives as a tasting of the sweetness of God's Word as it came to them through "chewing on," "rechewing" (ruminating), and "digesting" the ...
You have reached the end of this Article Preview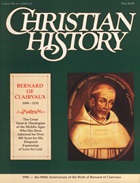 10/01/1989