The General
Few would deny William Booth the title "The Prophet of the Poor." He is best known today as founder and first general of The Salvation Army, an organization that exists to bring a better life to the poor through both social and spiritual salvation.
Pawnbroker's Apprentice
Yet Booth did not come to this high appellation by a direct route; he was not to the manor born. Rather he was born in relative poverty, in Sneinton, a Nottingham, England suburb, on April 10, 1829. One biographer described William's father, Samuel, as "an illiterate speculative builder." His mother, Mary Moss Booth, was Samuel's second wife. The Booths were at best laboring class, with little education. His father, "a Grab, a Get," by William's definition, died when William was just 14. By that time William was helping to earn the family income by working as a pawnbroker's apprentice. Mrs. Booth ran a small shop in a poor Nottingham district where she sold household wares.
Life-Changing Influences
After his father's death, a Wesleyan couple invited William to attend chapel. William's family had not been religious, although they had had William baptized at the Sneinton parish church (Anglican) two days after his birth. William's conversion at age 15 cannot be fixed in time or place. Various biographers describe it as coming in the streets of Nottingham, in the Broad Street Wesleyan Chapel where evangelist Isaac Marsden was leading a revival, or in a small prayer meeting. William did recall a long siege of conviction after he had made a profit in a transaction with a friend. He remembered the relief he felt when his guilt was removed.
Soon after his conversion William had another life-changing experience: hearing American revivalist James Caughey, who led "a ...
You have reached the end of this Article Preview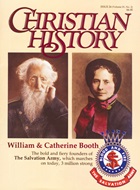 04/01/1990