Controversial Constantine
Constantine has earned a place in history for many reasons—not least because he brought to an end the persecutions of Christians by the pagan Roman Empire. A concordat agreed to with his fellow emperor, Licinius, at Milan in 313 granted "both to Christians and to all others full authority to follow whatever worship each person has desired.… Every one of those who have a common wish to follow the religion of the Christians may from this moment freely and unconditionally proceed to observe the same without any annoyance or disquiet." In retrospect, the agreement forms one of the major watersheds in the history of Christianity, bidding farewell to the age of the martyrs and presaging the era of the Christian Empire.
What sort of man was he, this Constantine "the Great," the first emperor of Rome to come out unambiguously on the side of the Christian church? How significant were the so-called Edict of Milan and the other actions he took as patron of the church? How truly Christian was he himself?
Early Days
Constantine was born on February 27, probably in 272, in the military town of Naissus—modern Nis in eastern Yugoslavia. His father, Constantius, was an army officer; his mother, Helena, was a woman of lowly origins whom Constantius later (probably by 290) found it prudent to divorce as his political aspirations took shape. Not much is known for certain about their religious attitudes. Helena became a Christian—and one of outstanding piety only after her famous son's conversion. Constantius enforced without enthusiasm only the first of the anti-Christian measures of the Great Persecution in Britain and Gaul (France)—the sector of the Empire he took charge of in 293 as a junior emperor (Caesar). One of his children by his second ...
You have reached the end of this Article Preview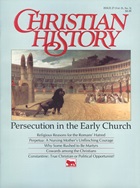 07/01/1990