The Gallery: Martyrs and Confessors
Ignatius of Antioch
(d. c. 107–117)
Escorted to his death by ten Roman soldiers
"I am the wheat of God and am ground by the teeth of the wild beasts, that I may be found the pure bread of God." So wrote Bishop Ignatius of Antioch (in Syria) as he was being taken to Rome under close military guard.
It is unsure why Ignatius had been arrested, but his journey was more like a triumphal procession than a journey to death. At nearly every stop, he met leaders of the local church, and he wrote letters to a series of churches and one to Bishop Polycarp in Smyrna. Yet there is no indication that anyone else was ever in danger of arrest.
We know almost nothing about Ignatius's life except his journey to Rome and his death. In his letters we see a man with a passion for Christ, for martyrdom, and for the right faith. He warns against a heresy with Docetic elements (the belief that God's Son only appeared to be human). Ignatius was so concerned for sound doctrine that he wrote that anyone who said Christ only seemed to suffer could not really be a martyr. Further, Ignatius taught that the bishop is the proper safeguard for sound teaching and, in fact, there can be no church without the bishop.
Ignatius's letters give us rare insight into the mind of a martyr. He wanted to die and considered his death an imitation of the passion of Christ and an atoning sacrifice. One reason for his letter to Rome was to be sure they did nothing to secure his release.
Ignatius was martyred in Rome during the reign of Emperor Trajan, and tradition holds that he died in the Colosseum.
Justin
(and six friends, d. c. 165)
"You can kill us," he wrote the emperor, "but not hurt us."
Justin was born in Samaria around A.D. 130. As an adult, he searched for truth in ...
You have reached the end of this Article Preview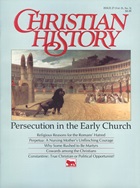 07/01/1990