How the Early Church Viewed Martyrs
The early church's theology of martyrdom was born not in synods or councils, but in sunlit, blood-drenched coliseums and catacombs, dark and still as death. The word martyr means "witness" and is used as such throughout the New Testament. However, as the Roman Empire became increasingly hostile toward Christianity, the distinctions between witnessing and suffering became blurred and finally nonexistent.
In the second century, then, martyr became a technical term for a person who had died for Christ, while confessor was defined as one who proclaimed Christ's lordship at trial but did not suffer the death penalty. A passage from Eusebius describes the survivors of the persecution in Lyons (in 177 in what is today France): "They were also so zealous in their imitation of Christ … that, though they had attained honor, and had borne witness, not once or twice, but many times—having been brought back to prison from the wild beasts, covered with burns and scars and wounds—yet they did not proclaim themselves martyrs, nor did they suffer us to address them by this name. If any one of us, in letter or conversation, spoke of them as martyrs, they rebuked him sharply.… And they reminded us of the martyrs who had already departed, and said, 'They are already martyrs whom Christ has deemed worthy to be taken up in their confession, having sealed their testimony by their departure; but we are lowly and humble confessors.' "
Roots of the Martyr Ideal
The ideal of martyrdom did not originate with the Christian church; it was inspired by the passive resistance of pious Jews during the Maccabean revolt (173—164 B.C.). Antiochus IV, the tyrannical Seleucid king, ignited the revolution by a variety of barbarous acts, including banning Palestinian ...
You have reached the end of this Article Preview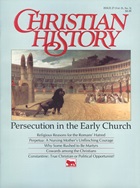 07/01/1990