1517 Luther Posts the 95 Theses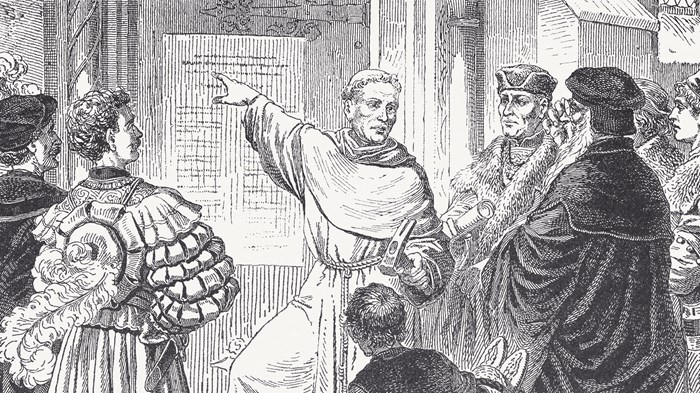 Sometime during October 31, 1517, the day before the Feast of All Saints, the 33-year-old Martin Luther posted theses on the door of the Castle Church in Wittenberg. The door functioned as a bulletin board for various announcements related to academic and church affairs. The theses were written in Latin and printed on a folio sheet by the printer John Gruenenberg, one of the many entrepreneurs in the new print medium first used in Germany about 1450. Luther was calling for a "disputation on the power and efficacy of indulgences out of love and zeal for truth and the desire to bring it to light." He did so as a faithful monk and priest who had been appointed professor of biblical theology at the University of Wittenberg, a small, virtually unknown institution in a small town.
Some copies of the theses were sent to friends and church officials, but the disputation never took place. Albert of Brandenburg, archbishop of Mainz, sent the theses to some theologians whose judgment moved him to send a copy to Rome and demand action against Luther. By the early months of 1518, the theses had been reprinted in many cities, and Luther's name had become associated with demands for radical change in the church. He had become front-page news.
The Issue of Indulgences
Why? Luther was calling for a debate on the most neuralgic issue of his time: the relationship between money and religion. "Indulgences" (from the Latin indulgentia—permit) had become the complex instruments for granting forgiveness of sins. The granting of forgiveness in the sacrament of penance was based on the "power of the keys" given to the apostles according to Matthew 16:18, and was used to discipline sinners. Penitent sinners were ...
You have reached the end of this Article Preview