325 The First Council of Nicaea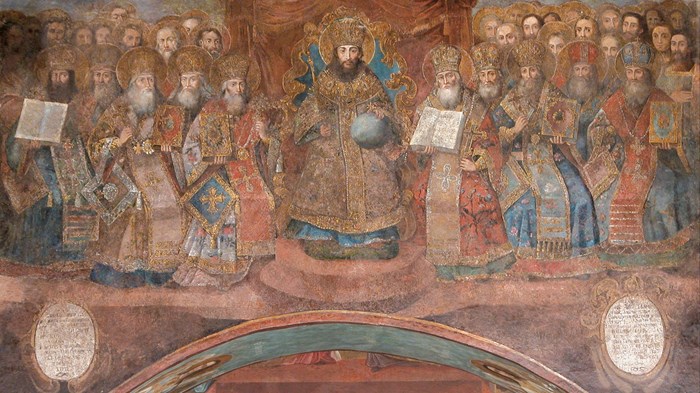 July 4, 325, was a memorable day. About three hundred Christian bishops and deacons from the eastern half of the Roman Empire had come to Nicea, a little town near the Bosporus Straits flowing between the Black Sea and the Mediterranean.
In the conference hall where they waited was a table. On it lay an open copy of the Gospels.
The emperor, Constantine the Great, entered the hall in his imperial, jewel-encrusted, multicolored brocades, but out of respect for the Christian leaders, without his customary train of soldiers. Constantine spoke only briefly. He told the churchmen they had to come to some agreement on the crucial questions dividing them. "Division in the church," he said, "is worse than war."
A New Day
The bishops and deacons were deeply impressed. After three centuries of periodic persecutions instigated by some Roman emperor, were they actually gathered before one not as enemies but as allies? Some of them carried scars of the imperial lash. One pastor from Egypt was missing an eye; another was crippled in both hands as a result of red-hot irons.
But Constantine had dropped the sword of persecution in order to take up the cross. Just before a decisive battle in 312, he had converted to Christianity.
Nicea symbolized a new day for Christianity. The persecuted followers of the Savior dressed in linen had become the respected advisers of emperors robed in purple. The once-despised religion was on its way to becoming the state religion, the spiritual cement of a single society in which public and private life were united under the control of Christian doctrine.
If Christianity were to serve as the cement of the Empire, however, it had to hold one faith. So the emperors called for church councils ...
You have reached the end of this Article Preview