Charles H. Spurgeon: Did You Know?
Charles Haddon Spurgeon is history's most widely read preacher (apart from the biblical ones). Today, there is available more material written by Spurgeon than by any other Christian author, living or dead.
One woman was converted through reading a single page of one of Spurgeon's sermons wrapped around some butter she had bought.
Spurgeon read The Pilgrim's Progress at age 6 and went on to read it over 100 times.
The New Park Street Pulpit and The Metropolitan Tabernacle Pulpit—the collected sermons of Spurgeon during his ministry with that congregation fill 63 volumes. The sermons' 20–25 million words are equivalent to the 27 volumes of the ninth edition of the Encyclopedia Britannica. The series stands as the largest set of books by a single author in the history of Christianity.
Spurgeon's mother had 17 children, nine of whom died in infancy.
When Charles Spurgeon was only 10 years old, a visiting missionary, Richard Knill, said that the young Spurgeon would one day preach the gospel to thousands and would preach in Rowland Hill's chapel, the largest Dissenting church in London. His words were fulfilled.
Spurgeon missed being admitted to college because a servant girl inadvertently showed him into a different room than that of the principal who was waiting to interview him. (Later, he determined not to reapply for admission when he believed God spoke to him, "Seekest thou great things for thyself? Seek them not!")
Spurgeon's personal library contained 12,000 volumes—1,000 printed before 1700. (The library, 5,103 volumes at the time of its auction, is now housed at William Jewell College in Liberty, Missouri.)
Before he was 20, Spurgeon had preached over 600 times.
Spurgeon drew to his services Prime Minister W. E. Gladstone, ...
You have reached the end of this Article Preview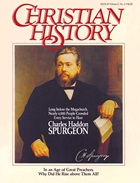 01/01/1991