The Golden Age of Hymns: Did You Know?
Charles Wesley wrote 8,989 hymns (at least three times the output of poet William Wordsworth). Dr. Frank Baker calculated that Charles Wesley wrote an average of 10 lines of verse every day for 50 years! He completed an extant poem every other day.
John and Charles Wesley published 56 collections of hymns in 53 years.
"Amazing Grace"—Americans' favorite hymn according to the Gallup Poll—was written by the former captain of a slave ship. That "wretch," John Newton, eventually became an Anglican minister and worked to abolish the slave trade.
"Hark! The Herald Angels Sing" was originally written as "Hark! How All the Welkin Rings" (meaning "how all the heaven rings"). Thankfully, Charles Wesley's popular Christmas carol was changed by his friend George Whitefield, the famous evangelist who sparked America's Great Awakening.
Charles Wesley was an accomplished field preacher, who on occasion addressed crowds of 10,000 and 20,000 people. He experienced considerable opposition, sometimes from rock-throwing mobs. In fact, his well-known hymn "Ye Servants of God, Your Master Proclaim" was written "to be sung in a tumult."
Eighteenth-century hymnbooks were usually only collections of texts—they did not include musical notes. The first American hymnal to join tunes with texts was not published until 1831.
The usual method of singing in church was by "lining out"—having a leader say one line, and the congregation repeat it. (This was done because hymnbooks were expensive, and many worshipers could not read.) People did not sing one line immediately after another, as they do now.
The singing of hymns was not officially approved in the Church of England until 1820.
Isaac Watts, who wrote such well-known hymns as "When I Survey the Wondrous ...
You have reached the end of this Article Preview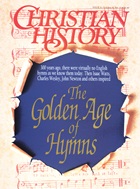 07/01/1991