Reports of the Revival
Two southern clergymen who had been active in the army revivals wrote books detailing the religious life of the Confederate forces.
In 1877, William W. Bennett, a minister who had headed the Methodist Soldiers' Tract Association, published "A Narrative of the Great Revival Which Prevailed in the Southern Armies." Bennett believed the southern army camp had truly been "a school of Christ," where pious generals like Stonewall Jackson and Robert E. Lee led their men both in battles and in prayer meetings. The "moral miracles" that had taken place among Confederate soldiers were the most magnificent of all time; they truly became the "'silver lining' to the dark and heavy cloud" of the South's defeat.

Bennett wrote: "In the army of General Lee, while it lay on the upper Rappahannock, the revival flame swept through every corps, division, brigade, and regiment. [One chaplain explained]: 'The whole army is a vast field, ready and ripe to the harvest … The susceptibility of the soldiery to the gospel is wonderful, and, doubtful as the remark may appear, the military camp is most favorable to the work of revival. The soldiers, with the simplicity of little children, listen to and embrace the truth. Already over two thousand have professed conversion, and two thousand more are penitent … Oh, it is affecting to see the soldiers crowd and press about the preacher for what of tracts, etc., he has to distribute, and it is sad to see hundreds retiring without being supplied!'
"[Another minister wrote]: 'The cold, mud, and rain, have produced great suffering and sickness among the troops; for we have been entirely without shelter in very exposed positions … In our field hospital we have over 350 sick …
" 'I never saw men who were better prepared ...
You have reached the end of this Article Preview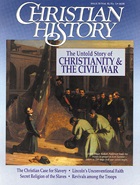 01/01/1992