Ministry in the Killing Fields
William Carey and fellow missionary John Thomas were riding near Malda, India, in 1794 when they saw "a basket hung in a tree, in which an infant had been exposed; the skull remained, the rest having been devoured by ants." This "holy" act of infanticide had been committed with religious fervor by a Hindu mother.
Infanticide was not uncommon in India in Carey's day. But the British government in India ignored such sacrifice of infants—it didn't want to interfere in religious matters of the people. The Indian masses were ready to sacrifice their lives (and their infants') for the sake of salvation and to escape the karma-samsara cycle. The people were intensely religious and were following (though sometimes misinterpreting) written religious laws.
William Carey strongly protested these crimes against humanity. He was one of many who prodded the apparently passive government to halt or regulate a variety of harmful social practices.
Killing Infants
In 1802 Carey's colleague William Ward studied infanticide on the river island of Saugor. Many women made vows to the Holy Ganges River "that if blessed with two children, one would be presented to the River." As many as 100 children, he estimated (though probably more), were being sacrificed every year.
William Carey, Jr., reported one such sacrifice to his father: A boatman pulled a drowning child into his boat. He presented the infant to its mother. She took the child, broke its neck, and cast it into the river again!
After joining Fort William College as a professor, Carey protested infanticide to Governor-General Wellesley. Wellesley called for a study of the frequency, nature, and causes of infanticide in Bengal. So Carey prepared an exhaustive report; other people were at work ...
You have reached the end of this Article Preview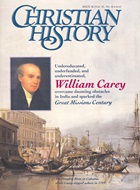 10/01/1992