Francis's Tenacious Lady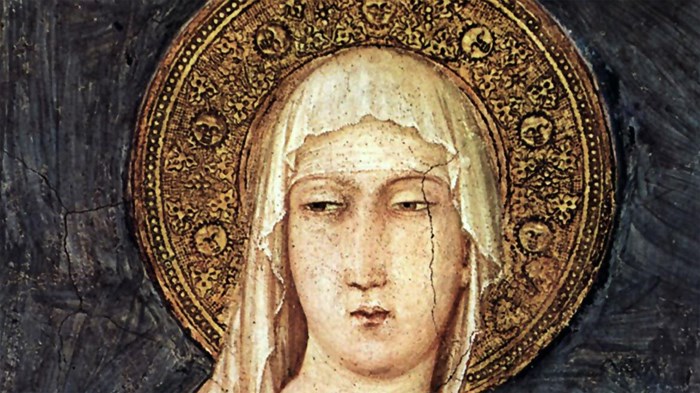 While praying before a cross in 1193, a woman named Ortulana of Assisi received a prophecy about the child growing within her womb: "Do not be afraid, woman, for you will give birth in safety to a light which will give light more clearly than light itself." When the child was born, Ortulana named her Chiara, or Clare, "the clear one."
In many ways, the light of Saint Clare, disciple of Saint Francis, has been hidden under Francis's bushel—until now. Last year's celebration of the 800th anniversary of her birth has sparked what a Minnesota newspaper described as "Clare mania." And for good reason: Clare carved out her own unique, attractive way of being Franciscan.
Noble Family
Clare of Assisi was born into the noble Offreduccio family, which boasted seven great and wealthy knights. Her father, Favarone, was a count, who probably fought and died in a crusade. Clare's mother made pilgrimages to the Holy Land, the tombs of Peter and Paul in Rome, and the shrine of Saint James of Compostela in Spain.
As a beautiful noble woman, Clare had many suitors, but she refused all marriage proposals because she had made a private vow of virginity. In addition, she divested herself of her inheritance and gave the money to the poor. In fact, her sister Beatrice tells us that Clare sold part of Beatrice's inheritance, too!
During her early teen years, Clare prayed regularly with other women, including other noble women. Like her mother, Clare slowly earned a reputation for good works and virtue.
Following Francis
By this time, Francis had publicly rejected his father's wealth and was enlisting help to rebuild the walls of the Church of San Damiano. Before Francis ever mentioned ...
You have reached the end of this Article Preview