Snapshots of a Saint
Like all great people, Francis cannot be sufficiently "explained." Writing about Francis can take us only so far in comprehending him. It is better sometimes to sit back and simply watch him in action. The following stories have been culled from the hundreds of events recorded in Francis's early biographies.
To Kiss a Leper
One day while Francis was praying fervently to God, he received an answer: "O Francis, if you want to know my will, you must hate and despise all that which hitherto your body has loved and desired to possess. Once you begin to do this, all that formerly seemed sweet and pleasant to you will become bitter and unbearable, and instead, the things that formerly made you shudder will bring you great sweetness and content." Francis was divinely comforted and greatly encouraged by these words.
Then one day, as he was riding near Assisi, he met a leper. He had always felt an overpowering horror of these sufferers, but making a great effort, he conquered his aversion, dismounted, and, in giving the leper a coin, kissed his hand. The leper then gave him the kiss of peace, after which Francis remounted his horse and rode on his way.
Some days later he took a large sum of money to the leper hospital, and gathering all the inmates together, he gave them alms, kissing each of their hands. Formerly he could neither touch or even look at lepers, but when he left them on that day, what had been so repugnant to him had really and truly been turned into something pleasant.
Indeed, his previous aversion to lepers had been so strong, that, besides being incapable of looking at them, he would not even approach the places where they lived. And if by chance he happened to pass anywhere near their dwellings or to see one of the lepers, ...
You have reached the end of this Article Preview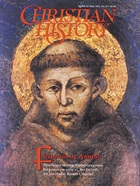 04/01/1994