John Chrysostom: Did You Know?
The Greek name Chrysostom, meaning "Golden Mouth," was not given to John until 150 years after his death. The name stuck because of his greatness as a preacher.
John was forced to become bishop of Constantinople. He had served in Antioch as a priest for 14 years when one day military officials, under orders from an imperial official, kidnapped him. He was transported to the capital and ordained. Chrysostom accepted these events as God's providence.
Chrysostom was educated by one of the leading pagan teachers of his day, Libanius. In his writings, John cites more than 15 ancient Greek philosophers, including at least 30 references to Plato.
In keeping with his era, John favored a cappella singing in worship and opposed the use of musical instruments. Instruments were allowed in the Old Testament to entice people to attend worship, he said, but Christians shouldn't need such inducements.
As a youth, Chrysostom said he "plunged into the whirlpool of the world." His favorite pastime was the theater, which was noted for its bawdiness. He would later preach stinging indictments against such entertainment.
Christmas first appeared as a special feast during John's life. It was celebrated at Antioch for the first time about 378, eight years before Chrysostom was ordained there.
In his writings, John refers to the New Testament 11,000 times, yet he never cites 2 Peter, 2 and 3 John, Jude, or Revelation. These books were not part of the New Testaments that circulated in fourth-century Antioch.
Despite his popularity, John sometimes became discouraged with the seeming deafness of his listeners as they failed to apply the truths he spoke week after week. He once complained, "My work is like that of a man who is trying to clean a piece of ground ...
You have reached the end of this Article Preview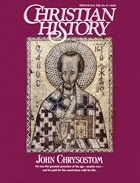 10/01/1994