Preaching to Dread and Panic
In Antioch the edict was proclaimed during the morning of February 26, 387. When the proclamation was read outside the praeto-rium, it was received for a moment in stunned silence, broken by the wailing of women.
In the crowd were some professional agitators, the same men who were hired by the officials to applaud them during processions and by actors to applaud them on the stage. The crowd was surging against the praetorium when one of these agitators, or perhaps an officer of the guard (for no one knew exactly what happened) uttered the cry, "To the bathhouses!" Immediately the mob surged in the direction of the Baths of Caligula. In their rage, the crowd smashed everything they could lay their hands on, cutting the chains which held the bronze lanterns and then letting them crash on the stone floor, and hacking down the trees in the gardens.
The mob swung back to the praetorium, rushed past the guards and demanded the abrogation of the levy. There was no sign of the prefect [territorial Roman magistrate] he had slipped away, over the garden wall. The mob rushed through the great marble audience hall, where the prefect was accustomed to sit in state, wearing the robe and the slender silver crown of his office, under the statues of the emperor and empress. There was no prefect they could shout to.
They had exhausted most of their energy, and they might have gone quietly and sullenly from the palace if a small boy, clutching a stone in his hand, had not suddenly decided to throw the stone at the statue of Theodosius. The equestrian statue of gilded bronze represented everything the crowd detested. Soon they were all hurling stones at the statues.
There were altogether five statues, representing the old Count Theodosius, the ...
You have reached the end of this Article Preview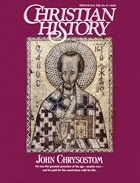 10/01/1994