Unmatched Masterpiece
It is a strange experience for some Protestants to attend a service at an Anglican or Episcopal church. The sermon may be as good or as bad as elsewhere, but the prayers, rather than spoken extemporarily, follow a set form of words.
Many are surprised to learn that such liturgical prayers were the norm in nearly all the sixteenth-century Reformation churches. Neither Luther, Calvin, Zwingli, nor Cranmer thought it unscriptural to use set prayers. There were set prayers in the Old Testament (e.g., the Psalms) and in the New (e.g., the Lord's Prayer). Their only concern was to have good set prayers, not bad ones.
Though this concern drove all the liturgies produced in this era, none came off as successfully as did Thomas Cranmer's Book of Common Prayer.
It has become not only a classic of English literature, but more important, its cadences and theology have spiritually nurtured millions of Christians for more than 400 years.
On Again, Off Again
The Prayer Book, as it is also called, was first published in 1549–1550. It contained the orders of worship for various services (morning and evening prayer, Sunday Eucharist, Ash Wednesday, and others); each service included instructions on when to stand, sit, and kneel, and the many prayers and litanies worshipers were to use.
The Prayer Book has been revised several times—and several times suppressed. Cranmer himself revised it in 1552 to bring out its meaning more explicitly. At the same time, he attached to it a confession of faith (the Forty-Two Articles, later revised to become the Thirty-Nine Articles of Religion).
When the young reforming king, Edward VI, died in 1553, Queen Mary attempted to restore Roman Catholicism and so banned the Prayer Book. After Mary's short reign, Elizabeth ...
You have reached the end of this Article Preview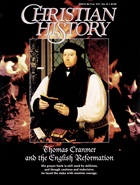 10/01/1995