American Pentecost
In the early morning of April 18, 1906, San Francisco residents were rudely awakened by the deadliest earthquake in North American history. A devastating fire, fed by ruptured gas lines, finished off what the earthquake, later estimated as 8.3 on the Richter scale, failed to destroy in its first deadly seconds. Some 700 people lay dead among the decimated 514 city blocks.
Angry men and women blamed God and the unstable earth sitting atop the unpredictable San Andreas Fault. A gospel tract, rushed to the printer and widely circulated in the area, called the tragedy a judgment and a warning from the God some were cursing.
That same morning, 400 miles south, the world took notice of another movement—one with aftershocks still spreading today. In a skeptical front-page story titled "Weird Babel of Tongues," a Los Angeles Times reporter attempted to describe what would soon be known as the Azusa Street Revival.
"Breathing strange utterances and mouthing a creed which it would seem no sane mortal could understand," the story began, "the newest religious sect has started in Los Angeles."
Skinny and sickly fanatic
The "newest religious sect" had, in fact, been around for a few years. Beginning in the late nineteenth century, Midwestern Methodists and other Christians associated with the Holiness movement had become obsessed with divine healing and the possibility of speaking in tongues—doctrines and practices that dispensationalists argued had ended with the apostolic age. One of these Holiness Christians was an 18-year-old Kansas collegian named Charles Fox Parham.
Like other Methodists, Parham believed that sanctification was a second work of grace, separate from salvation. But he also adopted the more radical Holiness belief in a third ...
You have reached the end of this Article Preview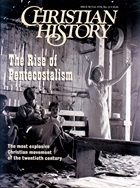 04/01/1998