Loose the Women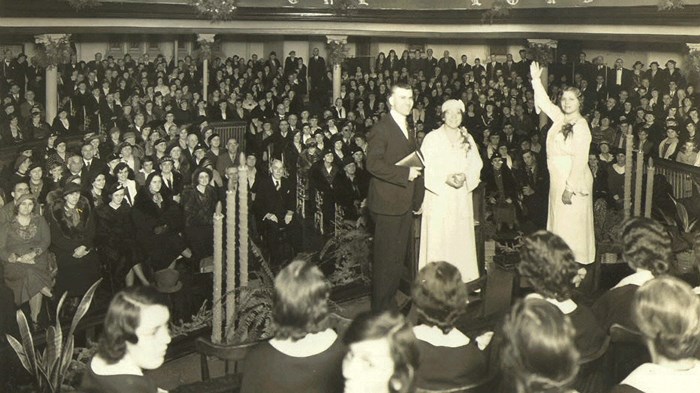 In 1916 Maria B. Woodworth-Etter declared, "God is calling the Marys and the Marthas today all over our land to work in various places in the vineyard of the Lord; God grant that they may respond and say, 'Lord, here am I. Send me.' … My dear sister in Christ, as you hear these words may the Spirit of God come upon you, and make you willing to do the work the Lord has assigned to you."
Following the example of their Holiness predecessors like Phoebe Palmer, and the Salvation Army's Catherine Booth, women ministered prominently at the beginning of Pentecostalism.
"Fit men and women"
Charles Fox Parham established Bethel Bible College in 1900 in Topeka, Kansas, to "fit men and women to go to the ends of the earth to preach." Agnes Ozman, the first to experience Spirit baptism, was an evangelist training for the mission field at Parham's school. Parham ordained women and commissioned them to ministry, and these women assisted Parham in his evangelistic campaigns. He often left women in charge when he moved on to the next meeting.
Women also participated at the Azusa Street Mission in Los Angeles. The Apostolic Faith featured testimonies, articles, and reports of women evangelizing, pastoring, and going out as missionaries. At one point, at least six of Azusa's twelve-member credentials committee were women.
In addition to approving and supporting numerous independent ministries, Pentecostal denominations issued ministerial credentials to women. The Church of God (Cleveland, Tennessee) began in 1909 to acknowledge "women who engage in the ministry of the Word" by granting them evangelists' licenses. By 1913, 12 percent of its ministers were women, with the percentage ...
You have reached the end of this Article Preview