Pentecostal Millennialism: The Second Comers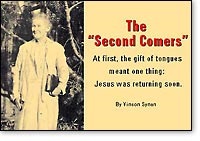 This slideshow is only available for subscribers.
Please log in or subscribe to view the slideshow.
On the very first day of the twentieth century, a group of Kansas Bible school students laid hands on Agnes Ozman, praying that she would be baptized in the Holy Spirit with the expected sign of speaking in tongues. In what was later called "the touch felt around the world," the 30-year-old, while "a halo surrounded her head and face," began to "speak the Chinese language."
With that, the Pentecostal movement, which now numbers over a half-billion adherents, was born. But despite the movement's association with tongues ever since that centennial prayer meeting, early Pentecostalism was less a tongues movement and more a Jesus-is-coming movement.
Topeka's missionary tongues
The Topeka Pentecost occurred in an atmosphere of millennial expectations. After Ozman spoke in tongues, her teacher, Charles Fox Parham, and most of the other students also experienced tongues. In short order, Parham formulated the doctrine that tongues was the "Bible evidence" of baptism in the Holy Spirit. He also believed tongues were known earthly languages any missionary could instantly use to reap the final harvest of souls before the imminent, premillennial rapture of the church.
"I had felt for years that any missionary going to the foreign field should preach in the language of the natives," he wrote. "Anyone today ought to be able to speak any language of the world if they had horse sense enough to let God use their tongue and throat."
Parham was not the first to identify tongues as the sign of Spirit baptism. As early as 1830, Scottish Presbyterian minister Edward Irving and a group of English evangelicals had predicted the restoration of tongues (as well as the other ...
You have reached the end of this Article Preview