Sweden: Faith Without the Fireworks
Sweden, "the wildest and most remote of the Scandinavian lands," was the last Scandinavian region to be converted. The specifics of its conversion remain as remote and mysterious to historians as the land's medieval reputation.
The earliest attempts were seeming failures. Ansgar, the famous apostle to Denmark, attempted to establish a Christian outpost as early as 830, building a church in the town of Birka. But Swedes showed little interest and, when Ansgar died, so apparently did the Christian presence.
We know of a second Frankish missionary who was soon forced to flee the land, and a century after Ansgar's attempt, the archbishop of Hamburg undertook a new mission—with as little success as Ansgar.
In western Sweden, things weren't much better. One ruler, Erik the Victorious, converted—probably to marry the daughter of a Polish duke, a devout Catholic. But Erik quickly lapsed and died a pagan around 995.
When success did come, it came haltingly. Erik's son Olof (995-1022) publicly identified himself as a Christian: in one town he struck coins with Christian slogans (such as "God's Sigtuna"), and he founded a bishopric at Skara. His son Anund (c. 1022-c.1039) became the first member of the family to take on a Christian name: James. Contemporary historian Adam of Bremen called him the "most Christian king of the Swedes," and claimed that while he reigned, Christianity was "widely diffused" in Sweden.
Not quite—unless he meant that Christians, still a small minority, could be found in many areas of Sweden. Missionaries from England and Denmark were having limited success in towns and country. But when they tried to force the issue, they ran into stiff opposition. When an English missionary smashed an image of Thor to demonstrate ...
You have reached the end of this Article Preview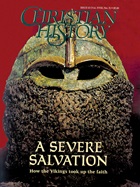 07/01/1999