Antony and the Desert Fathers: Christian History Interview - Discovering the Desert Paradox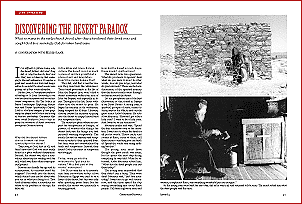 This slideshow is only available for subscribers.
Please log in or subscribe to view the slideshow.
It is difficult to fathom today why the desert fathers did what they did, or why the church, East and West, was so taken by their example for the next millennium. It requires a great deal research and historical imagination to see what the desert monks were getting out of their ascetic discipline.
Belden Lane, a Presbyterian professor of theology at St. Louis University, is one who has done the research and has the historical imagination. His The Solace of Fierce Landscapes: Exploring Mountain and Desert Spirituality (Oxford, 1998) is a brilliant analysis of how geography has played a vital role in the history of Western spirituality. Christian History asked Professor Lane to help us grasp the attraction of desert asceticism throughout Christian History.
Why did the desert fathers choose to work out their spirituality in the desert?
They sought God, first of all, and they knew that God was most easily found in a place without distractions. Second, the desert was also a marvelous laboratory for dealing with the self, which was their other major spiritual project.
How do you handle the ego and its anxiousness, its constant need for support? You walk into the desert, which doesn't care one bit about who you are or what you bring to it. That kind of terrain offers a marvelous antidote to the problem of the ego, the false self.
In the Bible and Greco-Roman culture, the desert is not so much a place of spiritual growth but a place of evil and temptation. Didn't the monks believe that?
They did, and that is another reason they went into the wilderness. They found precedents in the life of John the Baptist (you won't find a desert monastery without an icon of John the Baptist) and especially in Jesus. Throughout ...
You have reached the end of this Article Preview