What Would Augustine Say?
On Sex: God's Blessing or Humanity's Curse?
by W. Jay Wood
I have decided that there is nothing I should avoid so much as marriage," Augustine wrote soon after his conversion. "I know nothing which brings the manly mind down from the heights more than a woman's caresses and that joining of bodies without which one cannot have a wife."
Though today many believe this was Augustine's definitive conclusion about sex, his thinking developed over his lifetime and was more complex than many imagine.
Good marriage
Augustine's views were shaped partly in reaction to his sexually active youth, partly against Platonist philosophy, and partly in response to various heresies he combated throughout his career as a bishop.
At age 17 he began a faithful 13-year relationship with a concubine of lower social status (Roman law forbade marriage between unequal classes), clearly to satisfy his powerful sexual appetites. In the Confessions Augustine says that while he was sexually active, he felt trapped: "I was bound down by this disease of the flesh. Its deadly pleasures were a chain that I dragged along with me, yet I was afraid to be freed from it."
As a Manichee, Augustine was taught that all sexual relations, even for procreative purposes, were evil and to be avoided. It was in response to the Manichees' prayers that Augustine uttered his own famous prayer, "Lord give me chastity and continence, but not yet."
After his conversion, Augustine was influenced by his mentor, Ambrose, whose ascetic theology was heavily laced with the matter-spirit, soul-body dichotomies characteristic of Neo-Platonism and common to Italy at the time. Ambrose taught, for instance, that Eden and intercourse were ...
You have reached the end of this Article Preview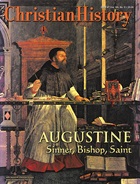 07/01/2000