A Tale of Two Brothers
In 1785, at age 82, John Wesley wrote a wrenching letter to his 77-year-old brother Charles, who had for several years been openly critical of John's leadership in the Methodist movement.
"Do not hinder me if you will not help," the older brother scolded. "Perhaps, if you had kept close to me, I might have done better. However, with or without help, I creep on."
The story of early Methodism is, of course, more than the tale of these two brothers. But the development of the movement cannot be fully comprehended without them—both of them.
Dynamic duo
John was 4 years old when Charles was born (eight weeks premature) in 1707. Charles was only 6 when John went off to Charterhouse School in London. The childhood years in Epworth did not allow much time for the two boys to be brothers.
Although Charles also went to school at Westminster, near London, three years after John, they probably did not see much of each other. They got their first opportunity to grow closer when both attended Oxford University in the late 1720s.
As a young student at Christ Church College, Charles had a personal "reformation" in 1728. His older brother, who preceded him (again by about four years) in the quest for a meaningful faith, provided practical suggestions for pursuing the holy life. Within a matter of months, they shared many of the methods of thinking and acting that soon became characteristic of the people called "Methodists."
John Gambold, a friend of both at Oxford, described Charles as being "deeply sensible" of John's seniority: "I never observed any person have a more real deference for another than he constantly had for his brother." Gambold felt that Charles imitated ...
You have reached the end of this Article Preview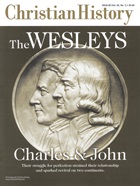 01/01/2001