Following that Bright Blur
Following that Bright Blur
Embracing the supernatural elements of Christianity while committed to its rationalism, Lewis brought an orthodox view of a transcendent, immanent God to the common man.
In a 1982 interview in Discipleship Journal, Elisabeth Elliot was asked, "How could a person deepen his theology and become a clearer thinker?" She answered, "Study the Bible. And study C.S. Lewis. People are always saying C.S. Lewis was not a theologian—and Lewis himself would say that—but he was. He covered the whole field of theology in popular, understandable language. The fact that he could put it in simple language is proof to me that he understood it better than many theologians."
This prescription is helpful. Lewis may not have considered himself a theologian, but his writing on theological subjects has stretched the minds, broadened the hearts, and challenged the thinking of many.
What was the core of C.S. Lewis's theology? A hint is found in the caption that appeared below his picture on the cover of the September 8, 1947, Time magazine. It simply read, "His heresy: Christianity." Both in written word and BBC broadcasts, Lewis sought to present historic Christian faith to the common man. Perhaps because his work is imaginative as well as analytical, some have criticized him for softness on issues that modern conservatives consider pivotal, for example, biblical authority. But the cornerstones of his theology are clearly orthodox: he called it "mere Christianity" not to diminish the truth-claims, but to suggest that the truth of God incarnate was so shockingly simple that people of all cultures and pedigrees might be stunned and joyful at its clarity and grace.
The Supernatural
C.S. Lewis was a committed supernaturalist. In his essay "On Ethics" he commented: "I am myself a Christian, and even a dogmatic Christian untinged with modernist reservations and committed to supernaturalism in its full rigor." Remove the supernatural ...
You have reached the end of this Article Preview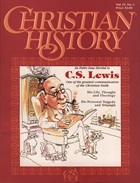 07/01/1985